A New Wine Legacy For EOS
Winemaker Nathan Carlson has been appointed Director of Wine Making at the Paso Robles EOS winery.
by Arthur Z. Przebinda
May 5, 2008
---
Winemaker Nathan Carlson has been appointed Director of Wine Making at the Paso Robles EOS winery.
In
a press release sent out Thursday, April 24th,
EOS Estate Winery
announced the appointment of Nathan Carlson to the position of Director of Winemaking. Carlson is leaving his position as winemaker at Tolosa where he worked closely with Larry Brooks.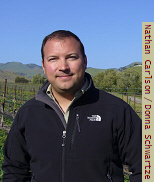 Carlson is a rural Minnesota native. He studied Marine Science before coming to California's Central Coast. He made wine in Santa Barbara County (Sanford), San Luis Obispo County (Laetitia, Claiborne & Churchill) and moved on to Oregon's Dundee Hills (Lange Estate). He returned to California in 2005 when he accepted his position at Tolosa.
In August of 2007, Tennessee-based Sapphire Wines LLC purchased EOS, as well as approximately 60 acres surrounding the property on Highway 46, east of Highway 101 in
Paso Robles
. The Arciero family (who still own about 600 acres of vineyards in the Paso Robles area following the sale of the winery) established the vineyards comprising the larger EOS estate in 1983 and released their first wines in 1997. Known primarily for its Cabernet and Petit Syrah as well as the "Tears of Dew" Late Harvest Moscato, the winery also bottled Chardonnay, Chenin Blanc, Gewürztraminer, Riesling, Sauvignon blanc, Malbec, Merlot, Petit Verdot, Pinot Noir, Sangiovese and Zinfandel sourced form various Central Coast vineyards. The 180,000 case annual production included the Arciero, EOS, Cupa Grandis and Novella labels.
On Friday,
redwinebuzz.com
spoke to Sapphire Wines LLC head Jeff Hopmayer who said that Carlson will be starting with EOS beginning Monday, April 28th. He elaborated that he'd been pursuing Nathan for the position at EOS for some time: "Nathan is so passionate and makes such tremendous wines that I believe he is the biggest up-and-coming "Rock Star" for Central Coast wine making. All his credentials make him the perfect fit for a leader and Director of Winemaking. His whole history of where he has worked has given him a great background".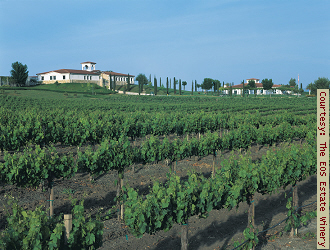 When asked about the difference between Edna Valley and Paso Robles climates and ecology and what challenges that might pose for Carlson, Hopmayer said: "A good winemaker understands the environment [in which they work] and if you believe in the vine, you'll get great juice and make great wines".
According to Hopmayer, 30 percent of the fruit used by EOS (under Sapphire Wines) will continue to come from the Arciero family vineyards in Paso Robles. "The majority will come from area growers and we are even going to get some west side fruit" he said. Sapphire has also added the Lost Angel label to the portfolio. Jeff pointed out that in addition to renovating the visitors' area, EOS is remodeling its winery facility.
We caught up with Nathan Carlson during this busy transitional period to talk about the move and the future.
redwinebuzz (rwb): Congratulations on the new position, Nathan. Jeff Hopmayer has a lot of good things to say about you and your winemaking resume.
Nathan Carlson (NC): When I worked at Laetitia and Sanford, it was really early in my career, and I was still just learning the ropes, so don't give me too much winemaking credit there!
redwinebuzz rwb: So 2008 will be your first vintage with EOS?
NC: That's right. What's exciting is coming on board with them at a time when they're re-defining who they're going to be. They're taking big steps to be a leader in this region. EOS has always had good things about it and it's always had challenges, too. They [Sapphire] really know the wine and spirits business. They know how to sell wine. They know what is important in the marketplace. They've kind of proven their acumen out there. For myself, I would never deign to be a marketing [expert] to understand everything about what consumers are attracted to and so forth. But I think that they have assembled a really good team. We're going to get together and define our style very clearly so that we can act and move forward on making good decisions which are going to pay off for the company as we go forward.
rwb: Who will take over for you at Tolosa?
NC: Tolosa is in great shape and in great hands. Larry Brooks, who has been working with Tolosa for the past several years, is increasing his involvement and taking on some stronger management and winemaking roles for the company. Larry [formerly, wine maker at Acacia, Chalone Wine Group, independent consulting, etc] is one of the most accomplished Pinot Noir and Chardonnay winemakers in the state, and has been a consultant behind some of the most important brands in this genre. Tolosa's Director of Operations, Ian Herdman, is an incredibly solid palate, winemaker, and all around person in his own right. It has been a pleasure to work with these guys, and as the wines that we have made together roll out over the next two years, the quality and character of them will make Tolosa unstoppable. The amount of focus and definition that we have worked hard on over the last 4 seasons have paid off, and will carry the brand forward.
rwb:
How long was Jeff pursuing you for the position?
NC: Well, they closed the deal on the winery about eight months ago, so I have known Jeff from about the day they [Sapphire] announced that they were going with full solar power for the winery. My partner of eight years, Kristin Carlton, works in compliance for the beverage industry [Compli Beverage Compliance]. Sapphire was an established client of her company, and when they bought the winery, they invited us all to dinner. So I met Jeff, Fred and some of the other management at Sapphire at that time and we just got to talking. I liked where he was going with taking this big step towards sustainability. I think that when somebody buys a property that is as big as EOS and then commits to doing the right thing, it's influencing other large wineries to go in the same direction. That was important, symbolically, for me to see that he was really committed to doing the right thing.
I think it was shortly after that he came down to tour Tolosa and take a look around at how we ran things at Courtside [Cellars]. EOS and Tolosa are pretty similarly-sized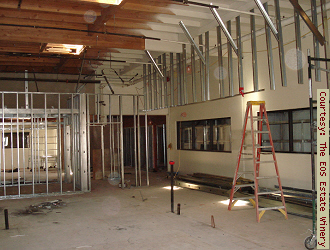 facilities, in terms of the amount of crop that can come through. That's kind of where the wheels started turning. It was half-kidding at first, but eventually it was like: "No. Let's really talk about this". Everything kind of wound up a little bit earlier this year. I had a trip planned to go to El Salvador for Habitat for Humanity. I think it was the day before I left, Jeff called and said: "Look. What's it going to take?" So I thought about it while I was away and when we came back, we kind of had a plan together and worked it out.
rwb: Can you explain the structure of Courtside Cellars and its relationship to Tolosa?
NC: Tolosa Wine