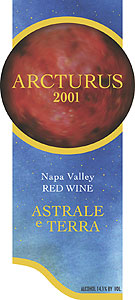 Atlas Peak ~ Napa Valley (AVA)
This Chauncey has indeed been there
…and the "there" is Atlas Peak, where a varietal shift away from Sangiovese is redefining the appellation.
by Alan Goldfarb
September 9, 2005
---
On a very foggy morning, C. Paul Johnson emerges from his SUV a few minutes late for a meeting at his winery which sits high above the valley floor on Atlas Peak. Once at his now sun-drenched
Astrale e Terra
, the former military pilot looks back down the hillside upon a snow-white thick, sweet, cotton-candy marshmallow bank of fluff.<!>
"It's like flying," he says with a baseball cap sitting on top of his white mane of hair, "you break through the clouds, and you're above it all in the bright sunshine."
Johnson is a man who doesn't seem to emit an aura of above-it-all bombast, but the name of his tiny winery, which means 'heaven and earth' in Italian, could be a metaphor for this man.
His real first name is Chauncey, ergo the letter "C" that he rarely uses because he's the eighth Chauncey in his family to be christened with that name. But he won't ever be confused with Peter Seller's Chauncey Gardner because this Chauncey really has been there.
He's a 73-year-old with 3 ½-year-old and 7 ½-year-old sons from a second marriage. He's a man whose ancestry goes back to the first president of Harvard. He's a man who has voted -- twice -- for John Kerry, as a member of the Electoral College. He's a man who takes part in archeological digs in Israel; and is a trustee with the Leakey Foundation. He's a man who owns a cattle ranch in Wyoming. He's a man who flies around in a twin engine Cessna 414 once owned by Michael Mondavi to which he says of the plane, it is probably the fastest of its kind in the country.
Oh, and did we tell you that Johnson once owned a resort in Jamaica and that he founded what he calls "this little bank" in Chicago and the Napa Community Bank here?
Finally, of course, these days he's a man who owns a winery in a region that was once known almost exclusively for California Sangiovese -- a Tuscan varietal that has taken a nosedive faster than the C119 planes that he flew in Japan.
That's why Johnson -- along with a few other vintners on the slopes of Atlas Peak above the fog line at elevations of upwards of 1,300-feet -- are trying like the dickens to get out from under Sangiovese's rapid decline in the U.S., and elevate the appellation to that of Cabernet country.
This, despite literally being in the shadow of Atlas Peak Winery, whose founder, the Tuscan Piero Antinori, first introduced the varietal here.
Johnson -- along with his winemaker Bill Ballentine, who has his own brand called
William Cole
, -- don't grow any Sangiovese on Astrale e Terra's 30 acres or Johnson's six acres in the Oak Knoll District. Instead, it's Cabernet Sauvignon, Merlot and Syrah.
That's because, according to Ballentine, "Sangiovese is a big bearer. And this area (of Atlas Peak) is a little later (ripening) and with Sangiovese, it's a challenge to get it fully ripened."
Additionally Ballentine says, "It's a bit of a challenge up here because there is virtually no top soil at all," pointing to the top of Astrale's property.
Thus, Astrale has not of yet placed the Atlas Peak designation on its labels, trying to resurrect the AVA -- along with neighbors Stagecoach, Pahlmeyer, Elan, Meade and a few others.
"There's going to be a major change up here from Sangiovese," Ballentine predicts. "We're trying to build a reputation for Cabernet and I think you're going to see it in the next five years."
"The Sangiovese wave is past (and) I don't think an appellation can grow (only) one varietal. There's plenty of room to make great Sangiovese, Cabernet and Zinfandel."
It's clear that Paul Johnson, his boss, has put his money on Cabernet.
Johnson characterizes himself as "an entrepreneur" but it wasn't until a stay in Carmel in 1995 on the occasion of his 64th birthday with friends that the idea of a winery began to percolate.
"We pulled up to the Highlands Inn in a Winnebago listening to Patsy Cline and Willie Nelson when somebody said,
'Why don't we buy a winery?'
, as Johnson explains it, finishing the story by saying that it really didn't happen that quickly.
So, he partnered with Jerry and Lorrie Vanoli, who have a Cabernet vineyard of their own in the valley; Steve Bagby, a friend from Chicago where Johnson founded that "little bank," which when it grew up begat US Bancorp.; and Russell & Lilia Lee. While the Vanolis manage the winery, Johnson wound up owning virtually all of Astrale.
He found the piece of property on Atlas Peak before it hit the market and purchased it in '96. His wife Debra, he says spreading his arms akimbo, gave it the name when she saw it. She said, "This is where the heaven meets the earth."
He wouldn't disclose the price of the parcel, which included 60 acres but says of the deal, "it was reasonable, a bargain."
Pam Starr turned out the first wines a year later until 2000 when Ballentine began "making the kinds of wine we like," according to Johnson. "They're approachable."
Despite his pedigree, and his station, C. Paul Johnson seems a man who is quite approachable.
In one of the four forewords to his recently released book (oh yes, he's written a book, too),
Good Guys Finish First: Reflections of a CEO,
Congressman Mike Thompson writes of Johnson, "his integrity, compassion and trust are pure."