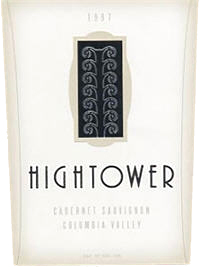 Hightower Cellars Towers High in Red Mountain
How Tim and Kelly Hightower found balance in a crooked vineyard.
by Anne Sampson
May 22, 2008
---

or the past decade,
Tim and Kelly Hightower have been producing small quantities of silky, elegant wines, with some very big results. From their first vintage in 1997, their wines have been satin-smooth and complex, and always delightfully balanced. In fact, balance is one of the first things Tim talks about when discussing their winemaking style.
But balance to the Hightowers doesn't necessarily mean following a straight line. Take their vineyard, for example. In 2002, when they first moved from their rented winemaking facility in Woodinville, a Seattle suburb and a mecca for Washington wine lovers, to their current home on
Red Mountain
, they planted 10 acres of Cabernet Sauvignon in a more-or-less north-south alignment. They like to point out that the rows are a little off-kilter (11 degrees off of due-north, to be exact). They actually named the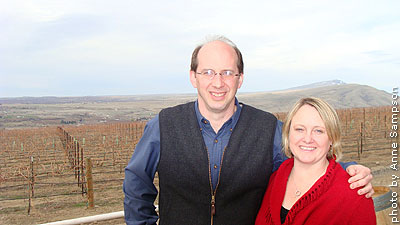 estate Out of Line Vineyard, but all in the pursuit of the ideal equilibrium: the tiny angle means that both the west and east faces of their vines receive just about equal exposure to Red Mountain's intense sun. Balance.
The Hightowers crushed their first vintage in 1997 after sidestepping into winemaking from different directions. Tim was practicing law in Seattle and focusing on alcohol beverage law when he decided he'd rather be more directly involved in the wine business. So he went to work for
Columbia Wines
, where he also volunteered his free time in the cellar. His education began there. "I asked a gazillion questions," he says, along with reading a lot and tasting a lot of wines on tours around Washington. And he took advantage of working with Master of Wines David Lake, the head winemaker at Columbia.
He also met Kelly there. A native of Washington, she graduated from the University of California at Berkeley with a degree in linguistics. Curiosity drove her into classes on enology and viticulture. "You kind of fall in love with the wine business," she says. "I just knew it was for me."
Kelly returned home to Seattle, went to work in accounting for Columbia Wines and, like Tim, volunteered in the cellar, prepared to learn as much about winemaking as she could. The two began carpooling to work together. Love grew, a business plan was hatched, and
Hightower Cellars
was born.
Today, the couple share the title of winemaker for their boutique venture. Tim also manages the Hogue and Covey Run wineries in nearby Prosser, a continuation of his professional ties to their owner, Constellation Brands, the giant wine producer that also owns Columbia Wines. Together, Tim and Kelly are overseeing the construction of a new tasting room and barrel room at their estate on Red Mountain. They moved there in 2002 and two years later planted nine acres of Cabernet Sauvignon and Merlot, along with a half acre each of Petite Verdot and Malbec. The move enabled them to double their annual production to 2000 cases, but more importantly, it put them in a more secure position for future vintages.
The Single-minded Quest for Red Mountain Grapes
Two of their grape growers were considering making their own wines, Kelly recalls, and the Hightowers began to worry about their supply. Grapes on tiny Red Mountain are not easily replaced (the AVA encompasses a mere 4000 acres, and only around 700 of them are planted today), but looking for other sources wasn't an option.
"When we started in 1997," Kelly says, "Tim and I made the decision that we wouldn't start the winery unless we could get Red Mountain fruit." Not an easy goal. Following the killing freeze of 1996, the already limited supply of Red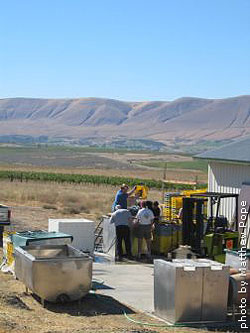 Mountain grapes was even more tightly squeezed. Patricia Gelles, of the renowned Klipsun Vineyards, turned them down, Tim says, because her fruit was already sold. But the Hightowers persisted, and crushed their first vintage with fruit from Artz Vineyard and E&E Shaw Vineyard, along with grapes from Pepperbridge Vineyard in the Walla Walla area.
Today, their Cabernets, Merlots and blends, including Murray Cuvee, a welcoming and approachable wine named for their yellow Lab, are heavily weighted with influences of the mountain - black fruit flavors entwined with the earthy, brambly characteristics of Red Mountain, soft tannins braced with an acidic structure. Most of their fruit is sourced from Red Mountain, although they continue to blend grapes from notable vineyards like Pepperbridge in Walla Walla and Alder Ridge in the Horse Heaven Hills.
But the 1997 vintage confirmed their instincts. "We became even more enamored with the mountain," Kelly says. "It's so well-balanced."
"The fruit is very powerful," Tim agrees, "but we thought we could make elegant wines from it."
And the winemaking methods that Tim envisioned during their long commutes from Seattle to Columbia Winery's facility in suburban Woodinville proved him right. "We knew how we wanted to treat the grapes," Kelly says. "We knew storing them was important, and gentle treatment was important because that would help us manage the tannins. Tim came up with a very simple process, mostly using gravity, and we still use it. It's gentle and quite efficient."
Grapes are brought into the crush pad in small picking containers, where they are hand-sorted, destemmed and crushed directly above open-top fermenters, minimizing the tannic-releasing effects of broken seeds or skins. The must is hand-punched several times during fermentation. The free-run juice is siphoned directly into barrels, and the rest is poured gently into an air-diaphragm press. As the pressure slowly increases, (to as much as 15 psi), they taste the juice until it reaches a level of astringency that marks the limit of the tannins they want in their wines. Twenty months later, after it has aged in oak barrels, the Hightowers bottle their notable Cabernet Sauvignons and Merlots, along with a blend made exclusively of Red Mountain grapes.
Their hand-crafted method isn't cheap, but it's typical of their commitment to a certain style of wine. In some years, the Hightowers throw away as much as 25 percent of the wine they crush - the overly astringent stuff left in the press. Where large-scale wineries often age that lower quality juice in separate barrels, blending it back into their bottles, the Hightowers just pour it down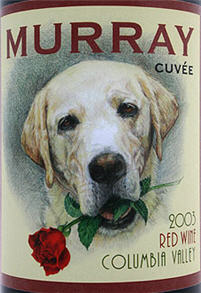 the drain. "We like red wines to have some oak flavors to them, but not so much that you lose the flavors of the grape," Tim explains. "We like the wines to have some tannins but smooth, round ta