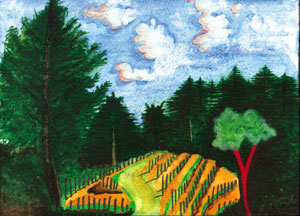 Muccigrosso Vineyards: Tiny Winery, Big Personalities
by Laura Ness
May 31, 2008
---

nlike many of the newer
boutique wineries in the area that don't grow or pick their own grapes, the Muccigrosso's have their own vineyard which they meticulously maintain, despite frequent attempts by Mother Nature to throw cold water on the party. Not to mention the occasional snow shower, which does happen now and then at their 1600 feet location.
In this part of the
Santa Cruz Mountains
, the terrain is steep, the soil is a mix of clay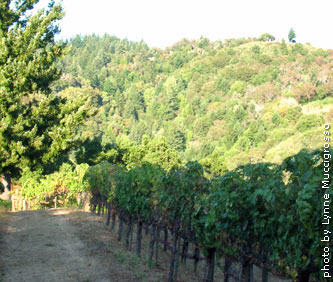 more fit for making adobe bricks then nurturing grape vines - sandy loam if you're lucky and rocks, if you're not. Unlike the lovely rolling hills of Napa and Sonoma, the vegetation in these hills is as intense as the landscape, dominated by towering redwood trees, Douglas firs, oaks, maples, sycamores, madrona, and fragrant Bays. All of which stand in your way should you wish to plant a vineyard here. Even if you're lucky enough to have a field that has previously been cleared for fruit trees, a common crop here in the 20th century, you will doubtless face a thick, deep-rooted, tenacious underbrush that is typically a mix of hearty grasses, poison oak, and Scotch broom.
Lynne and Michael faced all of the above, on the road to establishing their Pinot and Zinfandel vineyard, located not too far from
David Bruce Winery
off Bear Creek Road, on a steep, winding, potholed dirt road. On top of the flora and the terrain, there are constant fauna challenges, including voracious birds, gophers. raccoons, wild boar and the ever-present four-legged rodents, the deer. The tranquil and mystical views you see from nearly every vineyard in this region truly belie the harsh conditions that growers battle to produce some exceptional fruit.
Picking the Right Winemaker
Fortunately, finding the ideal winemaker for their growing venture was a lot easier than planting a successful vineyard. Michael met young Jacob Kauffman when Jake was working at David Bruce Winery during the magical late 90s, a time when legends like Tony Craig and Greg Stokes guided the ship with a firm and creative hand on the rudder.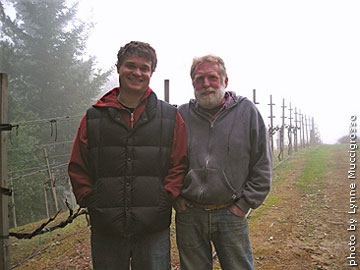 It took Michael just a few minutes to make the connection and a great partnership was forged. And great results were almost immediately forthcoming. From his first vintage, Jake proved he had the Gold medal touch, consistently scoring gold and silver medals for the Muccigrosso lineup in major wine competitions. Jake makes Pinot, Zinfandel and a blend of Sangiovese and Syrah for the
Muccigrosso
label, and he enjoys making them all, because each demands a different part of his skill set.
Of all the wines he makes, though, it's Pinot that has a hold on his heart: and particularly Pinot from the Santa Cruz Mountains. "My favorite clone of all is Mt. Eden," he comments. "Grown in the right site, it can stand on its own. It does particularly well on loamy sand." He notes that, unlike the Dijon 115 clone at the Muccigrosso estate, which is picked usually at the end of September, the Mt Eden Pinot that is grown at Dick Evans vineyard on the eastern crest of the Skyline Ridge of the Santa Cruz Mountains ripens a month later, usually the end of October. Jake describes the flavor profile of the 115 as dark cherries and blackberries, while the Mt. Eden has a distinctive, earthy minerality, with a haunting hint of nutmeg.
Jake readily admits that he is not sure the blend really nails what he refers to as Mountain terroir. "While I like to think we have a respect and appreciation for it, especially for the appellation, we at Muccigrosso are sort of only scratching it with our Pinot. I don't consider the Muccigrosso Pinot a terroir based wine. I see it as a compromise with the market.... but that's why I also really respect what Jeff Emery (of Santa Cruz Mountain Vineyard) does with his terroir based wines. We are not quite there, as we still personally like and still basically make, texture and predominately fruit-based Pinot. But I do think our SCM Pinot has a sliver of that nutmeg flavored SCM minerality, which we get from the Evans vineyard. We have our foot halfway through the door with the blend, which feels right, right now."
Learning from the Pinot Master
One of the Pinot techniques Jake learned from "The Master," Tony Craig at David Bruce, was early pressing off, before the wine goes totally dry. This preserves the structure and tannin. Extraction, he feels, can hamper the wine. Stability is key, and he feels that the wine finishes off better when pressed off earlier, plus it requires less sulfur. He's a big fan of battonage, which also enhances the velvety texture he's going after.
The second wine in the nearly 600 case lineup is called LynZin, for Michael's wife Lynne, who puts up congenially with the entire "hobby run amok" that surrounds her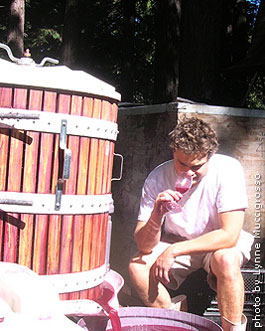 pottery studio. "When are we going to make money? " she asks year after year. But she privately confesses that the wine is so good, so worth it, she can't complain. "Too bad the bank won't accept wine as a mortgage payment!" she jokes. Jake makes this Zin from three different vineyards, including the Muccigroso estate, again looking for that some of this, some of that, approach.
A third wine was added to the list last year with the creation of "Table Two," a blend of Sangiovese and Syrah. Jake and Michael both love Italian Toscano style blends, and Jake refers to this as his "California abomination of a Super Tuscan!" Says Jake, "A little more Syrah can do wonders for Sangiovese, improving tannin texture, while helping the fruit profile." The Syrah comes from Wayne Weideman's Vineyards on the back side of Hecker Pass: it's a fairly cool site which helps concentrate flavors and keep acidity levels close to ideal. The Sangiovese comes from Bill Hinrich's Ranchita Canyon Vineyard in San Miguel, one of the premiere vineyards in the Paso Robles Area. The right-on ripe Sangiovese adds fat richness, while the Weideman Syrah tends to bring it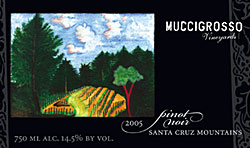 into savory balance. The combo of stirring Syrah, and super-cheery cherry-packed Sangiovese creates a perfect bistro wine. Try it at your favorite table for two.
Does all this success go to the young man's head? Hardly. He's certainly proud of what he's doing, but gives most of the credit to Michael who he says has a heart of gold and a deep love of the whole Santa Cruz Mountains wine scene. Besides, says Jake, he's had his fill of winemakers with egos the size of the national de