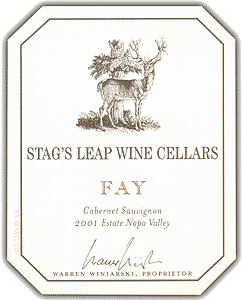 Stags Leap District ~ Napa Valley (AVA)
Warren Winiarski does an earth dance
Geological studies at Stag's Leap Fay Vineyard try to find the 'sweet spot'
by Alan Goldfarb
September 15, 2005
---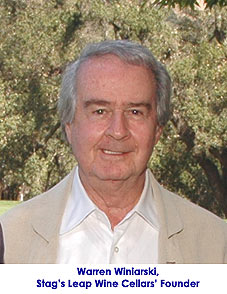 Warren Winiarski is a man of many interests; he's a Renaissance man if you will. At a dinner at his
Stag's Leap Wine Cellars
as part of the Napa Valley Wine Auction, Winiarski, 76, and a partner were the only couple on the makeshift floor, dancing to the swing tunes of a jazz quartet. It was a fine display of the vintner's latest passion -- dancing.
Is it by sheer happenstance then, that 38 pits were dug last year by geologist Jonathan Swinchatt for a terroir project he calls,
The Winemaker's Dance
? In this case, the holes in the Stag's Leap Fay Vineyard -- the one which bears the fruit for the winery's prestigious Cask 23 wine -- have been excavated in search of the vineyard's "sweet spot."
There may or may not be coincidence between Winiarski's dance and Swinchatt's study after listening to both men speak so eloquently on the geology of the soils in the Napa Valley. The dance here is purely metaphorical.
But it begs questions. What were the reasons why these geological explorations were made in a vineyard so storied; while one would be hard-pressed to wonder at all, why such an invasive intervention was performed in the first place.
Winiarski explains it this way: "There was one portion of Fay, the center of Block 8 that was like a Hershey's 'Kiss' … We wanted to see what was there, as a window, so perhaps they could find more. We wanted more Block 8s."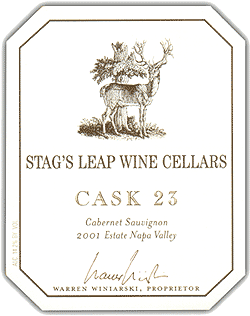 What Winiarski meant by the chocolate "kiss," is the block of soils, vines, and grapes that specifically seems to lend to the Cask 23 -- primarily a Cabernet Sauvignon wine -- its "sweetness."
Thus, Winiarski inquired of Swinchatt to find more soil formations in Fay that would add to Cask 23; and to ascertain what it is about the soils in Block 8 that is the heart of the wine.
"What happens in those soils?" asks Winiarski. "What's the outcome? What will those (new) wines show us?"
Then, after the holes were dug, after the pits were refilled and the new vines are planted and producing, "We'll adjust accordingly and we'll make the final adjustments."
Swinchatt apparently, was the man to dig the pits in Stag's Leaps' soils. After all, he and his partner, David Howell wrote a report for the Napa Valley Vintners entitled,
The Foundation of Wine in the Napa Valley: Geology, Landscape and Climate
, which led to a book to be released in September,
The Winemaker's Dance: Exploring Terroir in the Napa Valley
(University of California Press).
Swinchatt had also previously performed his geologic studies in the vineyards of Opus One, Harlan Estates and Araujo.
"I grasped the opportunity to find out what relevance geology might have to viticulture and winemaking," he wrote. "I have begun to understand what a geologic perspective can contribute to making great wine."
"I try to express that understanding through the combination of science and art that I now think of as creating geologic portraits of vineyards."
In addition to providing information about that process which controls drainage in a vineyard, Swinchatt also believes his studies might also "illuminate the character and causes of local variation within vineyards."
Ergo, we get to Stag's Leap and its Fay Vineyard sweet spot. Swinchatt says he thinks of this illumination, particularly as it pertains to Block 8, as a "geologic portrait" of the soils' substrate within.
During the process, Swinchatt observes a soils' bedrock and its topographic variation. With information in hand, he will determine the origin and relationship of soils' regional context and explain its variation across an entire vineyard.
In turn, viticulturists, vineyard managers, and winemakers can analyze their soils for minerality, measure the vigor the vines might reveal, and determine where the whole might integrate with one another.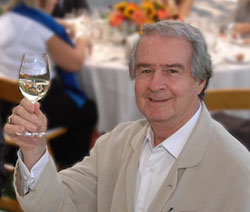 Swinchatt concedes that all this might sound theoretical but he contends, "We now have studies in which we can correlate directly a winemaker's sensory evaluation of grapes with identifiable geologic entities that we can map."
The map of Stag's Leaps' Block 8 -- after Swinchatt's studies -- reveals a reconfiguration thusly: There are 30 rows placed 7-feet by 4.5 feet planted to 101-14 rootstock. In the center, the heart, the place where Winiarski describes the Hershey's "Kiss," there are 40 rows placed 7-by-5 on 110-R. And there are two experimental sub-blocks with 10 rows of 7-by-5 and 15 rows of 7-by-2.5 on 101-14.
What will Warren Winiarski do with those results? Why, he'll no doubt continue to dance.