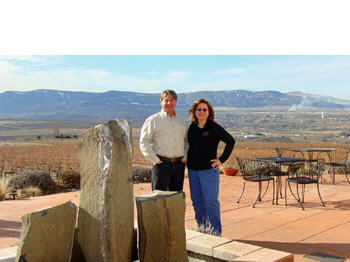 Tapteil Estate Taps
The Riches Of Red Mountain
Larry Pearson traversed Washington State in search of the perfect site to grow Cabernet Sauvignon. One night's slumber on the dry, hot grassland of Red Mountain, and he knew he'd found Cab paradise.
by Anne Sampson
June 9, 2008
---

arry Pearson
harbors something of an obsession with Cabernet Sauvignon. He has lived and worked in remote corners of the world (Australia, Tanzania, Bosnia, for example), first as a math and science teacher, and later as an engineer. Along the way, he added an MBA to his resume and switched professional gears to work as a management consultant. But always Pearson has turned his eye to the ideal grape. And always he has been drawn to
Red Mountain
in Washington State.