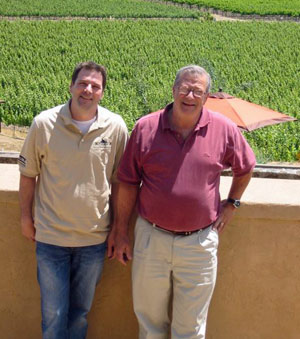 Big changes at Flora Springs
as next generation takes over
In an hour-and-a-half, wide-ranging interview in his cluttered office, Flora Springs Winery's John Komes talked about a career in wine that began in 1978; and the hopes and fears he has, not so much for his successors, but for an economy that he thinks may hurt his and other businesses in the Napa Valley.
by Alan Goldfarb
June 23, 2008
---
In
an obvious move to preserve the family winery, and as a hedge against keeping the corporate suits at bay, John Komes has decided to step away from the fray.
This is no trifle, if one knows Komes. A big man in every conceivable way - from his belly laugh to his story spinning, to his appetites - Komes, who is now 68 years old, has had his imprimatur all over Napa Valley's
Flora Springs
since it was founded 30 years ago. But as its front man, Komes is putting his considerable ego and operational acumen aside.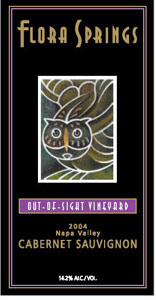 In so doing, Komes has pointed to his son Nat, 39, and to his nephew Sean, 29, to take over the operation on West Zinfandel Lane, south of St. Helena. It may be a lot to ask of his youngest son and the son of his sister Julie (who left for divinity school years ago) and his brother-in-law and vineyard manager Pat Garvey. While not a big winery by today's standards, Flora Springs nonetheless controls 650 acres of vineyard in Rutherford, St. Helena, Oakville, Carneros, and Pope Valley, and produces 50,000 cases a year.
Thus, expect big changes as Flora Springs enters its fourth decade and third generation. In addition to Nat, who will assume general manager duties, and Sean, who becomes communication and production director, Komes has also gone into the cellar to replace 28-year veteran winemaker Ken Deis with Paul Steinauer, who worked under Deis for the last 18 years.
In an hour-and-a-half, wide-ranging interview in his cluttered office, Komes' emotions ranged from hardy laughter to heartfelt concern. The humor was mostly self-deprecating as we talked about a career in wine that began in 1978; and the apprehension was expressed not for his successors, but for an economy that he fears may hurt his and other businesses in the Napa Valley.
Moving Forward But Still Looking Back
Komes, not one to hold back his thoughts, talked about going forward, not with French-styled dry wines of his generation, but by producing the sweeter, fruit-driven wines now in play by Nat and Sean's generation. He talked about the tricky business of making terroir-driven wines; and he discussed the new winemaking team, sans Ken Deis, who he called in a mixed metaphor, "my left leg".
He began the conversation by admitting, "I always like to have my hand in it (the operation), but it's time to do other things." By that he meant, traveling more, where he could further experience the wine and food of other regions of the world.
However, for the nonce, he'll continue to have his "hand in it" because he says he doesn't have retirement plans "as far as cash goes because I've invested all my money in this project." In other words, he'll keep a watchful eye on Sean and Nat, "to make sure I don't lose my investment."
He believes the next generation is competent and suited to the task but as he put it: "They want to test their success." Besides, he continues, "It's harder to take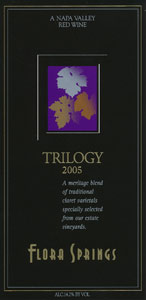 over an old company rather than start a new one." Meaning that heretofore he's been surrounded by familiar faces and now, particularly with Deis gone, his "cronies" as he characterizes them, are no longer around.
Deis, he says, "didn't see the progression, the next generation coming aboard," and "he felt his seniority exempted him from that progression." Additionally, Komes says, "We wanted to enhance the cellar culture." All of these factors, in Komes' words, "caused his (Deis') demise."
Thus, Komes states, it was time "to make some generational changes with the wines." Komes says he was told early on that fruit-forward wines "will never sell. But they are selling. "So, I can sit here and make the same old shit and ask, 'Why hasn't the world caught up with me?'"
Komes thinks that in California and in the
Napa Valley
, wines "should be a cottage industry" in which small productions of terroir- and appellation-driven wines should be the norm.
"In Europe, this is what made wine so romantically attractive," he believes. "But greed and money" has usurped that notion and larger wineries are making more and more wine. "Why can't I be making a little bit of wine and sell out? I don't think you can make more, better wine before you start losing the terroir.
"We risk losing the nuances and that's not what we used to do. People need to be true to the various appellations of the wines and have a terroir history and go back to the same vineyards year after year. "There's no way to make these wines from a big winery…. I think it's fun to evaluate the wines of different appellations."
A Bow to Terroir
Toward that end, Flora Springs is producing five Cabernets from a quintet of its vineyards located in as many of the valley's sub-AVAs. "These are wines that we think have recognizable terroir characteristics," he says. New labels have been

cut for them and Nat Komes and Sean Garvey, he believes, have signed onto and fostered the program. "That's another reason it's time for me to leave," he says. "These kids should form a great partnership. It's their time."
The appellation-based wines will be available only at Flora Springs' new tasting room and to its club members, in order to foster interest because of their perceived quality and low production. "We've got to create an attraction with a spread of wines from the Napa Valley," he admits. "… The only things that control the amount of wine that a producer can make are terroir/appellation wines."
He insists he prefers these types of wines in deference to "reserve" wines, although he still utilizes the word on two of those wines in spite of the fact that he thinks the term has been diminished by misuse. "Everything has been whored. 'Reserve' has been whored," he says in his inimitable manner. "It's a meaningless word." Nonetheless, he uses them because, he readily acknowledges, "people still buy them."
So, what of the future? "It scares me. It really scares me," he acknowledges. Not because he has passed the winery on to the next generation, but because of what he sees as a treacherous economy.
"The rise in usage of wine has been dramatically impacted by better wines and cheaper prices, which is a good thing. We've had generations of wealth (here), which have supported the industry," he begins. "(But) I'm worried about the economy of America to support the high end.
"I made a lot of mistakes and I bowed to the economy and lowered my prices. But it's hard to get them back up. We've planted all the vineyards and know what's out there and we have expectations."
And that apparently, may be the weight placed upon the shoulders of Nat and Sean.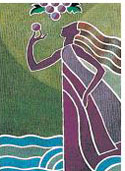 "Now's our time to appeal to the next Flora Springs faithful," referring to customers that may or may not be lured by the new wines from his progeny.
Komes doesn't exactly see Flora Springs needing to forge a new client-base to see it through to the next several decades