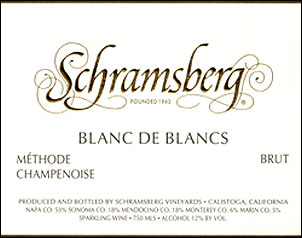 Diamond Mountain District ~ Napa Valley (AVA)
Schramsberg celebrates its 40th by 'moving the ball up the hill'
"We dared to be different and pursued it with vigilance and never gave up our focus of making the best sparkling wine in America.'

- Jamie Davies

by Alan Goldfarb
September 11, 2005
---
Hugh Davies' mom says she never doubted her son would be able to do the job. But in the six or seven years after her husband Jack passed she thought, "he wasn't quite ready."
Forty years and a few months after Jack and Jamie Davies opened the doors to
Schramsberg Vineyards
-- which was about a month after their son Hugh was born -- and eight years after his father died, Hugh Davies is clearly the head of one of the oldest family run wineries in the Napa Valley.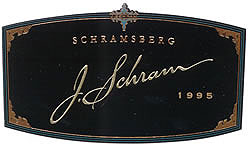 It was Jack and Jamie's relentless pursuit to fill a niche -- that of producing top-quality California sparkling wine -- that to this day, not many have entered. But it has kept Schramsberg thriving. Now, after his father passed away while his mother struggles with Parkinson's, Hugh finds himself at the helm.
While he doesn't suffer from lack of confidence, nevertheless, when told that his mother once thought that her son was not ready to take over, he responds only half in jest, "She says I am now?"
But while he has moments of doubt, he seems well equipped to toss away any yolk his demons might hold. When asked if he ever had any doubts of his leadership qualities, he responds as a man of buoyancy.
"No, you have to kick them out," he begins, referring to any thoughts of doubt he might have possessed. "You either succeed or you don't. … You get beat up a bit along the way (but) ultimately I thought that we were going to succeed. You don't always know exactly how you're going to get there, but I probably have more confidence now than I had then."
As if to prove the point, it was Hugh who led the winery through its next phase. That of trying to produce a highly regarded Cabernet Sauvignon from the winery's hillside vineyard on Diamond Mountain that had once been planted to Chardonnay and Pinot Noir.
As Schramsberg revels in its 40th year, Jamie Davies too seems resolute in knowing that Hugh had the means.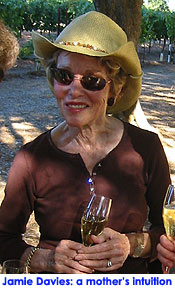 "I knew that Hugh would do a great job, but there was a lot of questioning," she acknowledges. "Our board (of directors) was very concerned. I don't think they anticipated any kind of failure, but they didn't know how long we would keep it going."
Just a month after her son was appointed as the head of the company, his mother takes solace in knowing her intuition was right.
"I couldn't expect more. He was so ready for the opportunity and he has such enthusiasm and such dedication of the land, there's no way you would stop him," she says. "He has proven himself in terms of leadership. He wears many hats and he wears them well, and he doesn't push people. He's not aggressive; he's very generous in spirit and is a good learner."
It echoes how people often characterized her husband. What would Jack Davies think, knowing his wife and son have successfully made the transition?
"He would have been tickled to death," she says. "He looked at this venture that he wanted to see going not only in his lifetime, but for the family.
"We dared to be different and pursued it with vigilance and never gave up our focus of making the best sparkling wine in America. (But) there were times when the economy was very low down (in the late 1980s) and the banks were withdrawing their support from Napa wineries. It was threatening. We felt under siege and felt we had to get our act together."
Nonetheless, she says, "We never gave up the ship. We brought in additional shareholders (there are now 60). They were people who were believers and knew that this was a temporary blip and they knew that the economy would roll back."
But less than 10 years later, Jack Davies was dead and his 32-year-old son was thrown into the breech. But Hugh has apparently made everyone believers.
"I feel I'm a lucky guy, moving forward on the project that they started many years ago," he says. "Why has it worked for us? -- Sheer will power."
"My parents are very dedicated. There's a commitment to certain principles and ideals of willingness to stick it out, to see it through. My dad was pretty relentless in his approach."
Finally, one doesn't need an electronic devise to count the half-dozen or so family owned wineries still in existence in the valley that began before Schramsberg did.
Hugh Davies uses a sports metaphor to further explain his family's philosophy.
"I certainly didn't adapt the Joe Namath mentality and guaranteed the win," he explains, referring to the 1969 Super Bowl. "I think that sometimes I just worry that things won't work out the way you might like them to."
"But never do you worry enough that you stop trying to make it work. You keep going. You know just how to move the ball up the hill and you keep pushing that sucker. Whenever I'm worried about something, I just go back to work. There's always a way to get it done."