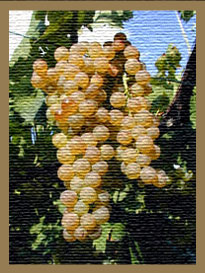 California (State Appellation)
Grape Trends: Is Vermentino
the new Sauvignon Blanc?
by Alan Goldfarb
July 8, 2008
---

T would be a stretch
to predict that the grape variety
Vermentino
is going to be the next big thing in white wine in the U.S. After all, there are only about a half-dozen wineries in California making the stuff from only about 20 acres that are currently producing a little more than 3,000 cases.
But those that do make the aromatic white with origins in Liguria, Sardegna, Corsica and southern France, swear by it, profess a love for it, and are making it as a wedge to extricate themselves from an ever-increasing wine pack.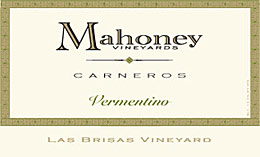 Just listen to Ken Foster, the winemaker at
Mahoney Vineyards
on the Sonoma side of the Carneros: "Is it going to challenge Sauvignon Blanc? No. Is it viticulturally viable? Absolutely," he says. "This is a viable wine in Carneros. … (And) if the market wanted it, I don't see why there can't be large quantities of Vermentino at $7.99."
Mahoney doesn't sell its Vermentino for eight bucks but rather at $15. The winery has already begun to make plans to ratchet up its current 1,400-case production to 2,000 cases from its 3 ½ acres. That makes Mahoney the largest producer, as far as can be ascertained, of Vermentino in the U.S.
Francis Mahoney, Foster's boss and one of the lead producers of Vermentino, laughs when informed of his winemaker's prognostication. But it's evident that he believes that Vermentino has some kind of future in California. "I've been dragging him (Foster) along kicking and screaming," says Mahoney about making Foster catholic on the variety, which some, especially in the Languedoc and Roussillon, call Rolle. "He's been pulling your leg a little. (But) I'm really excited. The wine delivers.
"The next big thing? It could become (popular), but it could be abused. It wants to set crop. In deep soil, in the middle of the Central Valley (of California), nobody could relate to it. It could easily push 14-15 tons."
If a grower – of which there are about a half-dozen others in Lodi, the Sierra Foothills, Paso Robles, and Solano County – learns to tame it to say, 6 ½-7 tons per acre, Mahoney thinks Vermentino has a chance with wine drinkers. "I think the American consumer will like the cleanness, the white peach (flavors)," he opines. "It's a wonderfully refreshing wine and that's what wine drinking should be all about. (People might say about it) 'I've got a place in my life for this.'"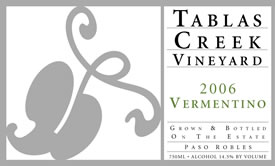 As for Vermentino's ageability, as Mahoney succinctly puts it: "Drink it within a year and half or it'll go senile on you."
Jim Moore, the owner of the Napa negociant L'Uvaggio di Giacomo, is bullish on Vermentino, too. He's making about 875 cases of the grape (selling for $14), sourced from three Lodi vineyards. He calls Vermentino "The thinking person's Pinot Grigio, which is so 20th century. (Vermentino) is a little more esoteric, and not as mainstream. It might be the next alternative white, you never know."
Moore says he looks to Lodi for his Vermentino fruit because "Lodi doesn't have many ways to fight their wines out of a paper bag. They don't want to make wines for bigger corporate (entities) and they're trying to do something interesting, with more finesse, and creative. It's counter-typical to Lodi." Besides, he says, "I'd rather be one of two or three Vermenti producers than 100 Pinot Grigio (makers)."
Napa Valley vintner Mitch Cosentino used to make a Vermentino from a vineyard in Solano County but other California producers are going forth with Vermentino at four Sierra Foothill wineries: Bantam Cellars, Twisted Oak, Gianelli Vineyards and Indian Rock Vineyards.
Marco Cappelli, the consulting winemaker at
Indian Rock
, conferred with vineyard manager Steve Collum, who then grafted over two acres of Cabernet Sauvignon as well as almost two acres of Syrah at the Gianelli vineyard.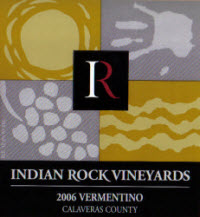 Collum believes that Vermentino, which is grown in Mediterranean climes in Europe, is well suited to his vineyards in Murphys (Indian Rock) and in Jamestown (Gianelli). In addition, he says, "It sells really well where we are because we're not stigmatized by Cabernet and Zinfandel. We're groping to find our own identity. We're having trouble keeping it in stock.
Will we see more plantings of Vermentino in the Sierra? "People seem to be wanting to change their taste and try different things. I wouldn't plant it where there's a maritime influence (such as Carneros)," he believes. "I'd stick with warmer, continental climates."
Nonetheless, Mahoney's Ken Foster thinks the Carneros is the perfect place for Vermentino. So much so that he grafted over plantings of Merlot, Grenache, Dolcetto, and Barbera. "It's still a learning process for us," he acknowledges. "We're still learning when it really wants to be picked."
The last two vintages Foster picked his Vermentino from 21.5 to 23.8° Brix (a measure of sugar). "It seems to respond better by keeping the acidity high (3.25-3.3 pH)," he says. "We give it a long, cold, stainless steel fermentation from beginning to end. We then drop it down to (a neutral) barrel when we approach the end of fermentation. I'd be happy to leave it in stainless its whole life, but it doesn't work out.
"We're doing some lees stirring and leaving it in oak for five months. It doesn't have high-tone fruit character, but it does have a riper, richer mouth-feel," with that regimen.
How does his Vermentino compare to those from the north coast of Sardegna, for instance? "Sardinian are riper, fleshier," he says. "We want a crisp, lively style." To do so at Mahoney, its Vermentinos finish at from the high 12s-to-13 in alcohol. "We're trying to make something in the style of Pinot Grigio (but) with much brighter, interesting fruit."
So is there Vermentino in California's future?
"It's hard to get American consumers to stray very far out of what they're familiar with," he concludes. "It takes a long time to get a new varietal understood and out there. …" But Francis Mahoney is betting on it, literally. "I had no idea Vermentino would get going. We were just having fun (with it.)" But he says, "We like what Carneros weather does (with it). "(Our) gravelly, silty soils are not typical Carneros. We en