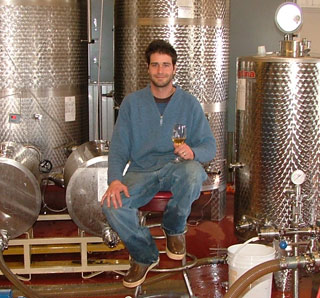 New Headliner on
Michigan's Leelanau Peninsula
Shawn Walters, winemaker for up-and-coming Forty-Five North Vineyard and Winery explains why the Michigan AVA is a world class wine region, which is just being discovered by more than the locals.
by Eleanor & Ray Heald
August 22, 2008
---
Appellation America:
First off, what is your formal winemaking education?
Shawn Walters (SW):
Hands on. Sixteen years ago, I was in the seasonal industry business in Michigan's northern lower peninsula – ski resort in winter, restaurant in summer. At the close of the 1993 summer season, former Leelanau Cellars winemaker Bill Skolnick offered me a cellar rat position and I learned winemaking from the ground up. By 2000, I was the winemaker. Yet my ambition focused on making estate-grown, estate-bottled wine and that's why I helped owner Alan Eaker at his Longview winery (Cedar, Mich.) to make his launch wines before I took the Forty-Five North winemaker position.
AA:
Is it correct that, in addition to consulting at Longview, you are responsible for wines that earned eight gold medals from four different wineries at the 2008 Michigan Wine & Spirits Competition?
SW:
That's correct. Both Forty-Five North Reserve Chardonnay and our 45 White won gold medals. Other awards included two sweepstakes winners, Chateau Fontaine 2007 Dry Riesling (Best Dry White) and Longview 2007 Rustic Red (Best Dry Red) which is 100 percent Frontenac. I also collaborate with Scott Harvey (Scott Harvey Wines, Napa, Calif.) to make Riesling under his Jana brand. The 2007 Jana Riesling made from Leelanau County (Chateau de Leelanau vineyard) grapes won a gold medal at the Michigan Competition.
AA:
Were there other high-ranking awards for Forty-five North wines at other competitions?
SW:
The 2007 Semi-Dry Riesling won Double Gold, Best White Wine and Best of Class at the 2008 Pacific Rim International Competition in California and Gold at both 2008 Tasters Guild and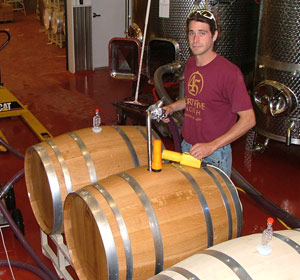 Riverside (California) competitions. Also at Pacific Rim, the 2007 Pinot Noir Rosé won a Double Gold and Best of Class, and another Gold at Tasters Guild; Cabernet Franc 2007 was Best of Class.
AA:
Was 2007 your first vintage at Forty-Five North?
SW:
Yes. Because the winery estate vineyards were not bearing, I sourced 55 tons of local grapes to get the label started. Wines from the 2007 vintage are now released.
AA:
What wines were made?
SW:
Dry Riesling (labeled semi-dry but it's dry at less than one percent residual sugar and a good acid balance at a pH of 2.89), a wooded and an unwooded Chardonnay (labeled Reserve), dry Pinot Gris, Pinot Gris Icebox, Pinot Noir Rosé, a barrel-fermented, barrel-aged Pinot Noir, and a Cabernet Franc.
AA:
Explain your winemaking techniques for Pinot Noir.
SW:
I did the last third of the fermentation (at 10 to 11 degrees Brix) in the barrel and stirred the lees like a Chardonnay. Not everyone is completing Pinot Noir fermentation in barrel, but there are Oregon producers who do.
AA:
Explain the color difference between the wine labels.
SW:
Every wine with a black label has seen time in French oak cooperage and all wines with a white label are stainless fermented.
AA:
How does the consumer understand this distinction?
SW:
The black or white label is the key to understanding. For the unwooded Chardonnay, I argued for the wording "unwooded" on the label, but that was not done. However, it's packaged in a colorless Bordeaux-shaped bottle, which is not a traditional bottle and sparks consumer questions.
AA:
How many cases of the 2007 wines did you make?
SW:
4,000 cases for Forty-Five North and 9,000 cases total, including the wines I make for other wineries.
AA:
What's the total case goal for Forty-Five North wines?
SW:
The 8,000-square foot state-of-the-art winery began production in 2007 and will eventually have a capacity of 30,000 cases of wine per year – half for Forty-Five North and the other half for custom clients.
AA:
When will you have estate grapes available?
SW:
Next year, there will be a third of a crop (Pinot Gris, Riesling and Chardonnay) off the 15 acres that were planted in Spring 2007. In five years,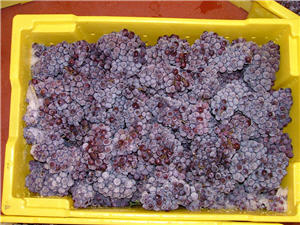 the long-term plan is that we will have 45 producing acres of estate vineyards without need to recontour the land.
AA:
Could Forty-Five North be dependent on growers?
SW:
We can't be dependent on growers. We were lucky in 2007, because everyone wanted to help me out. To be successful in the long term, a Michigan winery, as anywhere else, must control its fruit sources. That's the only way to control quality.
AA:
What is the soil composition of the estate vineyard?
SW:
Sandy-loam with a good percentage of rocks. There's a clay pocket where we've planted Cabernet Franc and Merlot.
AA:
What are the future planting plans?
SW:
With 30 acres planted now, we're leaving ourselves open for options down the way. We're looking to plant another seven acres in 2009, yet currently, we're undecided what that may be.
AA:
Is this site capable of growing quality red varieties?
SW:
Yes, with good crop management to get ripe fruit. If Pinot Noir, for example, is not ripe, it makes a very nice Rosé. In northern Michigan, getting Pinot Noir ripe is a distinct problem. Then, there's the issue with color and 'Pinot people' – too light, too dark, too much tannin, not big enough, too thin and the list goes on.
AA:
What is your biggest challenge making wine in Michigan?
SW:
Variation in the seasons from year to year make it difficult to produce a consistent style.
AA:
What is the biggest advantage making wine in Michigan?
SW:
Crisp, clean wines. Our grapes always have plenty of acid.
AA:
What are your favorite Michigan white and red varieties?
SW:
Among reds, Cabernet Franc and Merlot. Pinot Noir is my least favorite because everyone is so picky about the variety and it's hard to