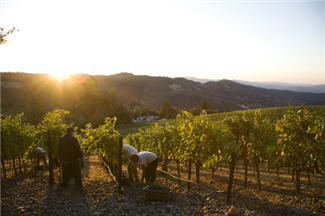 Napa Harvest 2008: Working With Nature's Adversity
Frost, fires, and little rain have thrown a junk ball at the harvest of '08.
by Alan Goldfarb
September 5, 2008
---
T
he worst frost since 1972, combined with widespread fires fueled by ferocious winds and high heat and exacerbated by lack of rain may result in the harvest of 2008 being what long-time California grapegrower Andy Beckstoffer describes as like a "knuckleball".
"Nobody knows where it's going to go after it hits the catcher's mitt," says Beckstoffer from his Napa Valley office, using the baseball metaphor to characterize what might turn out to be one of the most difficult years in memory.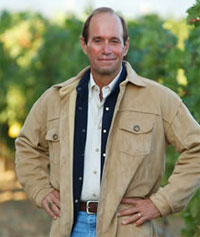 All the extraneous factors might not affect the quality of California wines from 2008, but it sure is making things harrowing as the first grapes have been coming in.
"All of those abnormal things and you don't know how they will affect it. … It's going all over the place, but it could be a strike. (However), no matter what it is, it's always an exciting time. … But it's nothing we would ask for."
The late-March, early-April frosts throughout California will most likely result in the overall crop being down about 10 percent. One Napa Valley grower with whom Beckstoffer recently spoke reports that he lost 40 percent of his vineyard due to the spring cold snap.
As for Beckstoffer himself, who has about 2,000 acres in the Napa Valley, Mendocino, and Lake counties, he says his crop is down about the same 10 percent, but he lost 40 percent of his 21-acre Las Piedras Vineyard in St. Helena, which produces some very expensive Cabernet Sauvignon.
However, because of that he says, "We lost a lot of more value than we did volume."
Beckstoffer thinks the crush of 2008 is also going to be very fast – perhaps a few weeks earlier than usual - with various varieties coming in all at once.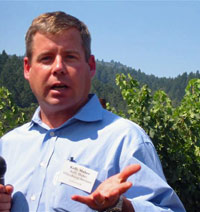 Various other Napa Valley winemakers and growers weighed in on the unfolding proceedings of '08. Vineyard consultant Kelly Maher explained that his company did frost protection about 25 to 30 nights during the siege. Part of that regimen was to put water on the just-budding vines to stave off the effects of the cold, which might result in water shortages when the pending heat spikes of September descend on the valley.
This is the second consecutive year that rainfall is down, which reminded one of the California draught that lasted three years from 1975-77. But in those years, rainfall was down below 15 inches each year, while the last two years of '07 and '08 have seen rain in the high 20s, which is still not necessarily devastating, at least yet. Also, technological advances in the last 30 years concerning water management have mitigated much of deprivation problems.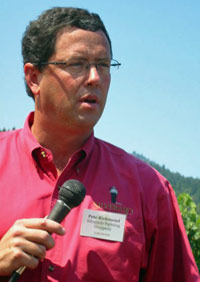 Pete Richmond of Silverado Farming Co. says he's witnessed trucks on Mount Veeder and in the Carneros that were hauling in water. Comparing last year to this, Maher pointed out that the small berry size he's seeing could portend good quality. Additionally, and serendipitously, the smoke from the California fires may have put down an invisible cover over the vines, which may have protected them from the harsh conditions and diffused the potentially scorching sun.
Nonetheless, Richmond further reports that he witnessed about 75 percent burn from the frost on some vineyards on the east side of Howell Mountain, and nothing on the west. Richmond says that Mount Veeder and Spring Mountain were "unscathed" from the cold, but there is lower production and berry and cluster sizes are small. Which he concludes, "will lead to something exceptional".
Amy Warnock, the viticulturist for Pahlmeyer Winery, says that conditions on Atlas Peak are similar to '07 and while the quantity is "slightly lower, we're not off-target (for picking)."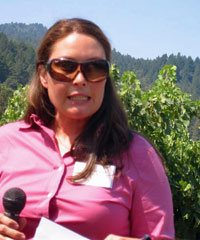 Interestingly, she says the lack of rainfall the last two seasons "is an advantage. I'm so optimistic because of less vine manipulation," resulting in small berries, a condition which she believes "is a testament to quality."
She went so far as to proclaim that '08 on Atlas Peak "is the best quality I've seen."
Asked to elaborate, she replies: "It's been an advantage to go into the second dry growing season," because the vines are forced to put more energy into the fruit. "… When we have a wet season, it's more difficult to protect the (leaf) canopy and not fight the vineyard."
Richmond concludes, regarding the harsh conditions' possible effect, "We're not growing a commodity. We're growing a bottle of wine. … Tell me what's going to happen in the first two weeks in September, then all bets are off."
---
Photos by Alan Goldfarb except top photo © Jason Tinacci / NVV and photo of Andy Beckstoffer courtesy Beckstoffer Vineyards