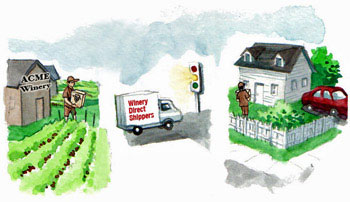 Borderless Bootlegging:
The Canadian Wine Shipping Quagmire
Canadian wineries and consumers are stymied by antiquated legislation regarding inter-provincial wine shipping.
by Craig Pinhey
September 19, 2008
---

t is telling
that, in a country that prides itself on how our wine industry has thrived under NAFTA (North American Free Trade Agreement), we still do not have free trade between our own provinces. Most Canadians think of our inter-provincial borders as merely formalities; we drive across them without noticing, mostly, and we don't even think about which side we buy goods on, be it bananas, bicycles or booze.