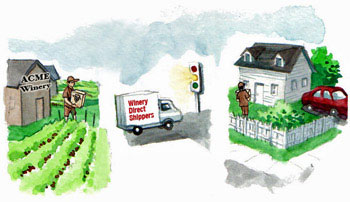 Borderless Bootlegging:
The Canadian Wine Shipping Quagmire
Canadian wineries and consumers are stymied by antiquated legislation regarding inter-provincial wine shipping.
by Craig Pinhey
September 19, 2008
---

t is telling
that, in a country that prides itself on how our wine industry has thrived under NAFTA (North American Free Trade Agreement), we still do not have free trade between our own provinces. Most Canadians think of our inter-provincial borders as merely formalities; we drive across them without noticing, mostly, and we don't even think about which side we buy goods on, be it bananas, bicycles or booze.
Wait! Hold on a second. Booze is a completely different matter, and we've known this ever since we were little kids, novice drinkers, or – more accurately – young observers of how our parents made cross border runs for alcohol during liquor board strikes.
Yes, while it is clear that Canadians travel freely within our country, this freedom does not apply to wine, beer and spirits. Technically we are not even allowed to buy wine out of province and bring it home for our personal consumption.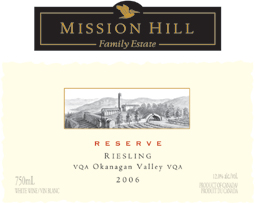 This old prohibitionist policy reared its ugly head recently, as two Canadian wineries had their knuckles rapped by provincial liquor boards over direct to consumer inter-provincial sales.
Mission Hill Estate
, one of Canada's largest and most successful wineries, was told to stop offering wine sales out of province via their website by the LCBO (Liquor Control Board of Ontario), whereas their Manitoba equivalent, tipped off by the LCBO (giving a whole new meaning to the term
cellar rats
) called out
Red Rooster Winery
, a Naramata Bench winery that is part of the massive Peller Wines group.
It has long been (quietly) known to serious lovers of fine Canadian wine that just about any case of British Columbian wine could be had in a mere 3-5 days just by clicking your mouse or making a phone call, credit card in hand. Ontario wine, on the other hand, has been less easy to buy, although some folks (including yours truly) have managed to snag the odd case through persistent persuasion. Don't worry, I have a system for hiding the evidence.
According to Diana Soroka, Manager, Communications, for Manitoba's MLCC, "There is federal legislation called
The Importation of Intoxicating Liquors Act
that prohibits manufacturers from shipping wine directly to customers out of province." This legislation dates back to the 1920's.
It is interesting to consider just who, exactly, is breaking the law. Is it the consumer who buys the wine, only paying taxes in the producer's province, instead of their own, and avoiding their local liquor board's egregious mark-ups? Is it the winery that agreed to sell it and arrange shipping? Surely they are guilty, at the minimum, of aiding and abetting a known felon (me). Or, is it the courier or Canada Post, who made the illicit delivery, perhaps pretending all the time that they were hoisting a case of bottled water onto my back porch?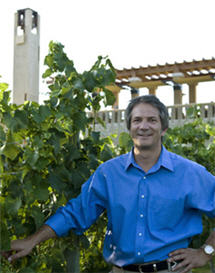 I asked a few of the key players about this, including Dan Zepponi, President of Mission Hill. He has been talking to media about this all week, and is probably sick of it, but he feels it is an important issue that is not going to go away just because of a few warnings. He supports the concept of finding a way to make it legal, to bring it out of the closet, so to speak. When he first encountered inter-provincial direct shipping, which is pretty commonplace with BC wineries, Zepponi wondered about the law. "It's kind of like jaywalking," he laughs, "is it illegal or not?" He was also a bit surprised by the complaint from the LCBO, because, "Technically it is not in their jurisdiction." "It's absolute protectionism," he says, and he expressed frustration at previous dealings with the LCBO. "They deny me a listing, then deny me shipping it [direct]."
Mission Hill has applied for listings at the LCBO – a very good client – for a wide range of their products, and has only been given them for a selected few. Since the LCBO does not wish to carry Mission Hill's other wines, but there are interested consumers, why can't the winery sell to these customers direct? It makes sense in a free market economy.
The response from the LCBO and the MLCC on this issue is predictable. They say that they have a special order system in place if you want to buy wines that aren't listed. While this is true, there is a huge difference to the consumer between buying direct via a website or credit card over the phone, where the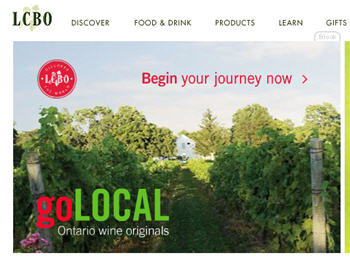 wine arrives in under a week, and a liquor board special order where you need to do paper work, then wait – often 6 months or longer in some provinces – only to receive the wine with a high mark-up attached, and after it is no longer trendy, or out of season. Although Mission Hill has direct shipped in the past, it is not because they prefer to serve their customers this way. "I'd rather have a listing," explains Zepponi, "because shipping costs are lower." Also, it would avoid lawbreaking.
Chris Layton, Media Relations Coordinator for the LCBO, has other concerns, in the area of unfair competition. "There are also questions/concerns of how level the playing field would be for domestic wineries with direct sales from out-of-province wineries," claims Layton. "With direct sales to consumers, provincial liquor boards would not get other related markups and levies (e.g. 58% markup, bottle deposit, etc.) yet local Ontario wineries still have to pay such on sales in Ontario. This is something that has been raised by some on the industry side."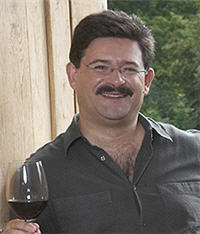 Paul Bosc Jr. heads up
Chateau Des Charmes
winery in Niagara, and is also the Chair of the Canadian Vintner's Association. While he is not against direct shipping, and feels that the industry needs to address this and find a way to do it legally, he doesn't believe wineries should be given free rein to sell without restrictions. "If they see it as an unfettered right, if they don't pay local taxes, and don't deal with social responsibility issues, then that isn't right," Bosc says.
"The modern consumer has an expectation of immediacy," he adds, "and we at the Canadian Vintner's Association see it as an opportunity to start to develop a national wine market for the best wines in the country, which are often s