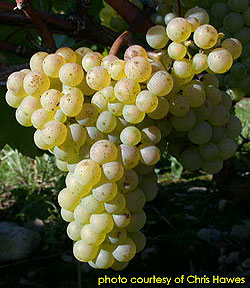 Auxerrois has found its best home
And that's in Michigan's Leelanau Peninsula AVA.

Our vino-gumshoes solve the mysteries of an obscure white wine grape with perhaps more information than you expected.
by Eleanor & Ray Heald
September 26, 2008
---
APPELLATION AMERICA (AA):
Are consumers intimidated by the pronunciation of Auxerrois?
CHARLIE EDSON (CE):
They are, and for that reason, in the tasting room we call it A1 and similarly refer to Gewurztraminer as G1. With the 2008 vintage, I'm giving serious consideration to naming it "The A Wine" and also putting Auxerrois on the label.
DAN MATTHIES (DM):
To avoid pronunciation problems, I've chosen a proprietary name Woodland White and use Auxerrois on the back label.
AA:
Why did you plant Auxerrois in the Leelanau Peninsula AVA?
CE:
I first discovered Auxerrois on a trip to Alsace 20 years ago; then planted it in a test block in 1987 and it did well. I planted more in 1993. The element that intrigued me about the variety is that it ripens early, and drops acidity quickly and that's perfect for this AVA. I first planted it (from virus-indexed budwood that came out of the research station in British Columbia, Canada) with the thought that I'd blend it with Chardonnay in the years when Chardonnay didn't achieve a maturity that I seek.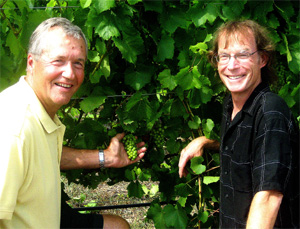 But I've never done that because it's such a lovely grape on its own. I now have three acres planted that yields 3.5 tons per acre.
DM:
Through Charlie [Edson], my wife Lucie and I fell in love with this grape. I got my Auxerrois cuttings from Bel Lago in 2002 and had them grafted at Grafted Grapevine Nursery in New York State, and now have slightly less than an acre planted, yielding the same as Bel Lago.
AA:
Have you tasted Auxerrois from another North American winery?
CE:
I believe that Bel Lago was the first winery in the U.S. to get label approval by the TTB for the 1998 vintage of Auxerrois. I also believe that Adelsheim in Oregon was second for the 2004 vintage. I first had the Adelsheim Auxerrois in 2005 when I was in Oregon attending the International Pinot Noir Celebration. I went to Adelsheim for a luncheon presentation and to my great surprise, their Auxerrois was the pre-lunch selection. Before that, I had never tasted another U.S. Auxerrois. It's similar to both Dan's [Matthies] and mine, as are bottlings I've tried from British Columbia.
AA:
What clones did Bel Lago plant?
CE:
Clones 36 and 46 on 3309 rootstock.
DM:
I have the same clones and rootstock.
AA:
What are the characteristics of each clone?
CE:
I have never made separate wines from either clone because there are insignificant differences between them. Clone 46 in my blocks seems to be a bit more productive, but that's about it.
AA:
Is Auxerrois sensitive to cropping?
CE:
If you check the writing of authorities like Jancis Robinson, Auxerrois is classified as a good blending variety. I suspect the reason for that is that it's over-cropped. We did that one year and cropped it at 4.5 tons per acre and it did not make good wine.
DM:
I did the same and cropped at five tons per acre and the wine lacked acid to fruit balance.
AA:
What is the soil composition?
CE:
At Bel Lago, the Auxerrois block is rich sandy loam soil with less shale than the rest of the vineyard. I pay attention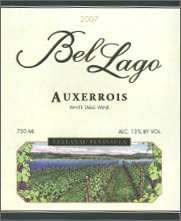 to vine vigor because of the soil richness, yet overall the vines are balanced, due to the fact that Auxerrois is not an overly vigorous variety. The extra soil fertility, I believe, tends to help the variety rather than hinder it.
DM:
The soil at Chateau Fontaine is a darker sandy loam with some gravel.
AA:
From the taste of each of your 2007 Auxerrois bottlings, we found more mineral character in the Chateau Fontaine than the Bel Lago. Is this due to soil composition?
CE:
Bel Lago's Auxerrois comes from a vineyard section that has less slate and that may be the difference. Yet, I believe that given the perfect ripeness we achieved in vintage 2007, big ripe fruit stepped on the minerality a little bit.
AA:
"Green," sustainable and organic vineyard practices are gaining momentum. What are your vineyard practices?
DM:
As a small dry-farmed vineyard and winery, I'm trying to farm with minimal chemical impact, but disease pressures prevent us from using only organic sprays. However, we have not yet this year used an insecticide spray. If we do one spray per year (in early July), it's because our vineyard is surrounded by hay farms and there's a beetle called rose chafer that leaves the field after the first cutting and becomes a vineyard pest. We've never had powdery mildew.
CE:
We use a combination of non-organic and organic chemicals , but I've never used what the EPA considers the worst group of products like EEDCs. Although perfectly legal, I don't use Sevin for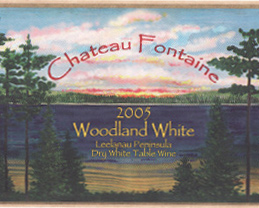 insect control or organophosphates. I formerly used cultivation only to control weeds but stopped because that method created soil erosion. For many years, I did not use a pre-emergent herbicide and used Round-Up only. I like to suppress weeds in the Spring and there is something to be said about the importance of judicious herbicide use to avoid erosion problems, which can ultimately destroy a site.
With early weed suppression, in mid-summer, the herbicide strip is not totally weed free. In the last few years, I've started to use a product called Chateau, applied about bud break, which offers about three months of weed suppression. Weeds growing in the herbicide row have the benefit of controlling vigor and provide active growing roots on the vineyard floor. Research has shown that it offers benefits with respect to micro-nutrients. I use fertigation to spoonfeed very small amounts, which minimizes the potential for nitrate leaching.
AA:
How are disease pressures combated?
CE:
From a disease management standpoint, Auxerrois is not easy to grow. It's as susceptible as Chardonnay to various diseases. Good canopy management is critical. I believe that we could manage both the use of herbicides and insecticides organically, however, we'd need to spray more often. The allowable materials are not as effective nor as long-lived. We'd need to