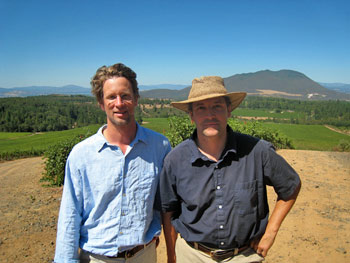 Obsidian Ridge's
Rocky Mountain High
A high-altitude Cabernet from the Red Hills of Lake County grown 'for the rest of us', which comes from the "rockiest site I've ever seen."
But don't take Obsidian Ridge Cabernet for granite.
by Alan Goldfarb
October 31, 2008
---

t's somewhat akin to Babe Ruth
switching from being one of the best pitchers in baseball to becoming one of the best home run hitters of all time. We'll concede that might be a bit of a stretch as far as Michael Terrien is concerned. Perhaps he's more like the St. Louis Cardinals' comparatively unknown Rick Ankeil than Babe Ruth.