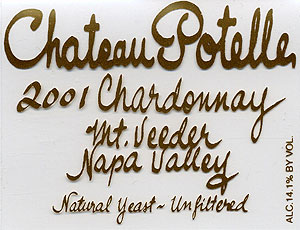 Mount Veeder ~ Napa Valley (AVA)
Marketta Fourmeaux emerges from 'behind the trees'
The Chateau Potelle winemaker comes down from her forested mountain to share her passion and understanding of Mount Veeder's terroir
by Alan Goldfarb
September 19, 2005
---
Marketta Fourmeaux had just returned from a vacation-slash-business trip to northwestern Michigan where she says her
Chateau Potelle
wines, surprisingly, have begun to do well in that part of the country. The sojourn fit perfectly with what the Mt. Veeder winemaker and vineyard manager calls "putting my nose outside."
Meaning: That although she was one of the earlier women winemakers in California, and even though Chateau Potelle has been in operation for 15 years where she's consistently produced some excellent wines, the 52-year-old Fourmeaux has usually taken a back seat.
She had chosen to take a behind-the-scenes approach to her more visible and loquacious husband Jean-Noël; and as a consequence, often has been overlooked. Such was the case a few weeks ago when a newspaper ran a story extolling the virtues of California's women vintners. There was no mention of Marketta Fourmeaux, which prompted a writer to send a letter informing the journal of the omission.
All of which she readily acknowledges, "I have been very much on the backburner. Jean-Noël does the marketing, he's out there. He's been our voice outside."
Not anymore, ergo the trip to Michigan and others on which she's now a spokesperson for the 18,000-case winery that just launched a second brand.
"I've been so involved in (winemaking and managing the vineyards) that I haven't been much out there," she says in an accent that is predominantly French but displays tinges of Finnish, her country of origin, and American.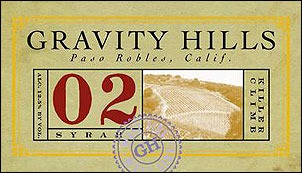 "But I'm beginning to put my nose outside," as she puts it quaintly. "I'd like to be out there because it's fascinating for me to see where the wines are going. I've been hidden on Mt. Veeder, hiding behind the trees."
These days, aside from her duties up on the eastside of Mt. Veeder, she's often in her car for the 4 ½-hour drive to
Paso Robles
, where she oversees the vineyards that she and her husband purchased 10 years ago.
The property has 90 acres -- 50 cultivated to mostly Zinfandel -- on the west side of Paso. There's another as-yet-to-be planted 200 acres of Rhone reds on the east side in Templeton.
The resultant wines -- about 11,000 cases, from the 2002 vintage -- are called
Gravity Hills
, and sell for $15 to $40.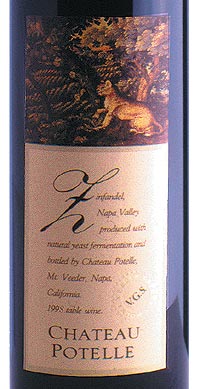 Interestingly, it is Zinfandel which attracted the Fourmeauxs, who came to the U.S. from Bordeaux where they were on a tasting panel for the French government. Perhaps more intriguing, Jean-Noël's matriarchal roots are attached to such stellar Bordeaux houses as Leoville-Poyferre and Pichon-Longueville Comtesse de Lalande.
But despite that, it was Zinfandel that captured the Fourmeauxs' attention. After all, no one in Bordeaux had experienced the varietal and it was "the true California grape," says Marketta, who adds that "I don't care" that it has its origins in Croatia and in Puglia.
So, with the release of their '90 VGS from Mt. Veeder in the Napa Valley, Chateau Potelle became one of the trendsetters for expensive Zinfandels. They had the audacity to charge $28 for the wine to which she says, "Everybody was laughing at us.
You're going to drink a hell of a lot of zin yourself.
… (But) fortunately or unfortunately, the price of zin has gone up a lot."
That same Zinfandel now sells for $64 because as Fourmeaux describes it, "I treat it as a Bordeaux. I make my Zinfandel in the claret style."
Some of the Zinfandel vines were planted before the Fourmeaux arrived on the property, while others were planted a dozen years ago.
"Our wines have to represent Mt. Veeder and this property," she says, building her case for her expensive zins. "If you compare our side of the mountain, which is east-facing, our side is forested, and there's much more rain."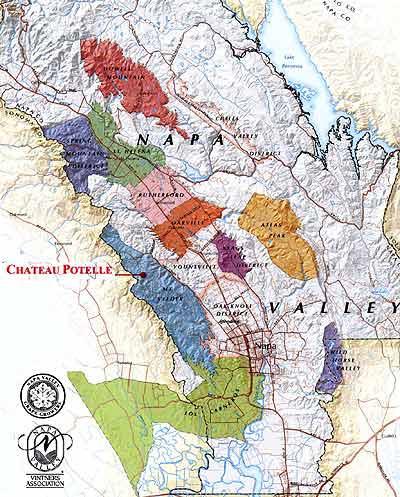 "The vineyards and winemaking are very close to my heart. We farm naturally and try to create biological balance with natural yeast, which brings the personality from the mountain."
"The style here is more focused, less opulent, less broad than what you get on the other side. But we have depth and never get overripe tannins because we never get that direct burning sun. It is exactly the style we were looking for."
When they arrived here, however, the learning curve was high. But the revelations were equally steep.
"Way back, when coming from France, I had to do things drastically opposite than what we did in France," Marketta remembers. "At the beginning it was
oh wow!
It was the opposite climate (from France), where they have to chaptalize. Here, we have to control the sugars."
Fourmeaux also recalls, "We had a goal stylistically in the balance of the wine. We didn't want to make them overpowering, one element stronger than others. We don't make Jacuzzi wines. Our style is pretty classical."
And, "We make food wines. Everybody says that, but we make wines that cannot overpower the food. We found that style on this terroir here."
What about her relatives and friends in France? What must they think of the reborn Americans to whom Fourmeaux refers as "21st century American pioneers," which includes herself, Jean-Noël and their daughters, Clarisse, 26 and Mariette, 27?
"In France, they said they did not realize you can make this quality in California," she says. "(French wine consultant) Michel Rolland once tasted our wines here and said they're incredibly well-balanced."
So, when they first alighted in the Napa Valley, Marketta sent a one-sentence message back to Bordeaux. It's a succinct missive which over the years, she favors repeating. It goes like this:
"We reported back to France,
It looks good. We stay.
"
But why leave Bordeaux in the first place?
"We had an option," she explains. "Either to blend into the French traditions and keep doing what had been done for a very long time."
"(But) we (she and her husband) are both independent thinkers and we had our own goal, our own vision. We felt we had more of a challenge here and more freedom to have our own fingerprint on our wine that we both believe in."
Apparently they saw in America, an opportunity to fulfill their aspirations and impart their imprint on the wine world.
"The freedom was incredible. You could plant whatever you wanted to plant," she says enthusiastically, but with a caveat. "The vineyards didn't have a lot of importance. At that time it was for the winemakers, who were the lawyers and the doctors."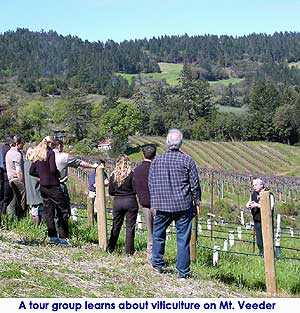 "(But) what has been amazing is the switch from that to the respect of the vineyards. … It's been a huge development from pure analysis to sensual taste."
Did the Fourmeauxs make the right choice?
"One hundred percent, absolutely," she answers without hesitation. However, she concedes, "It's been extremely challenging, because we didn't come to this country with a pocket full of money."
"Not