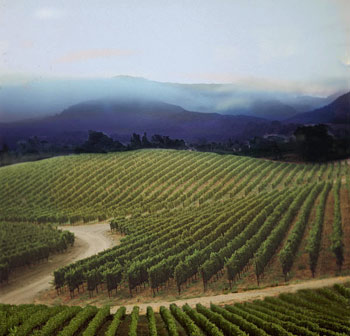 Why Cool Coombsville is HOT
Just as the pending Calistoga AVA remains in controversial limbo, at the other end of Napa Valley, a bitter brawl is underway about not only the naming of an AVA but its boundaries.
by Alan Goldfarb
October 8, 2008
---

n case you haven't noticed
- and chances are you haven't – save for a little dust-up over a name, the so-called Coombsville area east of the city of Napa is the hottest spot for grapes these days in the
Napa Valley
. Sitting on a plateau under the imposing Mt. George, the growers in the region are experiencing a come-to-the-mountaintop moment, while at the same time they're trying to figure out what the heck to call their little corner of America's most important wine region.
The farmers, the few brick and mortar wineries in the neighborhood, and those that source their grapes from the region are bogged down in a to-do over an attempt to get AVA (American Viticultural Area) status. But a proposal to name the area "Tulocay" - by what some in the area say was a minority of interlopers - was sent back by the feds, who rejected it.
(See sidebar-How to Name This AVA-below.)
In the interim, those that live in the area and farm the grapes are producing some of the more intriguing red Bordeaux and Chardonnay to come out of the Napa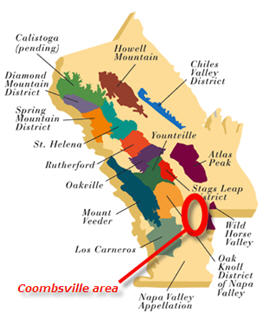 Valley in the last couple of years. At the same time, calls come in every day from those who inquire about the availability of Coombsville's fruit.
It is fruit that is turning out red wines that are very dark in color – mostly blue-black (and not unlike Superman's hair) – with flavors of blackberries, black plums, mulberries, and dried herbs and black olives. Their textures are silky with very soft and fine tannins, the body is smooth and elegant with subtle power; and they seem to be in sync with reasonable alcohol levels, definitive acidity, and length.
Coombsville, because of its proximity to San Pablo Bay, is cooler than up-valley vineyards. Thanks to that temperate climate, the

region is afforded conditions that allow grapes to mature to full ripeness without driving up sugar levels. Is this why cool Coombsville is so hot? "It's because it's not hot," replies Dawnine Dyer, with a hearty laugh. Dyer, along with her husband Bill, makes a Coombsville red Bordeaux blend called Meteor (along with their other brand, the Diamond Mountain-based Dyer Vineyard).
In addition to Meteor, there are a few actual wineries here such as Palmaz, Caldwell, Tulocay, Ancien, Frazier, Sodero, and Farella Park. There are about a dozen-and-a-half grower/brands such Tournesol, Haynes, Faust (Quintessa), Michael Black, Robert Craig, Far Niente/Dolce, Arcadia (owned by Warren Winiarski), Black Oak, Miller, Rocca, Richard Perry, Elke, Black Cat, Hagen Heights, and Bighorn.
In recent years, some other high-profile producers and winemakers have been using Coombsville's fruit, including Merus, Lail, Star Hill, Havens, Etude, Vineyard 29, Arietta, and Favia; and Philippe Melka, Mia Klein, Aaron Pott, and Andy Erickson.
In the 1980s and '90s, before almost anyone outside of the Napa Valley had heard the word Coombsville, Randy Dunn was sourcing grapes from there, as was Joseph Phelps for its signature Insignia wine. That's quite a litany and a testament to the efficacy of Coombsville and the quality of its grapes.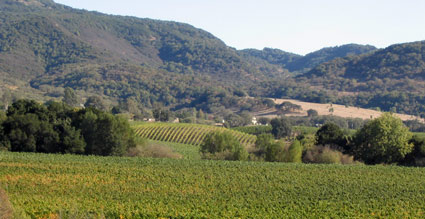 Dyer characterizes Coombsville as "not exactly in a cool climate. I would call it moderate. When it's hot in other parts of the Napa Valley, it's not as hot here. When it's cold in other areas, it's not really cold here."
Michael Wolf, a vineyard management consultant, who farms more than 100 acres in Coombsville, concurs about trying to pin it down. "It's a hard region to generalize about, which is one of the things that's interesting about it," he says. "(But) it's a region that lends itself nicely to making single-vineyard wines."
Perhaps the single most important factor seems to be Coombsville's climatic conditions, in deference to its soil properties. Grapes ripen there over a long period of time – perhaps longer than most places in the valley – without pushing the sugars that lead to reasonable alcohol percentages. It's likely a key component at the moment, when there's a trend seemingly toward ratcheting down the wines.
Taking time from the difficult 2008 harvest, Wolf explains to
APPELLATION AMERICA
the even maturation process that Coombsville affords: "It seems to be (a factor)," he says. "… We're looking at maturity levels now in the mid-24s here, when up-valley it's 27.5° (Brix). This is

the perfect season to see the difference, too. Even though it was hot down there, it wasn't quite as hot in Coombsville."
Further commenting on the intermediary qualities that seem to inhabit and inform Coombsville, Tom Farella of Farella Park Vineyard says: "It's not a mountain area. It's not a valley floor area. But it's a plateau."
With elevations of about 300 to 500 feet, Coombsville's 900 planted acres are under a horseshoe-shaped ridge - what Jonathan Swinchatt and David Howell in their book "The Winemaker's Dance" (University of California Press) called the "cup and saucer" of Coombsville.
Farella describes the soil here as not comprised of "a grain of clay loam or river bottom. It's mostly fine, volcanic ash from volcanoes elsewhere; and an overlay of riolitic tuft (gravelly and red) that has been crumbling over millennia."
Aaron Pott was at the center of the controversy surrounding the AVA petition, when he was quoted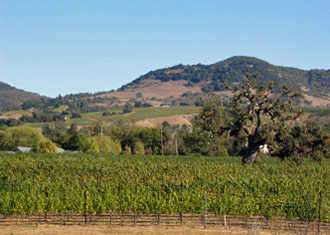 (he insists he was "severely" misquoted) as saying that "Tulocay doesn't sound as redneck as the name Coombsville". Nonetheless, Pott is enamored with the area. Still consulting for Quintessa where he was the winemaker, and making wine from Coombsville under his own Pott Wine label, he extols its virtues. "It's sort of the last frontier. People hadn't explored the area until recently. Most of the holdings are quite small, which gives it its charm," he says. "It's kind of my dream of what I'd like to see happen again in the Napa Valley, that has been dominated by a lot of the big players. (In Coombsville) there are still a lot of ranch-ettes. It's sort of like '50s Sunset Magazine."
Mike Wolf goes a bit further in his effusiveness. "I'm crazed over wines expressing the vineyard and down there (in Coombsville) it really lends itself to that. It's an interesting and developing area."
No matter what you call it. <