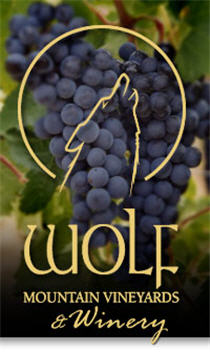 Georgia Gold Country is Now Golden for Wine
Wolf Mountain Vineyards Mines the Steep Dahlonega Plateau to Produce French-Influenced Wines from one of Georgia's Most Vertical Vineyards.
by Gregory McCluney
October 13, 2008
---

merica's first gold rush
was in
Georgia
, not California. It was in 1828 in the southern Appalachians, just a few miles from today's nine-year-old
Wolf Mountain Vineyards and Winery
. So much gold was found that the U.S. government opened a mint in Dahlonega, Georgia. But today's rush isn't for Dahlonega's gold, but rather to produce North Georgia's best wines.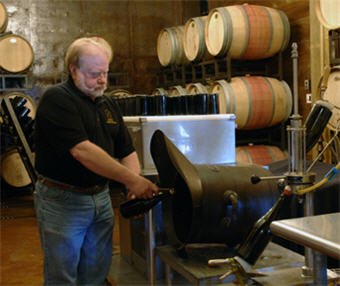 Karl Boegner came from the buttoned-down corporate world of Disney hospitality and a huge Georgia winery/real estate/golf development to these hills and terraces where on a clear day you can almost see Atlanta. Wolf Mountain Vineyards, situated in north Georgia's steep Dahlonega plateau at an 1800-foot elevation, is producing 3,000 cases a year.
In 1999, the Boegner family (Karl, Linda and son Brannon and daughter Lindsey) began site preparation on a former timber plantation – 25 acres of steep, south-facing land on a North Georgia mountainside. Some parts of the vineyard are so steep they resemble those surrounding the Rhine River in Germany. With little or no Georgia clay, there is rich sandy soil with a high mineral content, including mica. (Believe it or not, there are still three operating gold mines just a few miles away from Wolf.)
Much discussion among Dahlonega-area growers surrounds an application for designation as Georgia's first area appellation, likely "Dahlonega" or possibly "Dahlonega Plateau." But Boegner doesn't see it happening any time soon. "It's pretty hard to get the wine guys around here to agree on much of anything," he said.
Boegner's first harvest was in the fall of 2002 when wine production reached 2,000 cases. The winery opened to the public for tours and tastings in the spring of 2003, selling out of the first vintage in just eight months. This year, Boegner plans to sell around 3,000 cases and eventually, with estate and purchased fruit, he hopes to reach around 5,000, which he believes to be his capacity.
"I think that will probably be our comfortable upper limit," Boegner said in a recent interview. "With three new sparkling wines and our new red blend, we are running out of space, and they are very labor-intensive."
North Georgia's First Sparkling Wine
B
oegner has released something that Georgia wine lovers have been awaiting for a long time – its first dry sparkling wine. (To be exact, it is the second or possibly the third Georgia sparkler to be made. Chesser Family Winery in South Georgia near Folkston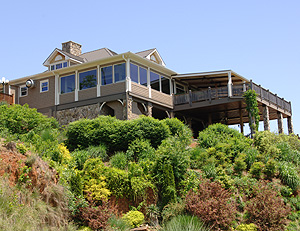 makes a sweet version.) Not satisfied to release just one, winemaker Boegner is making three: a Blanc de Blancs Brut (dry sparkling Chardonnay), his premier sparkler, a Brut Rose, and Sparkling Demi-Sec (by far the sweetest of his sparklers).
All are made in the traditional French
Methode Champenoise
style, with second fermentation taking place in the bottle. Boegner brought in a Spanish "dosage machine" that aids in his blending. He then applies a crown cap instead of a cork, similar to that used on the upscale E'toile of Domaine Chandon (California). The crown cap is then dipped in black wax for the final touch - a sexy-looking bottle, to say the least.
Boegner grows only red grapes at his winery site, supplementing his harvest with other grapes, including all his white fruit, from Blackstock Vineyards (managed and owned by David Harris). Blackstock, only 5 miles away, is also producing mountain-grown fruit and is now making wine near Dahlonega. Everything at Wolf is hand picked, sorted, crushed and gravity fed to his 1960s German bladder press.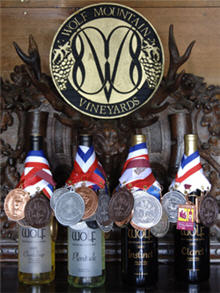 Wolf Wines at a Glance
B
oegner prefers to blend his wines and steers clear of selling varietals, leaving that to most of the state's other vintners. These wines range from $18-26/bottle.
Plenitude (All the Best)
Wolf's white Plenitude, a blend of 70 percent Chardonnay and 30 percent Viognier, sees only stainless to preserve its crisp, flowery, fruity flavors and solid acidity. French for "all the best," this wine is best enjoyed as an aperitif or with shellfish.
Chanteloup (Song of the Wolf)
Appropriately, Wolf's "Song of the Wolf" white is also a blend, but is aged in 70 percent French oak fermented and sur-lie aged Chardonnay and 30 percent stainless steel fermented Viognier to produce a rich, medium-bodied wine perfect for seafood, poultry and soft cheeses.
Sunset Rose
Boegner wanted a dry, Rhone-style Rosé and turned to the French again, this time to the process called saignée for his Sunset label. Juice is bled off prior to fermentation and aged in oak barrels to produce a dry, pink wine best suited to a nice summer picnic in the Georgia Mountains, although many restaurant customers order a glass before dinner
Coupage (The Art of Blending)
French for "art of blending." Wolf's Coupage red is a meritage of Cabernet Sauvignon and Merlot aged in new French oak for 10 months prior to blending. It has medium body, mixed and quite complex berry flavors, with soft tannins. It pairs very well with roasted meats and hard cheeses.
Instinct
Instinct is a full-bodied Rhone-style red aged in French oak for 10 months. After blending, it is returned to the barrel for four more months. The blend contains Syrah, Touriga Nacional, Cabernet and Mourvedre, which add up to a strong and jammy red that's perfect for game stew and other red meats.
Claret
Wolf's most expensive red (approx. $26 at the winery) is yet another blend, but this time it is Cabernet with a touch of Mourvedre, which adds a pleasing spicy hint to the finish. No lightweight here, Wolf's claret is a full-bodied wine that leaves a hearty footprint on the palate, but with surprising finesse and that hint of spice on the finish. A great steak wine.
WMV Demi-Sec
Boegner is of German descent, and he makes a very German-style Demi-Sec with a nice balance between sweetness and acidity, and with melon and pineapple flavors. He recommends pairing it with fruit tarts.
---
Photos courtesy Wolf Mountain Winery