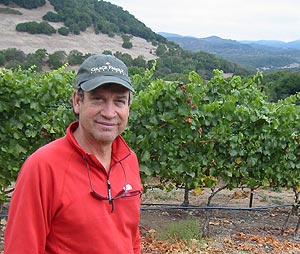 Wild Horse Valley ~ Napa Valley (AVA)
Wild Horse Valley: Napa's most obscure AVA
The Wild Horse Valley appellation
"is a real place, a real valley not drawn on political (lines) but physical soil types peak-to-peak." ~ David Mahaffey
by Alan Goldfarb
September 25, 2005
---
You'll almost never find the Wild Horse Valley on a tourist map to Wine Country. There's nary a mention of the Napa Valley's smallest and most obscure appellation in the wine books. In fact, there is hardly any wine made from grapes from this most mysterious of wine regions. Adding to the mystique, the AVA's only as-yet-to-be built winery has its vineyard in Solano County.

It is cold up there at elevations of up to 1,400 feet, perhaps even colder than Los Carneros, to which Wild Horse most closely resembles. But it is from here, in an almost forgotten area that has only one winery and three vineyards that total about 110 acres, that David Mahaffey and John Newmeyer have staked their claim.
Newmeyer's
Heron Lake Winery
is a winery that is thus far, without bricks and mortar; and one that finds itself in a nether zone that prohibits it from placing the Napa Valley imprimatur or even a Solano place of origin on its labels. If one can locate a bottle of Heron Lake's Pinot Noir, of which there are a scant 400 cases a year, only the words Wild Horse Valley appears on its back label.
To further confound the issue, one is hard-pressed to even find
Heron Lake
on a label as the last two vintages, which produced a little more than a half-ton per acre, shows up as "Miss Olivia Brion" on the front.
Nonetheless Mahaffey makes the wine at a facility near Meadowood in St. Helena until Newmeyer's caves are dug in WHV sometime next year.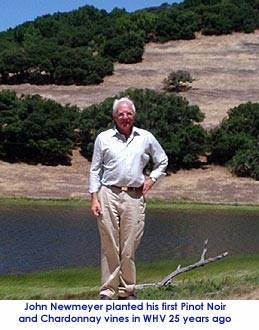 But make no mistake, this is not a new project -- it's just that only but a few are aware of its existence.
Newmeyer, who once ran for congress from Napa only to get trounced by Republican Gene Chappie, has been an epidemiologist for the last 34 years at the Haight-Ashbury Free Clinic in San Francisco. He also happens to be the brother of the actress Julie Newmar.
He bought the 1,000-acre property in 1978 and planted his 17 acres of Pinot and Chardonnay two years later. The first wines were produced from there in '85.
Never mind that Newmeyer's cultivated parcel is entirely on the Solano County side. With as much veracity as audacity, Mahaffey and Newmeyer petitioned the then-BATF and succeeded in '88 in making Wild Horse an official AVA of Napa Valley.
Both men are Pinot Noir advocates, especially from fruit grown in the mineral-laden soils and cool reaches of the Wild Horse that is in the northeast foothills above Napa, but in actuality, lies only 4½ miles from downtown as the crow flies.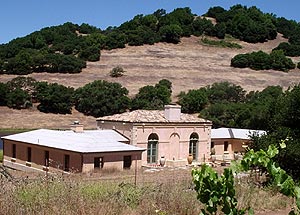 "It's special because of the soils," says the 63-year-old Newmeyer, who resides in an historic Victorian across from Lafayette Park in San Francisco until his Tuscan-style villa nears completion at the site of his vineyards. "The soils are volcanic with pumice stones and the subsoil is fairly rare. The Pinot has mineral qualities and cigar tobacco (aromas) from those soils."
As a sort of credo Newmeyer -- who has erected amusing but fictitious landmark signs around his property telling of the land's history -- has put up a weather-beaten timber entryway to his vineyard. Branded into the craggy gray wood is written:
"Vitas Amat Colles"
or "Vines love an open windy hill".
Newmeyer, who sells his Chardonnay to Newton Vineyards, calls Wild Horse "the Upland Valley" that straddles two counties, "as Switzerland lies between France and Italy."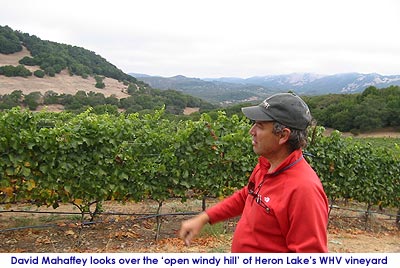 Mahaffey on the other hand, and more to the point, calls Wild Horse "a bit of an odd duck" for its obscurity caught as it is, between two regions.
But he insists that the appellation "is a real place, a real valley not drawn on political (lines) but physical soil types peak-to-peak."
But it is, because of its perceived peculiarities, that Mahaffey and Newmeyer hope for the day when more vineyards are planted and some other wineries decide to settle in the AVA.
"I heard David Abreu is planting nearby," Mahaffey says, speaking of the famed but controversial vineyardist. "Boy, would I love it if he came up here."
But alas, he explains, "there are just not any parcels that come up for sale (here). In the north end there are very large parcels that could be developed."
Both Mahaffey and Newmeyer refer to the huge Wild Horse Valley Ranch that is part of the Tulocay rancho that was established in the 1880s. If the Wild Horse appellation is to proliferate, it depends upon what befalls the WHV Ranch if and when it's sold and/or divided.
"That's where most of the precious soils lie," explains Newmeyer. "I can envision 60 to 80 (additional) landowners. I'd like to see it (the AVA's vineyards) expand. I'm pro-rural, especially when you're on the edge of the expanding suburbs."
In the meantime, Mahaffey oversees the vineyards and makes the wine. Although he also makes a Cabernet for himself, and has been producing wine in the Napa Valley for 25 years, it's the Pinot -- especially the Pinots, what with their high acidity and minerality from the Wild Horse Valley -- that he prefers.
"If they were going to shoot me in the morning, the last bottle of wine I would make, would be Pinot Noir," he concludes.