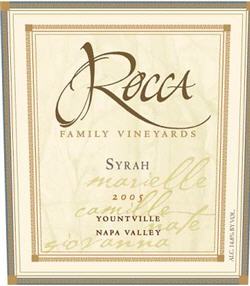 Yountville ~ Napa Valley (AVA)
Committed to Syrah at Rocca
The Napa Valley isn't the first place one might turn when thinking about Syrah. But historically, the region has been the foster home for the Rhône's most important red grape. Rocca Family Vineyards has found a sweet spot in Yountville to deliver world class Syrah.
by Alan Goldfarb
January 5, 2009
---

an Luis Obispo
and Santa Barbara counties have pretty well set the standard for Syrah in California for more than a decade now, but there are only a handful of producers who produce truly outstanding wine from the Rhône-based varietal.
Although it's been about 3 ½ decades since Syrah was first introduced in California as a stand-alone wine, for all intents, the grape has begun to proliferate only during the last 15 years. In that time, though California
Syrah
s have enjoyed better than moderate success, the varietal has not broken through and taken its place among the top echelon of great red wines.
But if one considers the path that other European grape varieties took to gain a foothold in California, perhaps Syrah's time is yet to come. Sangiovese catapulted onto the scene in a big way in the early 1990s, only to crawl back to Tuscany from whence it came about a decade later. It's easy too to forget that Pinot Noir, which is enjoying queen-like status now as America's most commercially successful wine, struggled to find its way for about 25 years before a trifle of a movie four years ago managed to gain the gravitas to propel Pinot to prominence.
The Central Coast from Monterey to Santa Barbara has been the nexus for California Syrah for a while now. From an almost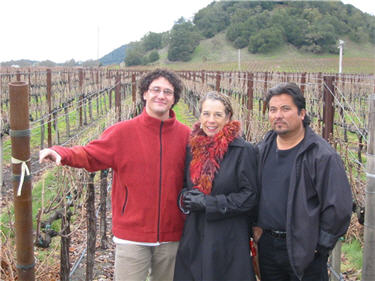 imperceptible 87 acres planted throughout California in 1982, Syrah is now in fifth place among the pantheon of red grape plantings behind Cabernet, Merlot, Zinfandel, and Pinot Noir.
Enough time has passed that two distinct styles of Syrah have come to the fore in recent years. Those from warm climates, such as from the Napa Valley and parts of Paso Robles and Santa Barbara County, exhibit a lushness typical of many California wines.
Naturally, Syrahs from cooler climes, such as those from Monterey and parts of San Luis Obispo and Santa Barbara counties, are distinguished by a more pronounced tannin structure, a tighter fruit profile, and slightly less alcohol, making them not too distinctly different from the Syrahs from the southern Rhône (Châteauneuf-du-Pape) and those of the northern Rhône (Hermitage, Cornas).
The Napa Valley isn't the first place one might turn when thinking about Syrah. But historically, the region has been the foster home for the Rhône's most important red grape. Although Syrah was first planted in the state as early as 1878, it was the prescient Christian Bothers who planted Syrah in a 4-acre experimental lot – in 1959, in the Napa Valley. It was Joseph Phelps also, who produced California's first 100 percent Syrah varietal wine, released in 1974.
While the Carneros in the Napa Valley was the titular birthplace of California Pinot Noir, and Cabernet Sauvignon from the Napa Valley became king of American reds, might the same happenstance occur for Syrah?
In '06, there were a little more than 1,100 acres of Syrah planted in the Napa Valley. Five other red plantings are more prevalent led, of course, by Cabernet (nearly 19,000 acres), followed by Merlot, Pinot Noir, Zinfandel, and Cabernet Franc. The aforementioned varieties command higher prices, which leaves Syrah playing catch-up.
Syrah on the Rocca's
One property in the Napa Valley –
Rocca Vineyards
– isn't exactly staking its claim on Syrah, but it features it prominently in its portfolio of 2,000 cases a year dominated, of course, by Cabernet Sauvignon.
That is because the folks at Rocca, which until very recently included the highly regarded winemaker Celia Masyczek, believe that its 21-acre vineyard in the
Yountville
appellation is a good site for Syrah. Located just south of the warmer Oakville and Rutherford districts, and just north of the cooler Oak Knoll and Stags Leap areas, Rocca's parcel makes a wine that fits perfectly into a niche that's, relatively speaking, not vastly hot or too cool.
In other words,
Rocca's 100 percent Syrah
is a 'tweener from a spot that produces a wine that displays red fruit, as opposed to the more sun-drenched black fruits on the eastern slopes of the valley, and with some gravel-y minerality and restraint.
Says Mary Rocca, the owner with her husband Eric Grigsby of the property (the wines are made at Laird in Oak Knoll), "People think of Syrah as being a cool climate (varietal), but it seems to like it here."
About a quarter of Rocca's organic plot - the Grigsby Vineyard - on the Yountville Crossroad and the Silverado Trail, is devoted to Syrah that produces about 500 cases in a good year, priced at $45 a bottle. In a neighborhood that's east of the famed State Lane road, and across from the Cliff Lede winery, the Rocca Vineyard is border lined from the Oakville AVA by a knoll to the north that is referred to as a "terminal moraine", or a hill that is formed by a glacier. In this case, a string of hills indigenous to the area were formed by volcanic activity and are more specifically referred to as the "Yountville Mounts".
The Mounts traps much of the fog that creeps through the valley from the San Pablo Bay. The mist undulates down to the floor and mixes with the warm air that is indigenous to this central Napa area to make it a unique spot to grow grapes.
According to Jean-Marie Maurèze, the operations manager at Dominus Estate in Yountville, "The Mounts is the commander of the climate. In the afternoon, it allows the warm temperatures to come back onto the valley floor that are coming from the north. In the mornings, the cool fog comes from the bay."
Celia Masyczek, prominent among top-class Napa Valley winemakers, is gone now from Rocca just as Paul Colantuoni takes over. The 36-year-old Belgian-American has previously worked with Syrah at Domaine du Vieux Télégraphe in Châteauneauf-du-Pape and at Neyers in the Napa Valley. He is also the consulting winemaker for Constant on Diamond Mountain.
With regard to the location of the vineyard, situated as it is on the precipice of cool/warm climate, Colantuoni says, "... You see it in the Syrah. It's simple (but) flamboyant, but it never becomes that. It has a little bit of classiness and that you don't always get (with Syrah). It's not a big, heaving pot of jam.
"That's something I notice in some Yountville wines. There's a strong minerality and dry earth." So, why Syrah, Mary Rocca? Why Syrah in the Napa Valley where you can get $100 a bottle as many of your neighbors do with Cabernet? "I could make more money if I took it (the Syrah) out," she begins.
To which Colantuoni rejoinders, "... and you'd make her winemaker cry. I'd be horribly disappointed if I stopped making Syrah. I love to work with it. It's a good place for Syrah to express the vineyard. Syrah is the greatest thing there is and it doesn't get the credit it deserves for expressing the site. I like tasting wines that you can tell came from a little spot in the world."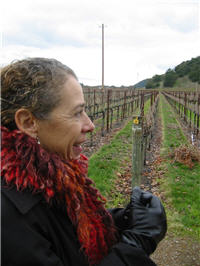 READER FEEDBACK: To post your comments on this story, click here

Print this article  |  Email this article  |  More about Yountville ~ Napa Valley  |  More from Alan Goldfarb