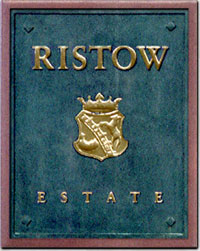 Changing of the guard at Ristow Estate
The future of a family business now in the charge of the next generation
by Alan Goldfarb
September 30, 2005
---
In the four decades that are the modern era of Napa Valley wine, which can be demarcated from 1966 when Robert Mondavi opened his winery, we have recently traversed a new iteration of Napa wine modernity. While a scant few wine families are bridging a third generation, tiny
Ristow Estate
winery enters its second era of leadership.
This 18-acre property off the Silverado Trail just north of Oak Knoll, produces about 1,000 cases a year of Cabernet Sauvignon. It is here in 1983 that Brazilian plastic surgeon Brunno Ristow and his Nicaraguan wife Urannia purchased the property, planted their first vineyard five years later and released their initial wine in 1995.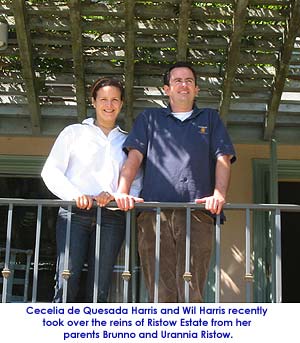 They named the vineyard
Quinta de Pedras
or "place of stones" for the rocky terrain, and hired their first winemaker, the highly respected Pam Starr, who gained some accolades for the wine.
A little more than 20 years later, the Ristows (Brunno is 65, Urannia, 62) have decided to take a backseat. They apparently trust that their 35-year-old stepdaughter and daughter Cecilia de Quesada Harris and her husband Wil, also 35, are ready to take over the estate's operations.
On a lovely summer day recently, Cecilia (whose maiden name is taken from her Cuban father) and Wil, greet a visitor at the front door of the family mansion.
Wil, who owns El Ragon Argentine restaurant in San Francisco's North Beach walks with a noticeable limp and wears a brace under his shirt. Almost three months ago playing polo against a younger South American team, he was tossed from his pony and broke three vertebrae in his back.
Nonetheless, here he is ensconced as GM at his in-laws' estate with his wife, who 11 months ago gave birth to the couple's first child, as the Marketing Director of Ristow.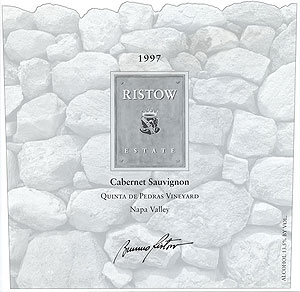 They took over the business last year, although Brunno still oversees vineyard operations. Ristow (pronounced
ris-TOE
) keeps 40 percent of its fruit, which goes into their Cabernet-based wine that is priced at $59. The rest of the grapes are sold to next-door neighbor Signorello, to Maclean and to Joseph Phelps.
One of the first things that the new management did was hire a new winemaker. Seven months ago, Jamey Whetstone, 37, who was an assistant at Turley, replaced Starr. The wines are made at the Napa Wine Co.
So, are Cecilia and Wil ready to guide Ristow well into the 21st century?
"I think so," says Wil, who has an MBA and used to own some vineyards in Mendoza, Argentina. "I was gratified that her (Cecelia's) parents wanted to move to the next generation. … I like the idea of the continuity of it, and to shepherd the grapes through the next phase. It's a fun and honorable struggle to keep it all going."
Cecelia agrees, saying that her parents "were very excited that we wanted to do this, especially with Wil's involvement. They feel confident in Wil's ability."
She also says her stepfather "is a very romantic person and (taking over) was a very romantic idea. But neither of us had any experience with the wine business."
"… But I'm learning from a lot of women and other people around my age and it gives me a different perspective. The business does require a lot of hard work, focus and attention. It requires a lot of hard decisions."
At that, Wil interrupts, chiming in, "They (the Ristows) were very clear that the winery has to continue or otherwise, we won't survive. (They said)
You're on your own.
But it's difficult. It quickly loses its romance."
It's clear that this young couple is intensely interested in succeeding, but it's apparent they had little idea of the difficulty of their charge. About now, they're probably tired of the ironic phrase often heard around these parts, "Welcome to the wine business."
For the moment, Cecilia and Wil plan on keeping the business small.
"We want to get our arms around a small operation," he says. "Once we do that, then we can think about perhaps going beyond that."
Adds Cecilia, "Now that we (the family) has had this over 20 years, we're focused on how it changes and how it expresses itself. We're young, we have an 11-month-old daughter, and we'll probably have more children."
"I don't want to have such a large operation. I don't want to be on the road 10 months out of the year."
Wil says his in-laws "want us to do it if it's an additive to our family. If it becomes too stressful, then they told us it's not worth it. Family comes first."
The question remains, will the next generation of the Ristow family remain in the tough and not-as-romantic-as-expected wine business?