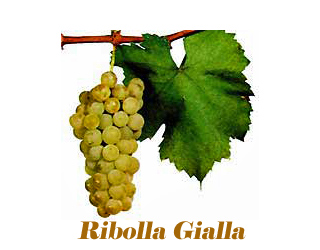 Ribolla Gialla: A Napa maverick's antidote to Cab
by Alan Goldfarb
March 25, 2009
---

ase in point:
I spent about a week in Friuli on a press wine junket soon after the September 11 attacks on the World Trade Center. Not once was I presented with a Ribolla. And in a look through two of the best-known wine atlases, Oz Clarke's New Wine Atlas (Harcourt) and Hugh Johnson and Jancis Robinson's The World Atlas of Wine (Mitchell Beazley), one can find nary a mention of
Ribolla Gialla
.
Is it any wonder then that Americans have hardly any knowledge of this grape? Along with dozens of other varietals that go unknown, unappreciated, and ignored, Ribolla Gialla is an outlier, which is a shame, because consumers are missing out on one of the most interesting wines being produced today.
I recently came across what I think is the only Ribolla being made in the states, the 2007
Vare
Ribolla Gialla from the
Napa Valley
. And what a revelation it was, too. I tried it while visiting Michael Chiarello's newest restaurant,
Bottega
in Yountville, Calif. The chef, who made his bones at Tra Vigne in the valley and then on TV, brought over a bottle to have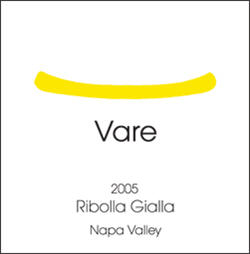 with his incredible burratta (an even creamier form of bufala mozzarella) that was accompanied by artichokes and topped with a wonderfully fruity olive oil.
The Ribolla had an intense and tangy lemon quality with good acid and intriguing minerality. It was a serendipitous find, and a perfect foil for the cheese dish. The name Ribolla Gialla (pronounced REE bowla GEE a la) has a specific meaning. "Gialla" means "yellow" in Italian and indeed, the skins of the grape are yellow; and the word "Ribolla" means "(it) re-boils" due to the variety's tendency to re-ferment in the spring as the temperatures increase.
The word Ribolla was discovered in a legal contract in 1289, which confirmed that it was important enough to be specifically named to distinguish it from other white Friulano varieties. In 1402, the city of Udine issued an edict forbidding anyone from misrepresenting other wines as Ribolla, or even blending it with any other variety.
In California, George Vare, who is a partner in
Luna Vineyards
north of the city of Napa, believes his 2½ acres is the only planting of Ribolla in America. His plot, planted with cuttings most likely from Friuli itself (he won't cop to this), is in the Oak Knoll District, on the west side of
Highway 29, also just north of Napa. The soils are of sandy loam and he says the climate there is a little different from the valley floor with summer being cooler and the winter a little warmer than what is normal.
Vare makes only about 120 cases (beginning in 2004) of it, with most packaged in 500-liter bottles and the remainder in 1.5 liters. The smaller bottlings sell in some New York City wine shops for about $25, with the remainder distributed to restaurants there and in California.
It's obvious to ask Vare: Why Ribolla?
He loves going every year to Friuli and to Slovenia where he has lots of friends; and from where he fell in love with the wine. "I didn't know why I planted it, but I like the variety so much, I figured, what the hell," he says. Thus, he grafted over some of the Pinot Grigio vines around his house that was going to support that varietal at Luna, for his own Ribolla.
"The results were delightful. I got involved in Friuli in the first place with (John) Kongsgaard (who used to be the winemaker at Luna) with our Pinot Grigio. I took the Ribolla back (there) and the reaction was, 'wow!' I was told that the Friulianos would be jealous to make a Ribolla as good."
Vare said he was concerned about the hot weather in Napa for his plantings because Ribolla is a cool-climate grape. Fortunately, while the alcohols are higher and the fruit riper in the Napa Valley, Vare's vineyard in the
Oak Knoll District
is cooler than many others in the region.
"As we get more fruit quality, we lose the so-called minerality, but actually we seem to have maintained both … and we now feel we have a good grip on the grape," he says. "No one in Friuli is quite sure how we manage to maintain that. Anyway, it works."
Will he produce more?
"No, I already have way too much Ribolla for my needs," he declares. "It's a very heavy producer and requires a huge amount of work in the vineyard. My friends in Slovenia say it takes twice as much work in the vineyard than it does a normal variety."
He manages to keep yields down to three tons, a considerable achievement when otherwise Ribolla has been known to produce five to seven tons an acre.
Is there a future for Ribolla Gialla in the U.S.?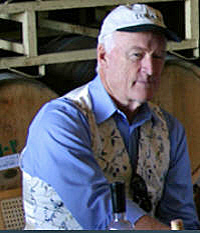 "I could make more, but I'm probably not going to," he acknowledges. "It's not going to be much of a commercial venture." However, Vare says that Michael Chiarello "loves this wine. He says it's his favorite white." So, he's talking about giving Chiarello some cuttings. Chiarello, a vintner himself, has a vineyard on the eastside of Highway 29 in St. Helena, which is considerably warmer than Vare's vineyard in Oak Knoll.
Who knows, if Ribolla Gialla has any chance of making it in the Napa Valley, Vare knows now how to grow it and Chiarello – an astute marketer as there is – can sell it.