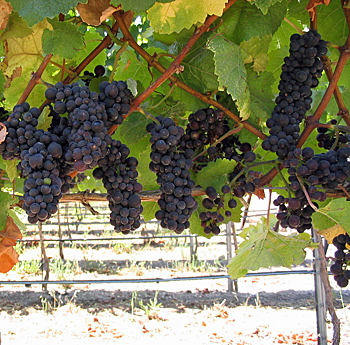 California (State Appellation)
Pinot Noir's Regional Pedigree
by Dan Berger
April 23, 2009
---

f there is a more site-specific red wine
in the world than the fragile, persnickety, petulant
Pinot Noir
, I'm unaware of it. And thus by contrast,
Cabernet Sauvignon
represents a curious 180-degree counterpoint to it.
Cabernet can be grown in a wide variety of soils and climates. It is adaptable to a lot of conditions. It is hardy enough to hold up to some pretty rough handling, indeed it often demands it, and it still comes out tasting pretty good. To be sure, it is a lot more concentrated than is most Pinot Noir, and it is rarely as site-specific. That is, it's harder to identify specific characteristics of it. But it matters a lot less.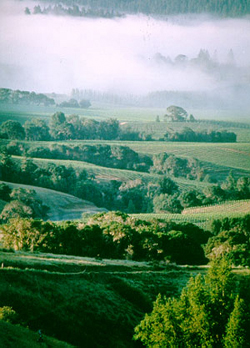 We often know what a rich, unctuous Cabernet is all about and we like it for its ostentation. It is big, bold wine. And Cabernets can be so close in style one to another that even examples from Napa and from Bordeaux can be put into the same blind tasting and some expert tasters can be confused as to which is which.
The same could be said for California or Oregon Pinot Noir and Burgundy, but there is a difference. Burgundy lovers relish the differences between Beaune, Corton, Gevrey, Santenay, and Meursault. In California, we accept the differences between Pinots from Oregon, Santa Barbara, Russian River, and Santa Rita Hills. And with Pinot, it is difference, not sameness, that marks the wines.
Pinot's site-sensitivity along with its reluctance to conform to conventional wine making tactics, as well as a seeming yearning for maladies, and its disinclination to provide decent color (and other odd proclivities) make it seem the stepchild of the fine-wine game. And we love it for that eccentricity.
One key factor in why we love Pinot Noir, beyond the wine's simply seductive features, is that it carries with it a deliciousness that many other wines will offer only with bottle aging. As handsomely as Pinot can age, it usually is a bit more approachable when it is young.
Sites for Sore Eyes
It was about all this that I was musing a few days ago at a luncheon in which we were trying some excellent Pinots turned to site specificity. Dan Baron, the wine maker, and his right-hand man, Ben Cane, at
Twomey Cellars
in the northern end of the Napa Valley, were speaking about how tricky it was to make a classic California Pinot Noir from cool-climate fruit, balancing the desire for a perfectly structured wine with the desire of the marketplace to have a wine that is instantly satisfying.
Baron, also the wine maker at the affiliated Silver Oak Cellars, said that the Twomey project began with the complete understanding that Pinot Noir and Cabernet Sauvignon were polar opposites, and that to make Cabernet in a refined manner still takes into consideration the rustic, hardy nature of the grape. "We are growing Pinot on the riskiest vineyards," said Baron, "on soils where the fruit barely ripens."

It reminded me of the old Burgundian saying that the best wines come from grapes that grow on the edge of disaster, and Baron noted that in the first years of the Twomey project there have been times (such as in 2006) when he wasn't certain that the fruit would have sufficient character to make for distinctly different wines, as was the purpose of the project.
"We're not looking, as some wineries are, to make Syrah in drag," said Australian-trained Cane. "Making a wine like that destroys the idea of regional character."
Tasting through the various Pinots from Twomey's project shows that structure and finesse are traits that work hand in hand with the regional distinctiveness. Cane's "Syrah in drag" line refers to massive, high-alcohol, later-picked Pinots that are powerful and usually have little to say about where they came from. Indeed, Cane and Baron elected to harvest the 2006 grapes while the sugars were relatively modest, and the alcohols show it. One of the Twomey wines is at 13.7 percent alcohol and two more are barely over 14 percent .
An Eye (and Nose) for Anderson Valley Pinot
Weeks earlier, I tasted through the soon-to-be-released Anderson Valley's
Goldeneye
2006 Pinots, made by the respected Zach Rasmuson, and then days later did a tasting of still-unreleased 2007s from Sta. Rita Hills'
Sanford Winery
, from star wine maker Steve Fennell. In each case, the wines showed distinctive regional characteristics that may be attributed to the where as much as the what.
Wine reviewers often will tell us that a wine is superb and give it a score (such as 95). Or that another wine is almost as good, and we know that because it got a 94 or 93. Such gradations are based on what? A person's likes. The scoring of wines was once explained to us as if we were idiots. "That's the way we were graded in school," we were told. Duh.
What wasn't said was that those school grades were based on something other than the teacher's likes or dislikes for a particular paper. If you correctly spelled 47 words on a 50-word spelling test, you got a score of 94. There was a complete objectivity here, and the score was a measure of the knowledge imparted.
I teach at a local college and assign term papers. When they're turned in, I grade them on the basis of creativity of topic, depth of knowledge, and a number of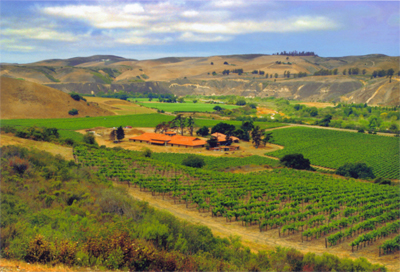 other factors that are told to the students before the assignment is made. So the grading is based on a set of requirements; a failure to meet one or more of the requirements results in a certain number of points taken off.
When wines are scored, where are the essential criteria to say that they are worthy of the score awarded? If no criteria exist, the score means nothing other than someone's lame attempt to say, "I like it." Higher scores call for, "I like it a lot," or "I really like it a lot," or "I really, really like it a lot, a lot."
Now, what does this tell you about the style of wine? It is self-evident that scoring "systems" (which are not systems at all!) do not deal with character, style or anything at all that relates to where a wine is from. Which makes it more than bizarre when a scorer gives a wine a rating of, say, 96 and then says it's a great St. Julien, or a great Margaux, or even a great Marlborough. (That last, admittedly gratuitous example was done tongue buried firmly in cheek since regional prejudice would preclude any wine from Marlborough, New Zealand ever getting a score of 96.) How can a wine be a great (name the region) if regionality has nothing to do with its score?

READER FEEDBACK: To post your comments on this story, click here
Print this article  |  Email this article  |  More about California  |  More from Dan Berger