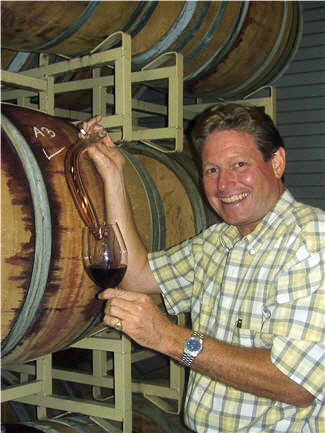 Bennett Lane's Winemaker:
A Modern Traditionalist
by Alan Goldfarb
May 26, 2009
---

MUST CONFESS
that I was hesitant to write
Bennett Lane's
story when its winemaker, Rob Hunter, began to explain how he makes wine for the Calistoga winery. That's because he blends lots from a bevy of vineyards from throughout the Napa Valley, only after he allows the fruit to stay out in the field longer than a Yankees outfielder caught in a 14-run inning.
Rob Hunter is a winemaker who walks a narrow line. He considers himself an "active" winemaker rather than an "interventionist". Although, when he tells you his methods of making wine - and he does at times use every tool in his arsenal, and tells you so, unabashedly – one comes away thinking he could be the former rather than the latter.
Where is the terroir in that; and how high is the alcohol going to be when I taste the wines?
As if that weren't enough, Hunter explains that sometimes he adds water to his wine. And sometimes he micro-oxygenates (MOX)

his wine, and sometimes he de-alcoholizes the wine, and sometimes he adds acid to the wine. Truth be told, it is a rare winemaker who doesn't at some juncture use any and all of these techniques.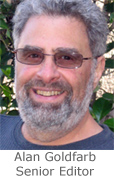 The difference is Rob Hunter isn't concerned about telling anyone about what he does. "In many ways I try to be traditional as possible," he tells me. But "I am one to use every tool possible. …They are available to me, not that I use them (so much). It's wonderful to have all this technology. The thing is, it keeps going back to the point that I know you can overdo it.
"I'm an active winemaker, rather than a passive winemaker. I'm very involved with the wines that I make … (but) I try not to be an interventionist."
A Fine Balance: Using Technology For Better Wines
The bottom line is that, after tasting the wines Hunter makes for Bennett Lane, I decide to write about them because I cannot deny it: They are damned fine wines. They are balanced, they are delicious, and they're a testament to the craft of excellent winemaking.
After I posit the theory that blending from disparate vineyards can mitigate the terroir of each of the components, Hunter agrees – to a point.
"Blending does, in a sense, hide or downplay the unique characteristics of each of the appellations," he says of the valley floor grapes he uses from some of the best the Napa Valley has to offer from Calistoga, St. Helena, Rutherford, Oakville, and Yountville. They go into his red blends of Bennett Lane's Maximus, which it calls "Feasting Wines", and its Cabernets.
"However, when you are making a wine that represents the winery, rather than a
specific appellation blend, and when a winery's wine is
Napa Valley
, you're almost tasked to use wines from (the various sub-appellations). Inherently, you know you're going to lose the chalkiness from Oakville, and lose the dustiness from Rutherford, and you lose the core of fruit from St. Helena," he continues. "But you'll necessarily need that bright fruit that you get from Calistoga and rely on those different characteristics you need to make the blends.
"So, when making a Napa Valley wine, I seek out certain (fruit) from different areas. I have to seek specific (sub-)appellations in order to make what I deem to be a true Napa Valley blend. And in my opinion, that's what Napa Valley is all about."
What it's also about, and what he learned by working with Nils Venge (Saddleback Cellars) in the 1980s (together, they made the 1985 Groth Cab that garnered a 100-point score from critic Robert Parker) is to leave the grapes on the vine until they reach "varietal" maturity.
Hunter explains that he throws away his refractometer (an instrument that measures sugar levels in grapes) and tastes, and tastes, and tastes. At first he says the grapes taste, well, grapey. But when they're ready, in his mind, they taste like a Cabernet is supposed to taste, or a Petit Verdot is supposed to taste. It also means that the sugar levels climb to the stratosphere.
It's then that Hunter sometimes has to use water to revive the dehydrated grapes, or he has to MOX the wine, or remove some of the alcohol by sending some off to a fix-it shop. It's nothing that almost all California winemakers do. It's just that Hunter is not loath to admit it because he knows he makes some pretty damned good wine.
"I'm not an advocate of using acid. Sometimes that's being an interventionist," he explains. "I can't remember the last time I de-alced a wine. I would only use it when necessary. It's not something I freely use. It's a last-gasp thing. When you pick fruit at very high sugar in order to reach acceptable flavors, you have to consider potentially using water to allow the yeast to finish its fermentation. I only use water to prevent stuck fermentation (which is legal). I wouldn't use it at other times."
You've Heard Of "Activist Judges" - Say Hello To An "Active" Winemaker
So, when I ask him what is the difference between an "active" winemaker – which is how he characterizes himself – and one who is an "interventionist" – which he insists he's not – his answer is well thought out, although I catch him a bit by surprise.
"An interventionist would be somebody that almost takes the art out of winemaking," he answers after a long pause. "There's a great deal of art and a

great deal of passion (to winemaking). There's a great deal of artistic expression in the wines that I make. (If you're an interventionist), you lose being called a winemaker."
Though he cops to the notion that he straddles the demarcation "I am walking a fine line, but to get the flavors I'm looking for, I need to pick at a high degree of sugar. I'm trying to pick at the peak of varietal flavor. In California, in order to get that true varietal ripeness, we have to pick at higher sugars. In order to do that, I have to add water.
"If you're going to call that manipulative or interventionist, then, yes, you have me over the proverbial barrel."
But he concludes, "I don't like to think of myself as an interventionist. (I employ) judicious and cautious use of technology; and I have a healthy respect for tradition and a true sense of honor."
---
Photos courtesy Bennett Lane