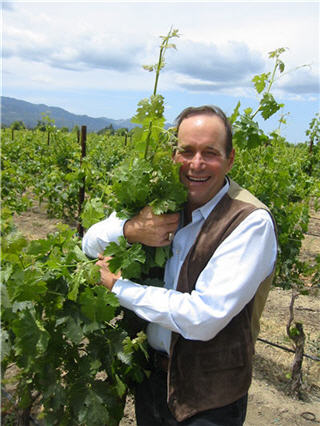 Beckstoffer Speaks
Grower Andy Beckstoffer: 'It's about the land, not a man'
by Alan Goldfarb
July 21, 2009
---

tanding almost directly on top
of an ac/heating grate in the reception area of his reproduction 1880s Victorian is a plant that no one in Andy Beckstoffer's office can seem to identify. Rest assured it's the only piece of horticulture in Beckstoffer's vineyard kingdom that isn't accounted for.
Beckstoffer presides over America's most prestigious and expensive vineyard land, located primarily in the
Napa Valley
, although he has other vineyards in Mendocino and Lake counties. In all, he controls more than 3,300 acres over 20 parcels at last count; that includes seven in Ukiah (1,137 acres) in
Mendocino
, three (1,100) in up-and-coming
Lake County
, which established the Red Hills region; and most important of all, 10 vineyards in Napa, comprising a total of 1,075 acres of the country's most hallowed ground.
And if Beckstoffer had his way, which is often the case, he would drop American Viticultural Areas (AVA) sub-appellations from the litany of hierarchal label designations.
First and foremost in the Beckstoffer genus system would be the name of the vineyard. The single-vineyard classification, according to this genial gentleman farmer, is really all that there should be; with an almost-equal-but-not-quite nod to his beloved "Napa Valley". Then and only then would follow the name of the sub-AVA, which according to Beckstoffer is for all intents, nothing more than a political demarcation not based upon the exigencies of the terroir from which the grapes grow.
"We want to emphasis the vineyard and not the sub-appellation," Beckstoffer exclaims from his upstairs office. It sits in the middle of the famed and now renamed Georges III Vineyard, whose grapes once were the source for one of America's once-renowned wines, the Georges De Latour, made by Beaulieu Vineyards.
To prove the point, Andy Beckstoffer will do something shortly that might seem blasphemous to some, when he requests that clients, who use the grapes from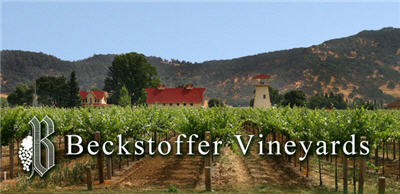 his famed To Kalon Vineyard, remove the sub-AVA designation "Oakville" from their labels. "You want to focus on the vineyard, make the vineyard (most) important," he continues saying further, "it's important to know California, the Napa Valley, and Oakville … but I'm working my way down. (As an example) I don't want southern onions, I want Vidalia onions. Keep drilling down, drilling down, drilling down."
In other words, bore deep enough until you come to the essence of the wine – the vineyard. It's why the people who buy his grapes - especially from To Kalon to Dr. Crane's rock-pocked vineyard outside of St. Helena (a vineyard that he says André Tchelistcheff, the Napa pioneer, "told me to get"), to the newly renamed Missouri Hopper (nee Vineyard X) in Oakville, to the Las Amigas Vineyard in Carneros - pay dearly for the privilege. In return, they get to charge a princely sum; and to reap the lucre because of the prestigious provenance of their wines.
"It was always my idea that the vineyards would make the difference, all with the idea of showing the special characteristics of those vineyards," says Beckstoffer, who despite being a world-class promoter of his hallowed ground, is one of the Napa Valley's most vocal preservationists of America's most important wine region.
He calls so-called "reserve" wines – which have no legal basis – a winemaker's conceit and a "magic chef" philosophy that give the appearance of being "perfect" with flawless "shoulders, chin, and breasts". He believes, however, that a wine with a single-vineyard designation "is a doll with a chipped tooth" whose attributes "you only get from what the vineyard gives you."
With that in mind, astonishingly, he is not always thrilled with what some of his clients do to their wines made from his grapes. An early and vociferous opponent of high-alcohol wines (albeit for more pragmatic reasons that have more to do with lost revenue due to dehydration in the vineyard), he believes they are flawed.
"I don't think they complement food and they can't stand the test of time," he declares of some of the wines made from his vineyards that sell from $50 to well over $100 a bottle, wines of which he can't command stylistic control. "I love to taste them, but my concern is they overpower food."
Despite that, he holds sway among winemakers and vintners who clamor to get hold of some of his grapes. However, Beckstoffer, who knows more than most about what makes a great vineyard, is a little flummoxed about what the future holds. He claims that the next two decades will be crital as much of the Napa Valley will go through an extensive replanting program – not unlike what we witnessed during the early 1990s through the new millennium.
Then it was due to the plant louse Phylloxera. Now, he says that those vineyards planted over the previous two decades are coming due for another era of resuscitation. Unlike the 90s, when he and his colleagues knew which rootstocks would be anathema to the scourge of the microscopic bug, Beckstoffer claims now, "I don't know what to plant."
Why? According to Beckstoffer, there hasn't been enough research conducted as to which will be the most appropriate plant material with which to work over the ensuring 20 years; and the bill comes due starting as early as 2010. UC Davis, the progenitor of most things viticultural in the new world, hasn't the financial resources to do the work required.
"We don't have enough information to start this major replanting program," Beckstoffer insists, "and I don't know what to do. … We're going to be replanting over the next 10, 15 years, but we need some better direction."
He does conclude that the current vertical shoot position (VSP) trellis system - in vogue for the last 10 years throughout California and a system that some believe contributes to high-alcohol percentages – will undergo a transformation, featuring more spread out canopies, which in turn will lead to less vigor, and perhaps more restrained wines.
Cabernet Sauvignon will continue to be king in the Napa Valley, but we'll begin to see different clones. And, as further testament to his mantra of vineyard-is-all, Beckstoffer proclaims, "People ask me how Napa Valley is going to keep up with millennium trends and I tell them that we're going to have to keep producing an agricultural product that is not manufactured. … We've got to make a product of what the vineyards give us."
Heading into the second decade of the new century, and with larger-than-life human icons gone, who is there to lead the Napa Valley into the future? Might it be Andy Beckstoffer? Before he derails that notion, Beckstoffer says, "There's talk of who is the next Robert Mondavi. (But) before it was Robert Mondavi, it was a production man, André Tchelistcheff. But there's never going to be another Robert Mondavi. The icon now is going to be the vineyards.
"We have to preserve the vineyards. That's what it's all about. That's what drives people like me."
When pressed again as to wh