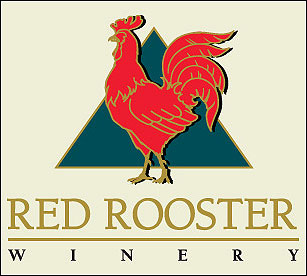 Andrés arrives on British Columbia's hot Naramata Road
The Okanagan's trendiest neighbourhood continues to attract new residents, veterans and upstarts alike
by John Schreiner
October 25, 2005
---
With its purchase last week of
Red Rooster Winery
, Andrés Wines Ltd. supplied further confirmation that the hottest winery address in British Columbia is Naramata Road.
Scenic Naramata Road, on the east side of Okanagan Lake, runs north from Penticton to (and a little beyond) the quaint village of Naramata. In a fifteen kilometre stretch, there are now 20 wineries open or under active development. This is the most concentrated number of wineries anywhere on the Okanagan wine route, and it is attracting tourist numbers to match.
Red Rooster, housed since 2004 in a palatial pair of buildings that cost $2 million, is the most visually stunning winery on Naramata Road. Set beside a sweeping bend near the Penticton end of the road, it has a location that is impossible to miss. And Andrés did not miss it when the winery's founders, Beat and Prudence Mahrer, decided to sell.
This is the fourth winery that Andrés has purchased this year. This spring, it purchased
Thirty Bench
, a boutique winery in Ontario. Since then, all of the acquisitions have been in British Columbia. In the May purchase of Cascadia Brands, Andrés took over
Calona Vineyards
Ltd. and
Sandhill Wines
, major sister wineries in the Okanagan. By buying Red Rooster, Andrés further increases its strength in British Columbia's mid to upper premium wine market.
The other major buyer on Naramata Road this year has been Keith Holman, a long-time Penticton fruit grower who is moving out of fruit and into the more buoyant wine business. Holman got his feet wet in 2003 by launching Spillers Estate Winery, a small fruit winery. This year, he opened
Mistral Estates
, a grape winery, and purchased the winery next door, Benchland Estates, which has been renamed
Stonehill
. These three wineries all are on Upper Bench Road, a busy thoroughfare that affords access from Penticton to Naramata Road.
In August, Holman purchased
Lang Vineyards
which, when it opened in 1990, was one of the first wineries on the 'Naramata Bench' (as this budding sub-appellation is known). This spring Holman also began planting a Naramata Road vineyard as the future home of yet another grape winery. He also plans a small distillery.
The Mahrers came to Canada in 1990 from Switzerland, where they had operated several successful fitness salons. They purchased an apple orchard near Naramata and quickly replaced the apple trees with vines. They opened their first winery in 1997 on this vineyard, calling it Red Rooster. It was located on a side road about a kilometre off Naramata Road.
The name comes from their particular affection for chickens as low-maintenance pets (because they were too busy in Switzerland for time-consuming pets). They erected a chicken coop beside the driveway to the winery and installed a small flock.
The head of the flock was a rooster they called Prince Charles. For the opening of Red Rooster, the Mahrers announced that Prince Charles would attend. They actually sent an invitation to the heir to the British throne. He declined it in a polite note that was then hung on the tasting room wall. No doubt, he was unaware that a rooster had substituted for him.
The original Red Rooster had a capacity to produce 10,000 cases a year and business soon was running ahead of capacity. Consequently, the Mahrers decided to move to a winery three times that size and with a far better location for wine tourism.
As it happens, their original winery was purchased early this year by a group of investors headed by Calgary businessman John McBean, the long-time area secretary in southern Alberta for the Opimian Society. He managed to enlarge the winery, reopening as
Therapy Vineyards
. His winemaker is Marcus Ansems, the talented young Australian who took Ontario's
Creekside Vineyards
through its first four vintages.
The Mahrers's decision to sell Red Rooster comes from their shrewd assessment that this is a good time to cash out of a booming business. They had also taken a look at the fast-paced trends in the business that were creating insane workloads. Prudence Mahrer, 52, says that she did not have a day off all summer for recreational flying with the aircraft both she and her husband pilot.
By acquiring Red Rooster, Andrés takes over a focussed range of table wines priced from $13 to $48 a bottle. The lower-priced Red Rooster wines compete with the
Peller Estates
table wines. In the last two vintages, Red Rooster has extended its range with reserve wines (Chardonnay and Merlot) selling for $30. Its top-priced wine, made only in the best vintages, is a Meritage blend called 'The Golden Egg'.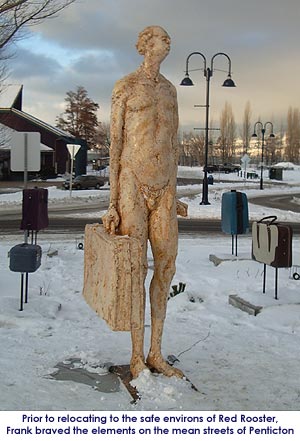 Andrés also gets a destination winery much more appealing to wine tourists than the industrial Calona winery in downtown Kelowna. (Andrés also is expected to announce plans soon for another destination winery in the south Okanagan to house the premium-priced Sandhill production.)
The Mahrers attracted additional traffic to Red Rooster with a second-floor art gallery and with a controversial sculpture in the tasting room called
Frank the Baggage Handler
.
The sculpture, a full-frontal male nude, was public art that was unveiled last year in front of an art gallery in Penticton. A substantial number of Penticton residents were outraged and protested roundly to city hall. After someone vandalized the statue -- you might guess what was cut off -- the statue was moved into storage.
The controversy gave the Mahrers an idea for a ploy even better than the 1997 invitation to Prince Charles. They bought the sculpture, had it repaired and erected in the tasting room. It was a hit -- and one of the best selling wines in the wine shop this year was a red called 'Cabernet Frank'.