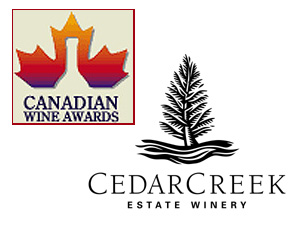 CedarCreek repeats as Canada's Winery of the Year
CedarCreek clearly has earned its place as a top-ranked Canadian winery and one that can take on the world.
by John Schreiner
November 1, 2005
---
In a remarkable achievement,
CedarCreek Estate Winery
has just been named 'Winery of the Year'
for the second time
at Wine Access magazine's Canadian Wine Awards competition.
The Okanagan winery led all other competing Canadian wineries by taking eight medals, including three gold medals, in the 2005 competition. This repeats the winery's victory in 2002, when it won 10 medals.
These honours are among a growing list of awards that the winery has been accumulating in challenging competitions during the last five years. CedarCreek now has established itself as a consistent front-runner among its peers.
How it got there is a story of discipline and focus that provides a useful case study for the Canadian wine industry.
One of British Columbia's original estate wineries, CedarCreek opened in 1980 under the rather unusual name (for a winery) of 'Uniacke Estate Winery'. One of the founders, David Mitchell, was a descendant of Richard John Uniacke, Nova Scotia's first attorney-general, and was remembering his heritage.
The name did not resonate among British Columbia consumers. Uniacke struggled for several years until Mitchell sold it in 1986 to Ross Fitzpatrick, a wealthy Vancouver mining executive who had been born in the Okanagan and who longed to own an orchard. The Uniacke property included apple trees as well as vines. As it happened, it was also directly across the road from the Mediterranean-style mansion that Fitzpatrick has just completed, overlooking Okanagan Lake.
In short order, Fitzpatrick found wine more seductive than apple growing. The apple orchard gave way to more vineyards. The winery was renamed CedarCreek, for the creek that passes along one border of the property. Kelowna native Anne Sperling became CedarCreek's winemaker (she left in 1995 to become a brilliantly successful Ontario winemaker). The wines quickly improved. Within a decade of Fitzpatrick ownership, CedarCreek was producing about 21,000 cases a year.
During that decade, however, CedarCreek's progress was limited because Fitzpatrick, fully engaged with the mining business, managed it from a distance. In 1996, however, he sold his mining company and was named a member of the Canadian Senate. His son, Gordon, who also had worked in the mining company, was then assigned hands-on control of the winery.
New to the wine business, Gordon did a painstaking analysis of CedarCreek. He was alarmed to learn that much of CedarCreek's production consisted of inexpensive wines that were barely profitable and soon would be unprofitable. The solution: a thorough shake-up in 1998 in the vineyards and in the winery that put down the foundation for the winery's current success.
Perhaps the key decision was the recruitment in 1998 of winemaker Kevin Willenborg, a California-trained winemaker and a 14-year veteran of the
Louis M. Martini Winery
. He had the skill to take advantage of the superb 1998 vintage, substantially raising the bar for CedarCreek wines. The upper tier Platinum Reserve wines produced for the first time in that vintage set the winery on the road to profitable premium production.
At Willenborg's suggestion, CedarCreek started using a viticultural consultant from California named Eric Neil. That led to a major overhaul of grape growing techniques in CedarCreek's three vineyards as well as in the vineyards of its contract growers. Neil continues to provide grape growing advice.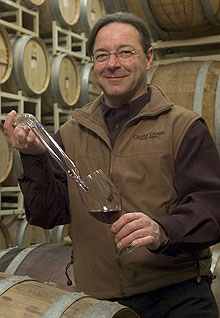 When Willenborg returned to California in 2000, he was succeeded by Tom Di Bello. They had been classmates at the University of California at Davis. Di Bello has had a peripatetic career, making wine all over the United States and in California. He had been working in Washington State before coming to the Okanagan.
Gordon Fitzpatrick then proceeded to rebuild the winery by 2002, giving Di Bello one of the most modern wineries in the Okanagan. This was the third leg in the stool -- the others being the top quality grapes and the talented Di Bello -- that positioned CedarCreek to repeat as Canada's winery of the year.
CedarCreek also has notched up other significant awards since 2000. For example, at the Los Angeles County Wine Fair in 2002, where only eight gold medals were awarded in the Chardonnay class, CedarCreek won two -- plus another gold and best of class in the Pinot Blanc class.
In mid-October this year, Ottawa's Vendange Institute (a wine school) sponsored a major tasting that pitted six British Columbia reds against six from Bordeaux and six from Ontario. The top-scoring wine, beating some well-known Bordeaux châteaux, was CedarCreek's 2002 Platinum Reserve Meritage.
Now producing about 30,000 cases a year, CedarCreek clearly has earned its place as a top-ranked Canadian winery and one that can take on the world.
These are the CedarCreek medal winners in the 2005 Canadian Wine Awards:
Gold
: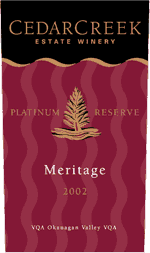 CedarCreek 2002 Platinum Reserve Merlot ($40)
CedarCreek 2002 Platinum Reserve Meritage ($40)
CedarCreek 2004 Classic Dry Riesling ($15)
Silver
:
CedarCreek 2002 Platinum Reserve Cabernet Sauvignon ($40)
CedarCreek 2004 Classic Ehrenfelser ($15)
Bronze
:
CedarCreek 2003 Estate Select Meritage ($29)
CedarCreek 2003 Estate Select Merlot ($27)
CedarCreek 2003 Estate Select Pinot Noir ($25)