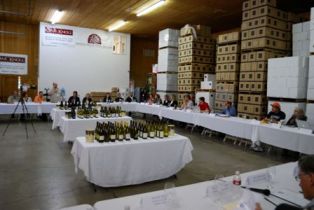 Oregon Pinot Gris Symposium at Oak Knoll Winery
Oregon producers of Pinot Gris convened at the first Pinot Gris Symposium at Oak Knoll Winery to discuss the diversity and signature of this varietal in their state.
by Barbara Trigg
June 29, 2011
---
Walk into any restaurant or wine store and ask for Pinot and chances are you will be directed to the list or shelves of red wines. But there are times when only a glass of white wine will do, and luckily, you can still turn to Pinot, in the form of Pinot Gris. 
More than not, Pinot Gris goes by its Italian name, Pinot Grigio, and the Italian style is often light, dry, and crisp--wines perfect for sipping by the pool or served as an aperitif. There are also more full-bodied versions of Pinot Grigio with great depth and complexity from regions such as northern Italy's Alto Adige where the wines are prized for their minerality and bright acidity.
Another region producing more complex wines is in France's Alsace, considered by many to be the ultimate expression of the grape. Here Pinot Gris produces a luxurious full bodied wine with a honeyed texture, with exotic hints of musk, nuts, and spice, and perfectly balanced with engaging acidity. It is usually fermented dry but may have some residual sugar to balance the acidity. This fuller style pairs beautifully with the renowned foods of the region.
Differing styles exist in other regions around the world as well. It is grown in cooler areas of New Zealand, Washington's Vancouver, and in the United States it has found its home in Oregon. Generally called Pinot Gris in Oregon, the grape was first planted in the late 1960's by David Lett of Eyrie Vineyards in the Willamette Valley. This is one of the coolest wine growing regions in North America and has a challenging climate best suited to grapes like red and white pinot.
Pinot Gris is the most widely planted white grape in Oregon, second only to their most well known grape, Pinot Noir. Yet, many people are not familiar with Pinot Gris. In a move to introduce and educate wine consumers about the Pinot Gris grape, marketing gurus Jo and Jose Diaz joined with Oak Knoll Winery president Greg Lint and winemaker Jeff Herinckx to present the first Oregon Pinot Gris Symposium held on June 9, 2011.
The sold-out event was host to over fifty of Oregon's most renowned winemakers, grape growers, and marketing professionals, and writers. The keynote speaker was Paul Gregutt, one of the Northwest's best known wine writers and critic. The Symposium was organized to discuss how to elevate Pinot Gris to a deservedly higher level of visibility in the wine market.
One of the main threads of discussion was on developing an "Oregon style" of Pinot Gris, one that could be recognizable to the wine consumer. Currently, the diverse growing conditions and climates in Oregon produce different styles of Pinot Gris.  As a group,
Pinot Gris wines generally tend to have higher acidity and lower alcohol than most Chardonnay wines. And unlike Chardonnay, it is primarily aged in stainless steel in order to bring out the fresh fruit characteristics of the grape. As in Alsace, there is often a touch of residual sugar in the wine to balance the crisp acidity.
In addition to discussing a regional style, Paul Gregutt spoke of promoting the strengths of the wine in general in order to educate wine consumers on its virtues including its purity, the vibrancy of its fruit and its bracing minerality when grown in Oregon.
The Symposium also covered technical aspects of growing and producing Pinot Gris, such as optimal vine density, yeasts, and clonal selection—all affecting the aromatics, minerality and ripeness of the Pinot Gris fruit.
A tasting of Pinot Gris followed the discussions.  Wines from participating wineries were poured, including those from King Estate, one of the state's largest producers of Pinot Gris, and Spindrift Cellars, a small boutique winery.  Many of these wines are certified organic or certified sustainable.
Is there currently an Oregon style of Pinot Gris?  After tasting through numerous samples, there were common characteristics among the wines. They were rich, almost viscous, creamy, with very bright pear and apple fruit flavors and minerality, balanced with pleasing bright acidity. There were differing degrees of residual sugar in the wines, but they would not be considered sweet wines. The residual sugar serves mainly to round out the acids.
Only one producer, Apolloni Vineyards, at the Symposium made the wine in the light, dry and crisp Pinot Grigio style, but it too was interesting and compelling.
Several of the wines brought Riesling to mind because of the ying and yang of sweet and sour. As with Riesling, Pinot Gris wines are very food friendly and there is a good deal of complexity in the wines. That cannot always be said of Chardonnay without the addition of oak. 
With all of its positive attributes, Oregon Pinot Gris certainly deserves a special place on restaurant wine lists, store shelves and on wine consumer's dinner tables.