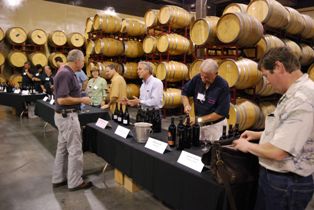 California (State Appellation)
9th Annual Petite Sirah Symposium at Concannon Vineyard
Petite Sirah found an organized home with the Petite Sirah I Love You organization. Their 9th annual symposium on growing and making this varietal was held at historic Concannon Vineyard in Livermore.
by Roger King
August 2, 2011
---
<!>
The progression of Petite Sirah has been an interesting journey.  Originating in the Rhone region of  France and being parented by Syrah and Peloursin, it's true name is Durif.  But that did not stop the early California growers and winemakers from inventing their own name, due to lack of knowing exactly what is was.
Fast forward to the 21st century and Petite Sirah has it's own organization to help guide those who enjoy the workings and delights of this grape and wine.  Founded by Jo Diaz, with a name reportedly conceived by Dan Berger, the Petite Sirah I Love You Association (PSILY.org) carries the torch.  That torch burned bright at the 9th annual convening of the annual Petite Sirah Symposium on July 26th.
Beautifully staged at the Concannon Vineyard facilities, recently re-developed by now parent Wine Group, the tradition of Petite Sirah was passionately pursued by a sold out group of growers and vintners.  The event also marked the 50th Anniversary of Jim Concannon breaking out and producing the first bottling of this wine as a varietal from the now Livermore Valley AVA.  "It was Jim Concannon who was the first to embrace Petite Sirah as a variety, taking it from the obscurity of its hearty Burgundy days, and recognizing it as more than a simple blending grape. It was he who first labeled Petite Sirah as such in 1964 with a 1961 vintage pleasing his southern California retailer friend Denny Caldwell… and the rest is history," stated Jo Diaz, executive director, PS I Love You
During late 2008 Appellation America conducted a horizontal Best of Appellation evaluation with PSILY to attempt to capture the nuances that reflect regional diversity based on where the grape was growing.  Wines came in from throughout California and even a submission from Washington.  With that in mind great curiosity of further evolution became forefront in heading to Livermore for this years Symposium and tasting.  It became a treat as we ventured from a lovely outdoor lunch to the Concannon barrel room for a statewide tasting of attending winery current and future releases. 
The true consistency of varietal expression could be seen across producers from Northern and Southern CA.  Without a doubt the ongoing understanding of growing and wine making with this grape had escalated.  Each and every wine was clean, solid and allowed a perspective of regional character. Tannins, once the demon of early Petite offerings, are being mastered.  The interchange of technical know how facilitated over 9 years of this gathering might have a bit to do with that as well.
Livermore Valley AVA known for gravels, has new plantings in the hills which show differences in character.  The morning fog banks on western ridges, with cold morning air yet full sunlight, of Santa Clara Valley AVA and Suisun Valley AVA showed commonality in fruit.  Petite Sirah grown in the eastern most section of Southern California's Ramona Valley AVA at 2,500 feet showed depth of color and dark fruits yet those from the Sierra Foothills AVA, grown at elevation presented minerality as well as dark fruits.  Those with origins in the vineyards of Clarksburg AVA brought fresh bright aromas and a definite spiciness.
What was confirmed was the findings in 2008, of then 05 and 06 current releases, remain consistent to impressions derived three vintages later in the 2008/09 bottling with a heavy dash of finesse now thrown in.