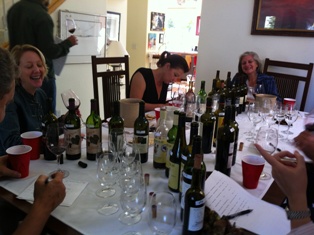 Born in the USA: America's Norton Grape
The Wild Vine, written by Todd Kliman, detailed the history and untold story of the Norton grape in America. It also peaked interest to assemble a tasting group to review a wide range of Norton wines submitted from accross the United States.
by Catherine Seda
November 7, 2011
---
<!>
There it was, healthy, green, and ready for action; one vine amongst a wreckage of innumerable tries. Where the others had failed, the wild child had flourished. And so begins the history of the Norton grape in America—a grape so inextricably linked to the blood, sweat and tears of our country's early pioneers, a grape that would save a man's life, raise a village, and go on to great acclaim in Europe. A grape so unknown, yet with such fierce defenders today, that Appellation America gathered Norton wines from numerous States to see: what is it about the wines that lead to such fervent followers? And what exactly, does Norton taste like?
Norton's beginnings start with the pioneers' arrival on American soil. The first settlers eagerly gathered native grapes growing in abundance such as Concord and Isabella. With the taste of red Burgundy and Port wines indelibly set into the pioneers' minds and on their palates, however, the reds created from these American grapes proved more than disappointing. Sparkling wine from the Catawba grape was an early success for Ohio, but it made a better white (its red skins were removed) than red wine.
Vine cuttings brought from Europe had not proved successful in the soils and climate of the new country, as Thomas Jefferson in Virginia and others so tirelessly pursued. However, experimentation was rife in the new world, and those dedicated to solving the puzzle of good American wine began to create crossbreeds between European and American vines in an attempt to produce something more than passable in taste.
As Todd Kliman explains in his comprehensive history of the Norton grape The Wild Vine: A Forgotten Grape and the Untold Story of American Wine (2010, Clarkson Potter), Norton the man (and likely others as well) were before their time. Their experimentation of grafting European vitis vinifera with native vine roots, would later save the wine industry from total annihilation by the phylloxera louse that was killing off the world's great vineyards in the late 1800s.
It was amongst his hundreds of attempts at crossbreeding in the 1820s, that the Virginian, Daniel Norton, came across his lone survivor, the wild child. Its parents were unknown, except that one was European vitis vinifera, and the other local--likely vitis aestivalis. Desperate for relief from the loss of his wife and newborn child and contemplating ending his life, the search for an answer to good wine and that lone healthy plant that stood amongst his other dead plants, sprung new life into the man. His discovery, the Norton grape, would be sold and planted successfully across many States.
Norton would travel to Missouri and give purpose to a new settlement of German immigrants in the town of Hermann. Missouri Norton would also raise the status of the entire State. By 1870, Missouri had become the biggest wine producing State in the new country. Its Norton wines would gain recognition, not only in America, but throughout Europe. In 1873, a Norton wine brought home a medal from the international exhibition in Vienna, followed by a grand win in Paris in 1878.
Somewhere along the line, in its expansion to other States, the same grape was called by a different name: Cynthiana. The Norton/Cynthiana wines had big, concentrated, wild and earthy flavors in their favor. They were considered the best reds of their time by many, and better even than some European wines, depending on who you were listening to.
Prohibition would later stop the grape in its tracks, with federal agents burning vine after vine to the ground. But they did not get it all. Enter the bootleggers, who salvaged plots of Norton, which would be discovered again, creating a whole new set of fervent followers for the grape.
And so with this history, this introduction, Appellation America gathered 36 bottles of Norton wine from 5 different States –Virginia, Missouri, Texas, Illinois and Georgia and from varied vintages, in their Napa Valley offices. A September 24th tasting date was set and a panel of local Napa valley tasters was gathered. The group included winemakers, wine buyers, wine marketers, barrel builders, writers and sommeliers, but they all had one strong common thread in addition to being in the wine industry: there was an openness and eagerness to taste lesser known varietals, and on this day to learn and discover Norton.
Appellation America's circle of tasters included:
Kari Auringer, Napa Valley Winemaking Consultant
Jeff Prather, Wine Buyer, Oxbow Wine Merchants
Kerry Kirkham, Technical Editor, Wines & Vines Magazine
Samuel Smith, Wine Production, Smith Madrone Winery
Phil Burton, Owner, Barrel Builders
Liz Cohen, Marketing Manager, Rutherford Ranch
John Dickinson, Wine Educator
Catherine Seda, Writer, Balzac Communications & Marketing
Barbara Trigg, Sommelier, Manager, Appellation America
Following the tasting, the panelists weighed in. They found it fascinating to taste so many Nortons in one tasting. The history of the grape in the U.S. was discussed briefly, and then the group talked about the wines in general.
The general characteristics of Norton wines across the borders were: high acid, light tannins, lower/balanced alcohol. The tastes were markedly different from the wines those in the group were more familiar with. There were big, concentrated flavors of black berries and black cherries; chocolate, vanilla, and earthiness. While these may sound like descriptors for a Napa Valley cabernet, most of the wines were definitely something different, structured differently, and something new and exciting to discover.
The younger Nortons were favored—the 2006 vintage and later--described as fresh, fruity and very lively. With the older vintages of the tasting, the acidity remained high, and seemed out of balance with the wines' (expected) diminished fruit flavors. There were, however, some nice spicy and earthy aromas with the older wines.
One thing the group recommended, especially for those who have never tried the grape before, is to enjoy the wines with rich, fatty foods. The Norton wines' high acidity are a good match for anything rich—juicy steaks, creamy sauces, creamy cheeses, barbecued meats, fried foods – even fried fish sandwiches with French Fries.
You also need an open mind. If you are expecting anything else – Bordeaux, Napa Valley—you have already skewered your tasting. This is something for the uninhibited, for the adventurous, and for those who truly love wine and want to discover everything they can about it.
While there were varied favorites amongst the tasters, these wines had numerous fans in the group:
Augusta Winery 2009 Augusta Missouri, Estate Bottled
Stone Hill Winery "Cross J" Norton 2007 Hermann, Missouri $25
Horton Vineyards 2009 Orange County, Virginia $15
Chrysalis Vineyards 2008 Locksley Virginia $35
Chrysalis Vineyards Sarah's Patio Red Semi- Sweet Light Red 2010 Locksley Virginia $25
Rappahannock Cellars 2010 Virginia $ 26.50
Stone House Vineyard Claros Norton Texas Hill Country, Spicewood, TX $ 25

READER FEEDBACK: To post your comments on this story, click here
Print this article  |  Email this article  |  More about America  |  More from Catherine Seda