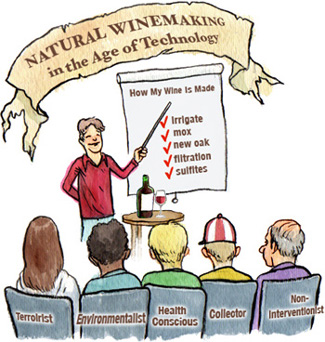 Natural Thoughts from World of Pinot Noir
Clark Smith reviews his thoughts from the Natural Winemaking Panel Discussion at 2012 World of Pinot Noir
by Clark Smith
March 2, 2012
---
<!>
When I received the summons last Fall to speak here, I looked at my desk and saw three sheets of paper: a Scott Labs discussion, in reaction to the unusually rainy harvest, of emergency measures to be taken against rot, including the use of lysozyme, yeast hulls and enological tannins, an article I had just completed on the 24 most interesting new technologies I had discovered at SIMEI in Milano, the world's largest winery equipment show, and a flyer about a new insoluble fungal-based material for killing Brettanomyces. I asked myself why these interesting new ideas might arouse suspicion and distaste in certain quarters.

In the last decade, American winemakers have been beset by unhappy voices from outside their ranks. I perceive two sources for this discontent. The first is our failure to maintain the information flow which not long ago made the wine media our allies. We are today less than forthcoming to the press concerning sweeping changes in our practices, which while they have vastly improved wine consistency, have also supported a growing sameness at Safeway.

Instead of the frank discussion of new technologies and techniques which is so much fun to hear from Top Chefs, we mostly just claim to do the minimum. This is disingenuous, and the trade can smell it. We must never use additions, techniques or blending components we are not proud to speak of. This, to me, is the true working definition of manipulation. The 6th Century Alaverdi Monastery in the Kakheti region of Georgia is loaded with modern technology, and no one questions their wisdom in its use, because they are the real deal. It is not the tools which make us less than natural – it's the way we use them.

The second cause of discontent is a growing sameness which is apparent in national brands. In 1975, the 1,000 or so wines made by U.S. wineries -- 100% of the existing diversity --could all more or less be found on the retail shelf. Today, that same shelf holds only 1-2% of the 100,000 American wines, and the 99%ers on the D list have no significant three-tier distribution. The Grüner Veltliners of Lehigh Valley, Pennsylvania, the Monticello Viogniers, the Santa Cruz Mountain Chardonnays, Iowa la Crescents and Snake River Merlots offer a higher level of excellence and distinctiveness than ever before in history. Our diversity is greater than ever, but as in Europe, you need to go to the wineries to experience it.

California Pinot Noir, newly lime-lighted by Hollywood, lies in between these two worlds, and winemakers must choose between pandering to the popular consumer expectation involving high oak, long hangtime, sweetness and impact, and presenting distinctive wines of place. Most winemakers are in the business not for the money, but for the love of it, and will do the latter if they can still pay their bills. They are all basically on the side of the natural wine enthusiasts to the greatest practical extent.

It is every winemaker's dream job to connect the human soul to the soul of a place by rendering its grapes into liquid music. Like any chef, our task is to present nature's work in graceful fashion, uncluttered by artifice. That's just good cooking. In order for regional character, the way a place tastes, to be center stage, the winemaker's influence should be invisible. This magic trick is a high art, and paradoxically requires much skill.

In the case of the WineSmith 2005 Second Fiddle, I wanted to show that less hangtime than is customary could produce a deeper, truer expression of the hibiscus blossom and saddle leather which characterize Fiddlestix. Three weeks before its harvest, we used an ultrafiltration technique on Pinot Noir heavy press wine from a sparkling wine producer to create a Pinot Noir cofactor concentrate, neutral in flavor and without astringency, which was added during fermentation at 1%, resulting in an enhanced extraction of the cinnamic acid "spicy Burgundian flavors" of clone 667 and of the cherry notes and color characteristic of clone 115 on this site, greatly enhancing the wine's terroir expression while maintaining is silky, ethereal style.

Despite its feminine delicacy, the wine's structural integrity caused it to be quite closed in youth. I regard it as an artistic triumph and a commercial disaster.

My goals are soulful terroir expression balanced presentation, and graceful longevity. If the Natural Wine movement is requesting wines which have made themselves, they have yet to demonstrate that they will support through purchase the clumsy, unbalanced wines that often result.