Truly Unique Clos du Lac Community Vineyards
The Sierra Foothills AVA is vast and certainly diverse but in Placer County one unique vineyard inside a gated community, operated by homeowners, is producing serious Bordeaux and Rhone varietal fruit for many resident and out of area wineries. Clos du Lac Community Vineyards is a source of fascination for organization and delight for resulting wines.
by Roger King
May 10, 2012
---
<!>
Vineyard development and operations in California have typically originated from a set of agricultural interests in growing crops to take to market to make the business of the farm and land economically viable for the owners. But once in a while something different can emerge. In the case of the Clos du Lac Community Vineyards that is just the case.


Developed 18 years ago as a highly unique gated residential community on 200 acres in the Loomis region of Placer County, Clos du Lac Community Vineyards sit at roughly the 650 foot elevation. This was never intended to be some cosmetic beautification, rather meaningful acreage of wine grapes incorporated into the common areas. Part of the large Sierra Foothills AVA, Clos du Lac Community Vineyards is now supplying 50-60 tons of multiple varietals to upwards of 23 client grape buyers each year. Multiple wineries are using the fruit in single bottling as well as blends into other wines, while home winemakers have also been able to source fruit as well.
What is fascinating is the community approach to management and operations. While not like the classic European village where wines of place are created from vineyard to bottle, the vineyard operation is clearly a community business. Vineyard management is contracted out to professional growers. Business management from operations to sales is overseen by the association of property owners, and definitely not their day job. Residents do tinker and some make their own personal consumption wines as well; an interesting blend of Petite Sirah and Counois went to barrel from the 2011 vintage along with another blend of Petit Verdot and Petite Sirah.
A combination of Bordeaux and Rhone varietals have been established that are speaking to the site. Cabernet Franc, Petit Verdot, Petite Sirah, Grenache Noir, Mourvedre and Counoise all have their places in this vineyard. Only one mistakenly identified and planted vine of Viognier constitute the white varietals. All seem well fit to thrive in the warm, occasionally hot, days that cool nicely each evening into morning lows in the upper 50's. This evening cooling, assisted by the tail end of the "Delta Breeze", down flows of High Sierra air and proximity to the water mass of Folsom Lake, works well to preserve acidity while days insure full ripening of fruit.
Predominantly head pruned in a training scheme sometimes called a vertical cordon (except for the Grenache Noir and Counoise on trellis), with a 6x8 planting scheme the various blocks have been fit to their terrain since early on. It was less expensive for developer installation and, in part, thinking it was an easier system to manage, head training has worked well with good uniform ripening and little disease pressure. It does require thoughtful canopy management to avoid sunburn yet allow enough uniform light. Yields are kept in the 3-4 ton per acre range, bringing concentration and great fruit quality.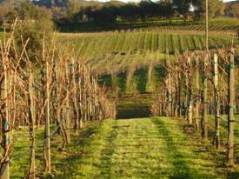 Cabernet Franc has found a good home at Clos du Lac Community Vineyards, with multiple wineries continuously sourcing it year after year. Not surprisingly local wineries of Placer and Nevada counties and the Sierra Foothills such as Mt Vernon Winery, Lone Buffalo, Casque Wines and Bent Metal have long standing positions for various varietals from Clos du Lac Community Vineyards. But even one Napa Valley based winery, Peter Murphy Vineyards –who actually planted and managed many of the vineyard blocks – continues to use Cabernet Franc and Petit Verdot from here.
The wines have had time to tell the vineyard story. Kevin Stevenson, winemaker at Casque Wines in Loomis, released the 2008 Le Casque Cabernet Franc in 2011. 91% Cabernet Franc, 9% Petite Sirah yet comprised 100% from the Clos du Lac Community Vineyards. He defines the fruit from Clos du Lac 'Block A Vineyard' as extremely intense. Marked by aromas of dark ripe berries, earth and mineral, with firm tannic structure supported by plum and spice. Stevenson tends to pick at two differing ripeness levels to capture qualities found at Clos du Lac Community Vineyards and then blends the two lots. The early lot usually at 24-24.5 brix tends to highlight violets, forest floor, earth, some tabacco and dark berry fruits. The second lot, picked at 25.5 to 26 brings higher fruit tones and begins to show plum. Appellated on label as Placer County but not vineyard designated, this wine shows a tone for this area of the Sierra Foothills diversity. A small lot done in 2007 was named "MicroWinery - Best of Show" at the 2010 California State Fair Competition.
Mourvedre and Grenache were previously sourced from other vineyards to use in a Le Casque Rhone blend with Petite Sirah which is called Adrian. With the 2011 harvest that blend will come from the Clos du Lac Community Vineyards. The rather young planting of Petite Sirah, now starting to move into maturity is described as "awesome" with all the notable aspects of structure, spice, color and tannin coming forward.
Mt. Vernon Winery in nearby Auburn has created a 2008 bordeaux blend released as Expression. This wine is blended with 50% Petit Verdot (from Clos du Lac Community Vineyards), 16% Cabernet Sauvignon, 16% Merlot, yet also 17% Cabernet Franc from Clos du Lac Community Vineyards. Firm tannins with juicy balancing acidity lets you know it is from around here.
Earlier Mt Vernon wines of 2004 and 2006 Petit Verdot showed vintage nuances of finesse of tannin and fruit in balance with acidity. The 2006 Cabernet Franc of Clos du Lac Community Vineyards fruit spent extensive time in barrel and resulted in deeply layered cocoa and oak. While these wines have been sold, framing a picture through time is left to help understand the place from which they are coming.
Lone Buffalo Vineyards in the Auburn Newcastle area is another client who sources fruit, using the Mourvedre and Grenache in their flagship wine, "Where the Buffalo Roam". Phil Maddux, owner and winemaker combines roughly 60% dry farmed Syrah from his estate vineyard in nearby Newcastle with 20% Mourvedre and 20% Grenache from Clos du Lac Community Vineyards to form this classic GSM blend. This wine has continued to become more expressive each vintage as the vines mature and Maddux has no doubt about his intentions to continue using this fruit, believing it brings color and body to the blend, but also adds a delightful spicy note. He also feels both his estate vineyard and Clos du Lac Community Vineyards benefit from their proximity to Folsom Lake, which provides some cooling effects to temperatures.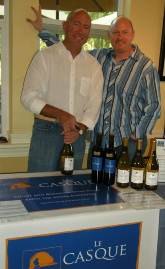 Kevin Stevenson, of Casque Wines in Loomis, is one of the larger clients of Clos du Community Vineyards and has been involved with its management. First off he is a resident of the community since 2000. For the last 12 years Kevin has helped guide the annual maintenance of the vineyard with Vineyard Committee chairman, Mike Metzger and resident Grant Koch.
Kevin has seen a lot of the history of Clos Du Lac Community Vineyards and marvels at how the business model has succeeded. At the start it was several significant vineyard blocks, a few homes and lots for sale. It made financing and operations of a vineyard, spread on a select few that were not necessarily viticultural farmers by nature, a real challenge. The community filled in quickly in the early 2000's which brought a new set of community management items forward, from a homeowners