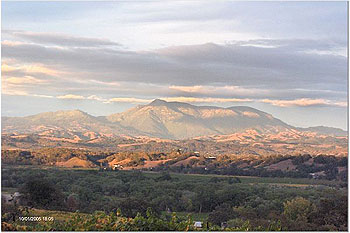 A clearer image of the Russian River Valley appellation emerges from the mist
Perhaps no region in the world of wine is so inextricably tied to its weather as is the Russian River Valley AVA
by Dan Berger
November 15, 2005
---
Heading west, the Sonoma County sun still isn't evident here, though off to the north there is a faint indication that somewhere it's already risen on verdant hillsides.
The fog here looks eerily foreboding as it sneaks in and out of the sloped vines ringed by oak and madrone. It's still. Just a whisper of breeze rustles the leaves mostly turned orange, yellow and red. Harvest 2005 is over, and the Russian River's persona remains as it was before a grape was picked: shrouded in that ever-present morning fog.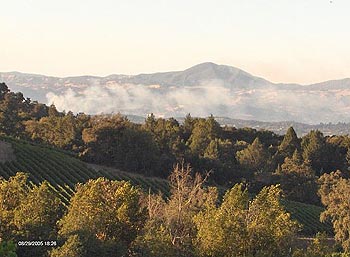 Perhaps no region in the world of wine is so inextricably tied to its weather as is the Russian River appellation. In fact, the weather, specifically the fog line, is what helped local wine makers and grape growers in creating the originally boundary line that was approved by the federal government. And it was this same fog line that drove the same wine makers and grape growers when they re-crafted that boundary line to exclude some areas and include others. That petition recently was approved, adding new areas to the region. All those areas are where a team of local wine makers and growers say the morning fog has been verified.
Thus it is easy to imagine why there is a special character to this area of rolling green hills, gullies and long, wide swaths that run adjacent to the winding waterway that is its namesake. Fog occurs in colder weather, and brings with it moisture that can be anathema to fine wine grapes. All sorts of maladies are likely in humid conditions.
So cool is this region 15 miles west of Santa Rosa that it was seen initially for its potential to mimic Burgundy in the grape varieties it would support, and so growers planted
Chardonnay
and
Pinot Noir
, logical choices given the growing conditions. Early success was first with the latter; the former proved to be a dicier situation.
As early as the late 1960s, spots in Russian River showed huge potential for Pinot Noir, among them the dark, relatively dense wines of former commercial pilot
Joseph Swan
. Sitting on a low-lying plain off Trenton Road, rather well east of the western boundary, Swan pioneered a rustic, coarse style of wine that some likened to having the wildness of spice found in Gevrey-Chambertin.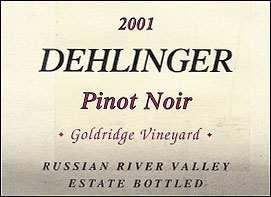 But by the mid-1980s, Swan (using clonal material that local wine makers agree gives the wine a more meaty feel, the so-called 'Swan Clone') was trying to tame his wine a bit by using more whole berries in the fermenter to encourage a wine that captured some of the juicy strawberry-ish qualities seen in other nearby areas.
A bit further south, along Guerneville Road east of Highway 116,
Tom Dehlinger
was seeing a distinct difference between certain blocks in his vineyard, based likely, he believed, on soil and exposure differences. He began to note those differences by keeping the vineyard lots separate, seeing how each developed in the tank, and then tracking them back to the vineyard, which he then roped off using colored yarn.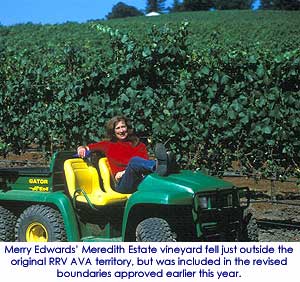 Early in the process,
E&J Gallo
gambled on the area being cool enough to fashion a classic Chardonnay, so the large Modesto-based winery put in 300 acres of Chardonnay in a former apple orchard across the road from Dehlinger. Today, Gallo continues to make a respected Laguna Ranch Chardonnay from that property.
Veteran winemaker
Merry Edwards
(
Mount Eden
and
Matanzas Creek
) later developed a vineyard just outside Forestville, and added to that by buying grapes from some of the top local growers who relied on new clonal material from France. Her wines initially showed darker color and weight than she had anticipated.
Perhaps the leading image-maker for Pinot Noir in the area was Bob Cabral at
Williams - Selyem
, the highly sought after Pinot specialist. Cabral's house style was more Cotes de Beaune, emphasizing the bright red cherry and strawberry fruit of the region. Using older vines and aging the wines in new French oak, Cabral continued the great tradition of Ed Selyem and Burt Williams, who had retired.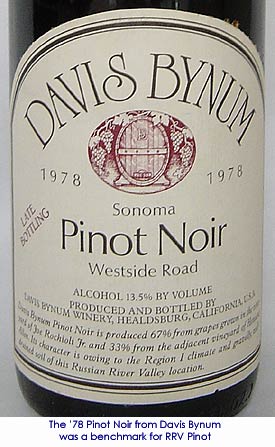 But the one person who established a more stylized image for Russian River Valley Pinot Noir was former
Davis Bynum
wine maker
Gary Farrell
, a self-taught craftsman whose very first Pinot Noir (the 1978 Davis Bynum) was highly praised by California's greatest wine maker, Andre Tchelistcheff.
Farrell, focusing mainly on Pinot from very old vines, believes firmly that Pinot Noir need not be ultra-ripe to deliver the sort of flavors that not only makes this region what it is, but also are required to make a wine that opens up over three to six years and is perfectly joyous at a decade. There was a seamlessness of regional character in Farrell's early Rochioli Vineyard and Howard Allen bottlings, and his "regular" Sonoma County wines were a miracle of balance and house style.
The fact that Farrell harvested his grapes earlier than just about anyone in the valley did not go unnoticed. In the late 1990s when former
Hartford Court
wine maker Dan Goldfield joined forces with Steve Dutton of the legendary farming family of that name, he followed a roughly similar course. Today the
Dutton-Goldfield
wines now sit beside the best in the region.
So exciting was Russian River Pinot Noir to wine industry insiders that by the early 1990s virtually everyone began to eye the area for land to plant Pinot, including Napa Valley Cabernet producers flush with the success of their big, chewy red wines. Land prices began to move up for even scrub land; mountaintop acreage looked attractive even if fully wooded. The potential buyers were certain they could simply chop down the trees and plant Pinot. (Such plans frequently were thwarted by local environme