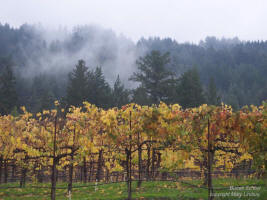 Winemaker Thoughts from Pinot Paradise 2012
Pinot Paradise is the annual showcase of Santa Cruz Mountains Pinot Noir, one of the most important grapes and wines from the region. Covering the annual Pinot Paradise technical sessions brings light to the methods and practices that help to define regional diversity here.
by Laura Ness
May 22, 2012
---
Winemaker Alison Crowe, currently with Plata Wine Partners, knows a thing or two about the Santa Cruz Mountains. She did a stint as assistant winemaker at Bonny Doon, with Randall Grahm, in the late 1990s, and then spent a vintage at Byington, where one of her mentors, Don Blackburn, served as winemaker for a time. So, she knows the trials and tribulations of pinot noir, and has learned to respect it.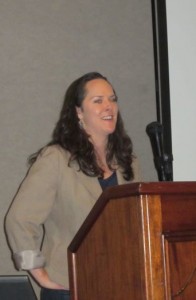 Crowe's presentation on "The Flavor Journey—Faults and Triumphs," at the 8th annual Pinot Paradise Technical Session, held April 1, 2012 in Campbell, CA, dealt with the factors contributing to flavors in the vineyard and in wine, specifically pinot noir. Touching on some of the techniques she's learned, both from her experience at Chalone in 1995, where she learned a lot about traditional winemaking methods, and from Randall Grahm's endless experimental pursuits, led her to settle on minimal intervention. She says, "For me, a pared down approach works, especially for pinot noir."
The most important day in the life of a wine, according to Allison, is the day you pick. It's all about the chemistry and the flavors, and you'd better get it right, as you've pretty much determined that wine's destiny from then on.
Her go-to method of processing pinot is simple carbonic maceration: destem into closed top fermenters, then seal the tank and let it ferment from the inside out. She prefers D254, RC212 and Assmenhausen yeasts, and is not a fan of "unaided" (she avoids the word "native") fermentations. She performs no pump overs or punch downs, keeping oxygen out of the equation as much as possible. Not a fan of high heat fermentation, she adds dry ice to control the temps, describing the process as much like a pressure cooker. She believes the wines are similar to Beaujolais nouveau in their aromas, which come from amyl acetate, often associated with bananas.
Crowe puts the pressed juice into neutral barrels to finish ML, so she can let the wines speak before they go into new oak, usually somewhere between 30 and 40% new. She prefers to rack once just before bottling, and touches the barrels about once per month to minimize oxygen influence. Because pinot noir has fewer antioxidant components, it needs to be protected from oxygen, otherwise the color may be compromised.
When to bottle? Please don't let the bottling truck schedule drive this decision, she warns. This should be done only after all the major reactions that determine a wine's final constitution are completed. Just the right amount of oak should have been absorbed and the tannins and protein chains should be well formed. Any solids in the wine should have precipitated out: that's the last thing you want in the bottle. Says Crowe, "Bottling closes the door on a wine."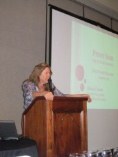 Storrs winemaker, Steve Storrs and Prudy Foxx of Foxx Viticulture, overviewed the four critical stages of grape development, emphasizing the importance of bloom and set and how canopy management can augment ripening, especially in cool years like 2010 and 2011. Foxx pointed out that one of the most important tools in Santa Cruz Mountains vineyards has been the switch from cordon to VSP trellising, allowing better air flow and sun exposure. Disease pressure is generally quite significant here: it's the land of early morning fog.
Foxx says, "You have to spray, period. There's no alternative."
One thing you can't control is the weather during bloom: like it or not, this is the most critical phase of the vintage. Commented La Rochelle winemaker, Tom Stutz, "It's the bloom. It's all about the bloom." And not just bloom, but set.
The set determines the number of seeds per berry as well: the more seeds, the more the vine produces pulp to feed the seeds. This is the main job of the vine, after all, to propagate seeds. Hormones in the seeds drive canopy growth, and tell the vine when to switch from putting energy in the leaves to ripening the seeds, instead. A well-balanced vine will take care of its fruit. Contrary to widespread myth, stressed out vines do not produce better wine, any more than do stressed out winemakers. Instead, stress does whacky things in vines as well as in people, and unpredictability can lead to uneven ripening, vine shutdown, rot and other disasters.
Storrs and Foxx both expressed that deficit irrigation is not good idea. Keep an eye on the tendrils, says Foxx. They should look green and fresh: if they are drying out, and the grapes are not pickable, you've waited too long to water and it might be curtains.
Foxx commented that when faced with challenges like 2010 and 2011, you have to work as hard to eliminate the bad flavors as you do to maximize the good, because just a little crummy can overpower the yummy.
A five winemaker panel then presented some of their exemplary pinot from various vineyards in the Santa Cruz Mountains. One thing was pretty consistent across all of them: ample acidity, freshness of fruit and liveliness on the palate. These really are the hallmarks of SCM pinots when they are not picked too ripe, over-extracted or beaten to death with a wooden club.
Jason Robideau, winemaker at Clos la Chance, presented two 2008's, one from Biagini, in the Corralitos area of the AVA, close to the ocean, and the other from the Erwin vineyard, in the Summit area at 2800 ft elevation.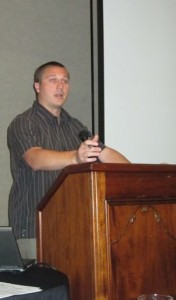 His method of winemaking is to cold soak after hand-sorting and destemming (no whole clusters, ever) for 3 to 5 days. He then ferments in 100% open top fermenters, punching down 2 to 3 times daily through the peak. He presses off to barrel for ML, aging sur-lie for 9 months in anywhere from 30% to 45% new French, primarily Francois Frere and Raymond from the Alliers forest. He never pumps the wines until bottling, and racks only once, just prior to bottling.
Ryan Beauregard, winemaker at Beauregard Vineyards, comes from a family that has been grape growing in the Santa Cruz Mountains since the early 70s. His Dad was responsible for creating the Ben Lomond Mountain AVA back in 1981. Ryan has changed his tune a lot in the last few years: he used to pick quite ripe, push the extraction and make fairly high alcohol wines. Now, he says, he prefers the low alcohol, higher acid wines, and the 2010 and 2011 vintages are among his favorites.
He describes his approach as hands off, dirty and earthy wine making. He uses 20% whole cluster, uses no S02, does not rack and stirs only as needed. He buys as little new oak as possible, preferring American oak barrels made by a Chilean cooper, Mistral, who uses convection toasting to avoid serious barrel char. His 2010 Byington Vineyard designate served up some nice strawberry and cherry flavors, with decent acidity despite a pH of 3.8. Did we mention dirty?
Paul Stroth, who makes wine for Silvertip Vineyards, at 1700 feet in the Upper Zayante area, takes a dirty rack into neutral barrels approach to finish ML, then delivers the wine to new oak, preferring the campfire effects of Francois Frere. His primary challenges with his pinot vineyard involve maintaining desirable flavors while waiting for acid levels to come down. Pretty mu