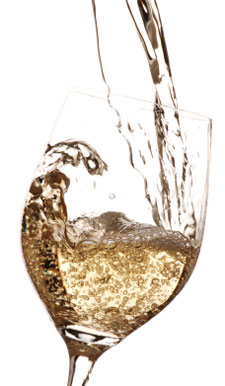 White Wine Diversity Across the Country
Our panel of industry tasters led by Barbara Trigg has taken on an interesting review of white wines from across the United States. With summer arriving white wine brings seasonal enjoyment during warm months and the panel has come across a diverse eclectic mix of varietals and regions that simply exude diversity in the United States.
by Catherine Seda
July 3, 2012
---
<!>
Who knew that the bottles of wine, with labels noting Texas, Pennsylvania, Virginia, Michigan, Idaho and more, would provoke such excitement and thought-provoking conversation?

Appellation America is on a roll. The organization has long been eager to help wine lovers discover the variety of great wines that are being made around the country, and it has been holding a number of small tastings to explore just what is being produced in our country.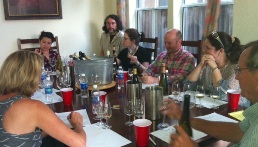 Most recently, the organization gathered a group of Napa Valley wine trade to taste a variety of current white wines. The tasters included winemakers, sommeliers, barrel makers, and journalists, but they had one thing in common in addition to wine that night: a curiosity about the diversity of American-made wines. Viognier from Virginia, Pinot Blanc from Michigan, Gruner Veltliner from Pennsylvania, Roussanne from Texas, and Riesling from Idaho were just some of the wines forming this unique collection.
As each wine was tasted, the group discussed any number of things—the climate of the State and its main winegrowing regions, winemakers, winemaking techniques, and other wines tasted from this State previously. It was a true journey into the heart of American white wines.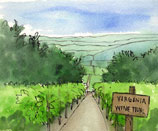 Virginia recently considered making viognier the State's official white wine. Since other great whites are produced there, it has received resistance, but one thing is for sure: Virginia produces great viognier. Charlottesville, Virginia was the host of last year's Wine Bloggers Conference and the wineries presented fine viognier after fine viognier, causing much discussion at that event as well. Charlottesville was one of the pioneering wine regions to first plant quality grape vines. Virginia's Norton grape took home the award of "best red wine of all nations" at the Vienna World Fair in 1873 and then a Gold in Paris a number of years later.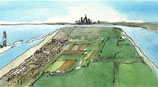 New York has been getting lots of press in the last few years--the Finger Lakes, Hudson Valley, and Long Island in particular. Long Island is a newer region with its first plantings of vitis vinifera grape vines in 1973. Despite its youth, the region is already known for making tasty merlots along with other interesting red varietals, and crisp whites from sauvignon blanc, chardonnay, chenin blanc and pinot grigio. The island juts out 120 miles into the Atlantic Ocean between the Long Island Sound and the Great Peconic Bay, and is treated to constant sea breezes. Appellation America sourced a Tocai Friulano from Long Island for this tasting. While it is not a well-known grape in any region, it definitely showcases the variety of white wines that the region is producing.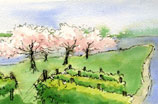 The first thing to note about Michigan wine is that its pinot blanc from Chateau Chantal was the favorite of the Appellation America tasting. This wine could compete with top pinot blancs. Of the State's 14,600 acres of grape vineyards, 2,000 are devoted to wine production. There are 91 wineries in the State to date. Chardonnay, riesling, pinot noir, pinot gris and cabernet franc are the most popular varietals but Michigan also concentrates on interesting hybrids such as chambourcin. There are many quality vineyards surrounding Lake Michigan in particular.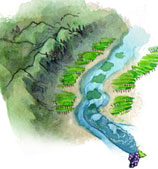 Idaho has created good buzz in the press lately with their grand food and wine festival called Savor Idaho. The State has 40 plus wineries today, but the region has a long winegrowing history. The first wineries in the Pacific Northwest were in Idaho and there are records of the Royal Muscadine grape having been planted there in 1864. Today, the Snake River appellation receives accolades in particular for producing very fine wines. The winemakers have various pedigrees, including Napa Valley experience at top wineries such as Marcassin, Bryant Family, and Acacia.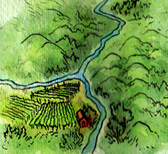 Pennsylvania has over 100 wineries producing wine today with 14,000 acres of grapes planted in the State. A good portion of that acreage is for table grapes, but the State is making some great whites: riesling, pinot gris, vidal blanc and seyval blanc. Pennsylvania has the two highest elevation vineyards which exist east of the Rockies. Wine sales are still State-controlled, so the wines are sold in State-owned shops, although wineries can sell direct to restaurants and at festivals.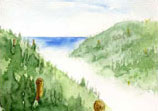 California made an appearance at this tasting with two cooler sub-regions: Carneros and Anderson Valley. The constant wind and fog in Carneros helps keep the acidity in grapes and allows the region to produce crisp white wines. So too with Anderson Valley, which is located an hour and a half from San Francisco. This region lies on a coastal mountain range and its cool winds keep the temperatures down.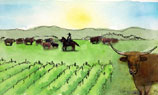 When it came to Texas, some of us wondered: are the wines as big as the State's reputation? Not if they don't want them to be. The Roussanne wine tasted by the group was fresh and balanced, a beautifully made wine. The State's girth provides for diverse microclimates but it is a hotter wine growing area. Roussanne works well here since the grape naturally retains acidity during the growing season. The top five varietals are cabernet sauvignon, chardonnay, sauvignon blanc, chenin blanc and merlot. Although there are not widespread plantings yet, roussanne is said to do very well in Texas. One of our well-travelled panelists noted that Texas considers it their star white grape.
A taste of American whites:
Breaux Vineyards
2010 Viognier, VA 13.9%
This wine is an oak-forward version with lots of spicy oak aromas and flavors in addition to floral and perfume. While Panelist Phil Burton at Barrel Builders gave an enthusiastic thumbs-up to the heavy oak, other panelists more enjoyed the rich mouthfeel and intriguing floral aromas of the wine. It was certainly a crowd pleaser at Breaux Vineyards and sold out quickly.
Channing Daughters Winery
2010 Tocai Friulano, Long Island, NY 12.5%
Panelist Kerry Kirkham enjoyed this wine's dry brioche, toasted almond, honey and sherry-like qualities, noting the wine had a tantalizing mild brine finish. She called the wine well-crafted and balanced with good acidy. The vineyard for this wine is cooled by Atlantic breezes and the winery enjoys producing wines from interesting and lesser-known varietals in addition to chardonnay, cabernet sauvignon and other international varietals.
Chateau Chantal
2011 Pinot Blanc, Hawthorn Vineyard
Old Mission Peninsula, MI 12%
This wine was a big hit at the tasting. Each of the panelists enjoyed its refreshing and delicious aromas and flavors. Panelist Nova Cadamatre particularly noted this wine's lemon and mineral aromas with guava and melon fruit on the palate in additio