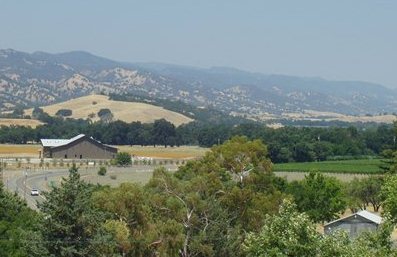 California's Capay Valley, An Undiscovered Gem
Capay Valley has a long ag history but remains little known as wine country. Framed by the rugged Blue Ridge to the west it defines the extreme north west portion of Yolo County, a far different place than it's Yolo relative Clarksburg. Far different wines are beginning to emerge as well with an exciting future.
by Roger King
July 20, 2012
---
<!>
Capay Valley is little known outside of Northern California, although grape growing goes back to the 1800's, and has had a higher profile for organic produce than possibly wine, up until now. It resides in the extreme northwest corner of Yolo County, set against and into the steep and rugged Blue Ridge range of the Vaca Mountain chain. This is ancestral land to the Yocha DeHe Wintun Nation and the basis of Capay lies in the Patwin word 'capi', which means stream. Cache Creek would be that flowing water, running the course of this spectacular open space valley.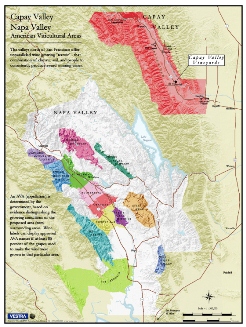 For most, Yolo County would bring up the thought of Clarksburg and the back of the California delta, where significant vineyard acreage contributes greatly to both California and Clarksburg labeled wines such as Bogle. Yet there is an emerging and thriving wine community taking shape in the north western regions of Yolo County that is very different than that of southeast Yolo County. Delta breezes do not blow here nor is the vista flat.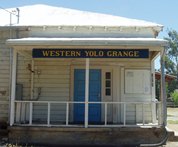 Capay Valley has not been a stranger to vineyard and winery, with much discussion of Capay Valley Winery and the John Gillig Ranch producing 30,000 gallons a year back in the mid 1800's. Accolade to the quality of fruit grown here at that time is noted by Ada Merhoff in the book "Capay Valley: The Land & The People". Yet in the scope of the 105,400 acre appellation, only 25 acres of wine grapes were planted at the AVA approval in 2003. Things are changing, not in large acreage as roughly just over 100 acres are now planted, but in serious wine growing and wine making with long standing Capay Valley Vineyards being joined by new players Casey Flat Ranch and Seka Hills, and smaller Simas Family Vineyard.
Soils in this valley are old and well drained, much washed down over the eons by Cache Creek which flows from Clear Lake east into Capay Valley and on into the Sacramento Valley. A set of clays with tufa are common throughout the valley, yet clear evidence of volcanic ash can also be found in the central hills of the AVA around Brooks, where amounts of river rock are found mixed in. Up in the mountain regions of the AVA rock and meager soils are the norm.
Capay Valley, along with the Dunnigan Hills, Clarksburg and Merit Island have long formed the established appellations of Yolo County. For many years Capay Valley Vineyards held the rank of the only winery in the appellation, producing high quality wines from estate grown fruit. Better known RH Phillips was close by in the warmer Dunnigan Hills AVA outside of Esparto in the Sacramento Valley.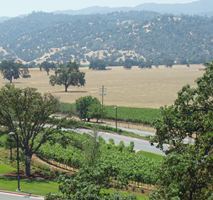 Fresh change in Capay Valley, in some very significant ways, centers on efforts launched on 25 acres of the 6,000 acre Casey Flat Ranch where the appellation actually turns up into the mountains and resides northeast of Napa County. In addition the Yocha DeHe Wintun Nation, who now farm 11,400 acres have launched Seka Hills with 15 acres of estate vines in Brooks, next to Capay Valley Vineyards. Smaller Simas Family Vineyard also grows on the valley floor,integrating vineyard and wine into their Capay Valley products. These wines are beginning to tell the story of the incredible diversity within the appellation, but also from the other parts of Yolo County.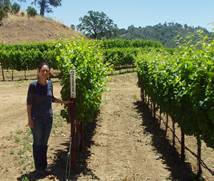 One might suspect clear differences between the mountain regions and valley floor and it shows quickly in tannin profile. That stuff some of us love and some of us shy from. Best of all worlds, Capay Valley wines can run the gamut driven by mountain or valley.
Cabernet Sauvignon and Syrah are great examples of where this comes forward. The mountain fruit at Casey Flat Ranch has compelling tannin structure and winemaker Laura Barrett says she must work hard in the winery to tame that tannin, which is admirably done in CFR Estate Red Wine. Grown on the valley floor the tannin profile of Capay Valley Vineyards and Seka Hills same varietal wines show supple restrained tannin immediately, yet are finesse wines of place. Consider if we used village as appellation this would be Brooks! Amazing thought!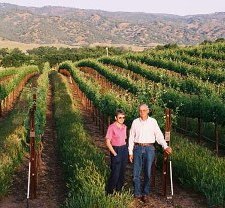 Blends and Rhone varietals play a key part in where Capay Valley has been headed. Pam Welch and Tom Frederick of Capay Valley Vineyard initially started with Viognier and Syrah, later adding Tempranillo, Cabernet Sauvignon and now a bit of Cabernet Franc. Viognier has consistently been stellar and the mainstay at the winery. Seka Hills has followed this path with their own recent Viognier and Syrah plantings, augmented by Cabernet Sauvignon and a little Cab Franc, Petit Verdot and Malbec. Casey Flat Ranch grows Viognier solely for blending and choose to focus white production on Sauvignon Blanc, but has major interest in Syrah and Cabernet Sauvignon for their blended red wine, with some small blocks of Grenache, and Mourvedre. Simas Family Vineyard also chose Rhone varietals Marsanne and Mourvedre.
Where a comparative to diversity within the AVA can be found is within two very similar blends of Syrah and Cabernet Sauvignon separated by mountain vs. valley floor. Seka Hills 2010 proprietary blend Tuluk'a, created by winemaker Blake Kuhn, is led by 50% Syrah, 45% Cabernet Sauvignon, 3% Cabernet Franc and 2% Petit Verdot. Casey Flat Ranch signature wine 2009 CFR Estate Red Wine, again led by 50%Syrah 30% Cabernet Sauvignon, 20% Cabernet Franc.. The Cab and Syrah dominance shows consistency across the lines of meaty Syrah nuances and cherry Cabernet Sauvignon notes but shows huge diversity in tannin with the mountain fruit deeply structured and valley floor showing supple finesse.
Capay Valley Vineyards is so bullish on Viognier, their largest bottled wine, it has also enlisted it to produce a very unique Viognier Sparkling wine that is odd for its varietal selection but highly attractive in the sparkling realm for new flavors it delivers. While noted Sacramento grocer Daryl Corti takes exception to Viognier as a sparkling wine grape, consumer reaction to the unique flavors it produces as a sparkler seem to win the day.
Temperatures separate Capay Valley within itself and the surrounding regions. The valley itself is tucked into the eastern foothills of the Blue Ridge and is separated from the great Sacramento Valley. Daytime temps are cooler than the great valley and every once in a while can be impacted by cool air spilling over from Napa County during big marine air pushes in summer. This seems to help Viognier retain brilliant acidity in the area around Brooks. Moving up the valley towards Guinda and Rumsey increases day temps and other varietals such as Tempranillo may be better suited. Tannat is being experimented with in this region. The mountain regions of the appellation are predictably cooler than the valley floor, but not always and evenings do experience temp inversions.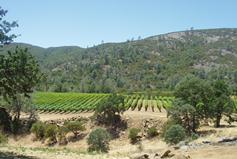 Soils of the valley floor are clay tufa deposits washed down by Cache Creek over millennium. Dense rock defines the si