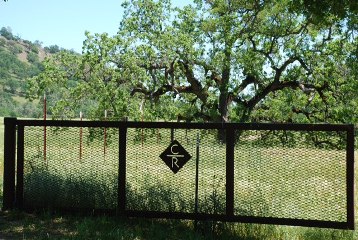 Casey Flat Ranch of Capay Valley
Casey Flat Ranch defines the extreme north west corner of Capay Valley and Yolo County set into the Blue Ridge of the Eastern Vaca Mountain Range
by Roger King
August 3, 2012
---
<!>
When you turn west out of Guinda, in California's Capay Valley, you will arrive at closed gates onto the 6,000 Casey Flat Ranch rather quickly, but it is one long uphill road before arriving at the 2000 foot elevation of the vineyards. They are at the virtual top of the Blue Ridge, the eastern most part of the Vaca Mountain range. This is remote viticulture, remote enough that there is no electrical power supplied and generators on site have to fill the needs. But on arrival one can sense something special is in the works, yet to be fully understood , yet to be fully harnessed.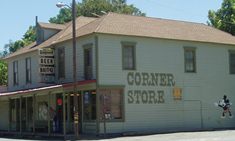 Casey Flat was named after settler and frontiersman John Casey back in the mid 1800's. It had to be a tough place to live in those days, but the natural beauty of the site would certainly draw a confident pioneer towards it. Cattle have figured consistently over the decades and remain a significant part of the ranch.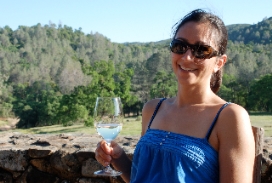 On a day visit to Casey Flat Ranch with winemaker Laura Barrett it was a rare opportunity to see first hand this 24 acre vineyard set into a natural flat just below the ridgeline of the Blue Ridge. It is rock in many regards which might make Laura feel at home being a native Vermonter, transplanted to California and the Napa Valley after gaining a Masters in Enology at UC Davis. She clearly enjoys the setting, even though the commute from Napa is considerable given no roads cross over these mountains.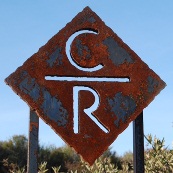 The ranch, owned by Robert and Maura Morey, has been in assembly for a quarter century. Their commitment to stewardship is very evident and the decision to develop vineyards to match this site plays into the long term desire that it become a generational endeavor. Yet, at the same time, a desire to explore, with intent to find a world class site, has brought together an exceptional team for Laura to interact with, such as viticulturlist Tom Prentice of highly regarded Crop Care Associates.
Syrah and Cabernet Sauvignon are the main players on the red stage and Sauvignon Blanc (Musque clone) on the white. Small blocks of Viognier (which performs so well on the valley floor of Capay Valley), Grenache, Cab Franc , Merlot and Mourvedre are there for supporting roles in the blended red and white wines. CFR Estate Red Wine is the flagship that aspirations are built upon, along with CFR Sauvignon Blanc. A second label called Open Range follows suit with a proprietary blended red wine and Sauvignon Blanc, but can have wider sourcing than just the ranch going forward.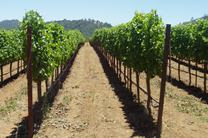 Viticulture is serious here; vines extensively tended by dedicated crew, a selection of clones to develop complexity beyond just the varietal complexity in the blends, and picking decisions focused to flavor and ripeness. It reminds one of some of the best tended vineyards of Napa. Interesting results are coming from separate blocks of the same varietals. Sauvignon Blanc is a case in point, where a more recent planting on a steep south facing slope is producing the lushest tropical fruit.
From the wine making perspective the vineyards are grown to express themselves. Great care is taken but these are not manipulated to drive a style, rather grown to express what exists at this flat perched at the top of the Capay Valley AVA.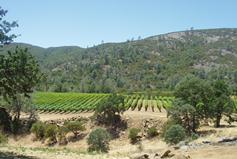 What has resulted to date is a clear statement to wines of place. Casey Flat Ranch is unique too much of California given the northern interior mountain terrior. There are just not many vineyards in these mountains, likely non with the focused pursuit of defining place by virtue of the wines produced.
What sets Casey Flat Ranch apart from the rest of Capay Valley, in terms of wine, does revolve around tannins. With high elevations and extensive rock the tannin profile is stout, yet the wines are showing great promise for being appellation defining. Cooler daytime temps, up to 8 degrees difference to the valley floor of Capay Valley, are consistent to areas such as Calistoga and upper Napa Valley. Somewhat different than the area around Brooks, there are no marine or evening down draft air influences.
No winery exists on the Ranch, nor is there a tasting room (currently Rootstock in Winters, CA serves that purpose). Grapes are harvested and taken to custom crush facilities in Napa for processing, where Laura can be in much closer contact with fermentations and aging.
These wines are expressive, as such defining an aspect of the character of Capay Valley. A concept of mountain and valley floor districts (remembering the 105,000 acre size of the appellation) are well worth exploring but far from being formalized. Laura Barrett is committed to Capay Valley and finding the heart and soul of its mountain fruit wines. CFR Estate Red Wine and CFR Sauvignon Blanc are the benchmark and something very special in these mountains would have to arrive to change that definition.

Blended of 50% Syrah, 30 Cabernet Sauvignon, 20% Cabernet Franc, 2009 CFR Estate Red Wine shows the spice and blackberry, along with plum that can be found in other vineyards well to the south in Solano County, but atop the Blue Ridge. The mentioned tannins are firm but very well managed and seal the deal for putting the seal of place on this wine. CFR Estate Red Wine has taken on a new partner and blending direction for 2010. Just put to bottle, moving to 40% Cabernet Sauvignon, 35% Syrah, 20% Cabernet Franc and 5 % Mourvedre, it will be very interesting to see the comparative and difference this brings. It makes sense to continue the exploration of site.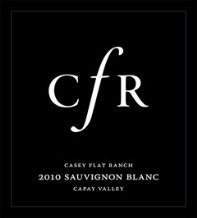 Sauvignon Blanc is fascinating here! To begin with blocks are of the Musque clone, which varies considerably from typical SB clones, bringing elements of stone fruit over bracing citrus. Three different sites are used to grow the estate bottling, a small hillside block facing south on a boundary ridge to the flat is producing the lushest tropical fruit entering the blend. Sauvignon Blanc is the estate white wine that defines this ranch and Capay Valley. Aromatics are just plain LUSH with bits of grassiness and lime but loaded with tropical nuances including sweet pineapple. Flavors and mouth feel are stellar from crisp and rewarding acidity that surrounds a rather creamy core to white peach, citrus and tropical nuances. While roughly 23% of planted vines are Sauvignon Blanc, little is on the horizon that would change that direction other than Viognier. It would be interesting to see mountain to valley floor differences in this varietal if ever taken to bottle directly.
Casey Flat Ranch simply defines the extreme north west corner of Yolo County appellation and is about as far distant as could be from its fellow Yolo County vineyards in Clarksburg.