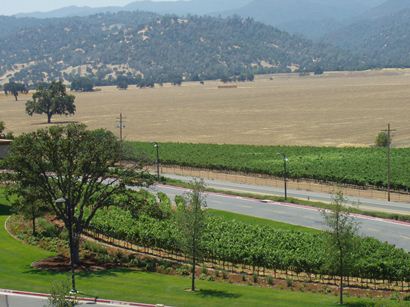 Seka Hills Stands Tall in Capay Valley
Seka Hills has joined a handful of Capay Valley wineries that are emerging to define the character of this exquisite and off the beaten path wine region. Part of Yocha DeHe Wintun Nation agricultural operation, estate grown grapes from the Brooks region are showing great promise in inaugural wines.
by Roger King
August 14, 2012
---
<!>
The Yocha DeHe Wintun Nation is the ancestral people of California's Capay Valley. The words mean 'home by the spring water' in the native Patwin language. It provides perfect reference to this wonderful valley which became an AVA many generations later and is now the home of Seka Hills Wines. Seka Hills refers to the blue hills, which in fact are the Blue Ridge range that borders the western flank of Capay Valley. The waters of Cache Creek provided the agricultural reality Capay Valley has provided ancestral as well as current residents. Farming remains a major aspect of this valley with a long history of organic produce and cattle grazing.

As a start-up estate winery in a California appellation that had little awareness, Seka Hills has come forward with a host of new fresh wines – along with several others in this valley - that are clearly showing the character and quality these lands can produce. What is unique is Seka Hills is an integrated part of the Yocha DeHe Wintun Nation and its 11,000 acre farming operation. The diversity of farming and ranching undertaken is impressive.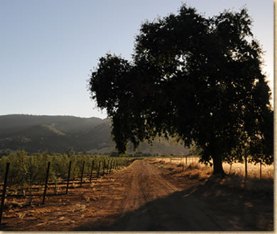 Wine grapes have long been associated with this region, going back into the 1800's. As time has passed grape and wine production slowly turned to the very small enclave known as Brooks. This region has an interesting nuance in that notable volcanic ash deposits have been found in soils of this mid valley uplift along with more universal clay and tufa. River rock is found throughout the zone as well. It is here that Seka Hills has established its vineyards, a site that brings great promise to the valley floor of Capay Valley.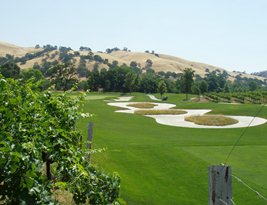 Possibly not the most conventional plantings first took place in sculptured rows of 5 x 7 ft. spacing that fronted the Cache Creek Casino Resort, with Syrah and Viognier taking center stage. Those plantings expanded across Hwy 16, the main route through Capay Valley, and then expanded again with Cabernet Sauvignon, Cabernet Franc, Petit Verdot, Petite Sirah and Malbec being integrated between and around the fairways of the resort golf course. As a major farming company some other test blocks are being developed up valley with Tannat being explored for a fit here as well.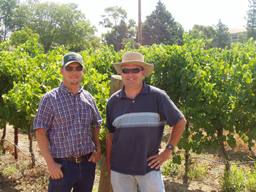 Before we go any further let's make no mistake this is serious viticulture, not frosting. Director of Land Management, Jim Etters and Vineyard Manager Rod Scheaffer have developed roughly 15 acres of estate production for these wines and expansion is merely an extension of developing the brand. Current case production runs close to 3,000 annually. Clonal differences of Cabernet Sauvignon have found interesting results in the blended red wines of Seka Hills.
There is little doubt Viognier has taken front stage on the valley floor of Capay Valley. Neighboring Capay Valley Vineyards has had long term success with this white. The first release of the Seka Hills Viognier found acclaim at the California State Fair Wine Competition with Best in Class. This is not a cool climate in the summer but the Blue Ridge provides excellent evening cooling air, flowing down from the heights.
Acidity is brilliant and flavors of Mango, Lychee and tropical fruit make a rich styled wine. Wine maker Blake Kuhn seeks as full an expression in Viognier as he can draw from these vineyards. He picks in several different periods of ripeness, seeking available aromatics of orange peel and jasmine, then the ripe lush flavors. Roughly 50% barrel fermentation and remainder in stainless add more layers of nuance.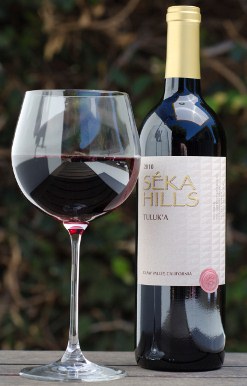 What is setting the stage for real definition are the two red blended wines of Seka Hills. Tuluk'a , which in Patwin means red, is the featured red blend. It is comprised of 50% Syrah, 45% Cabernet Sauvignon, 3% Cabernet Franc and 2% Petit Verdot - a Bourdeaux x Rhone conundrum that entices the senses. This blend is very similar to the mountain grown Casey Flat Ranch Red Wine, but here tannins are reserved and velvet with flavors of strawberry, cherry, lavender and white pepper showing through. 550 cases were produced for the inaugural 2010 bottling. As the estate wine program ramps up Tuluk'a will continue to expand. Using native Patwin to name this blend is in great keeping with heritage of Seka Hills.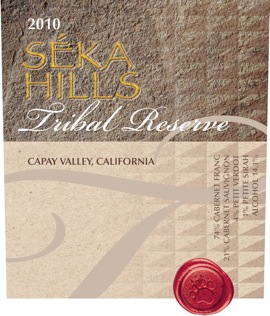 At the same time, Blake Kuhn thinks Cabernet Franc is causing the excitement in the most limited of Seka Hills wines, Tribal Reserve. Indeed reserve, at just 45 cases in 2010; 74% Cabernet Franc, 21% Cabernet Sauvignon (largely clone 169), 4% Petit Verdot and 1% Petite Sirah, aged in 100% new French oak. Amazing depth of color has been achieved in the blend, Petit Verdot and Petite Sirah being strong contributors and showing the blending trends are finding adoption here.
Tribal Reserve portends outstanding vintages will be coming from Seka Hills. A wonderfully clean nose smacking of pure Cabernet aromas, influenced by the amount of Cabernet Franc, lead the way to cherry and coffee. As a 2010 the tannin remains firm but exhibits fine grain and still aging. They are more reserved than those found in the mountain region of Capay Valley. Refined flavors of boysenberries and black currant are supported nicely by the acidity, keeping things nice and juicy.
This wine is significantly different from Tuluk'a and demonstrates the range of diversity the estate vineyards hold. There is more experimentation to come with Tribal Reserve, as they seek to understand the nuances of the vineyard site and interplay of varietals and clones.
Seka Hills has a significant companion the makes perfect sense, we see it all the time. Seka Hills Olive Oil has come to life as well. A new mill being built in Brooks will process fruit of 82 acres of high density Arbequina olive trees, which are estate grown to produce high quality extra virgin olive oil under the brand. The mill will be one of California's largest and plans to offer custom mill programs for other olive oil growers/producers exist.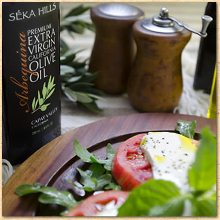 When complete a full visitor tasting room will be offered for these oils and most likely the wines of Seka Hills. Wine is not intended to be produced in this facility, which will remain for the purpose of olive oil production and estate grapes will continue to be processed under custom crush agreements under direction of Kuhn.
Currently tasting of Seka Hills wines is found miles outside Capay Valley in Winters, which sits on Putah Creek. The wine shop Rootstock offers tasting of Seka Hills along with other Capay Valley wineries and wines of western Yolo County. The multiple fine dining restaurants of Cache Creek Resort offer these wines to guests as well.
Visitation for wine country tasting experiences will take a large leap forward in Brooks with the opening of Seka Hills as Capay Valley Vineyards tasting room is just across the road, open on weekends. Visitors will have wines with a great sense of place, an ancestral heritage and beautiful surroundings in a region not well known at this time.