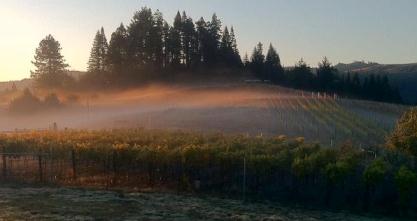 Humboldt County (County Appellation)
Three Days in Humboldt County and Willow Creek
Humboldt County has long been known as home to the "Giant Redwoods" and also remote on the far Northern California coast. What is little known is the small but amazing wine country that sparsely spans the length of this county and the wines that are truly expressive of the appellations; Humboldt County and Willow Creek.
by Barbara Trigg
August 22, 2012
---
<!>
With less than 175 acres planted to vine, the grape crop is usually not the first to come to mind when thinking of Humboldt County in Northern California. But a recent trip to the region had me thinking that it should be. Graceful Pinot Noir, brisk whites, and full bodied reds that can rival some of the best in the state are produced in small quantities in this huge county. Sadly, these small quantities make it unlikely our readers have ever had the opportunity to taste the wines from this unique growing region. Most are available only in the county. Hopefully, with the help of Andrew Morris, Humboldt advocate, winemaker at Briceland Vineyards and Chairperson of the Humboldt Wine Association, a recent Best-of-Appellation evaluation of over 70 of these wines, and my short visit to the region, the word will get out.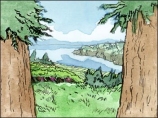 Humboldt County is huge, larger than the states of Delaware and Rhode Island combined and its size and terrain contribute to varied climate conditions. Southern Humboldt, home to some of the oldest and largest trees on earth, the Coastal Redwood, has a Mediterranean climate. The coast is nearby but cooling breezes and fog are blocked by the nearly 4000 foot high Coastal Range that practically sits on the ocean's edge. Instead, cooling breezes rush south along the aptly named Eel River. Summers have warm days and cool nights, while winters are rainy and mild. Although a bit cooler, the weather is similar to that of Napa Valley but there the similarity ends. No giant redwoods in Napa and no over the top wineries in Humboldt County. Of the 28 artisan wineries scattered throughout the county, the largest vineyard holding we found was 30 acres along the Eel River, that of Riverbend Cellars in Myers Cove. The second significant grape growing area in the county so far is in the much warmer north east part of the county, including the area near Willow Creek, Hoopa and Orleans.
And finding these wineries is no small trick. Roads off HWY 101 in the south are narrow, twisty, and often through scenic majestic redwood forests or mountain passes. No Silverado Trail here to lead you from winery to winery. Like the many outdoors attractions such as coastal hiking or river rafting, wine tasting is also an adventure in these parts. In fact, this must be one of the most unusual wine growing regions in California, if not the nation. Reservations are needed and good directions required. Your efforts will be greatly rewarded by the interesting people you meet and the enticing wines they produce.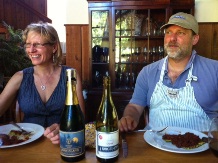 Our first stop was at Briceland Vineyards where we were met by winemaker Andrew Morris and his wife Rosie. Briceland is known for single vineyard Pinot Noirs, Humboldt Brut Sparkling and award winning Chardonnay, Syrah, Sauvignon Blanc, and Arneis. The winery was founded in 1985 by Andrew's mother, Maggie Carey and step-father Joe Collins, who is considered by many to be the founding father of wine making in Southern Humboldt County and a key figure in establishing wines made from grapes grown in Humboldt. To find the winery, we traveled through redwoods to the town of Redway, and then followed Briceland Road toward Shelter Cove. When we arrived, we were greeted with a glass of 2000 Brut Reserve Sparkling, which retained great acidity and fruit and left us thinking how age worthy these wines might be. Lunch of zucchini fritters and a turkey chorizo red sauce was paired with a 2010 Syrah loaded with bright berries and brisk acidy. Wonderful pairing. We were beginning to get a picture of what delights this wine region can deliver.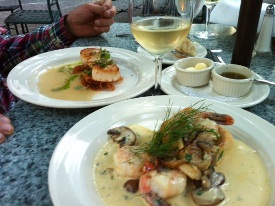 After a tour of the Sauvignon Blanc vineyard and winemaking facility we headed off to explore Shelter Cove.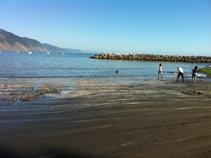 We took a look at the lighthouse, a walk down to the tidal pools and then to the black sand cove, had a beer and then headed back to the renowned Benbow Inn for the night. The Benbow Inn has been the place to stay in HC since 1884. The restaurant at this historic hotel is fabulous. We enjoyed a Briceland Arneis which was a perfect pairing with our seafood dish of scallops, prawns, and halibut. We had a short chat with sommelier Daniel French who has assembled a truly international list featuring great wines from around the world and which has repeatedly made the Wine Spectator Award list. We respectfully encouraged him feature local wines more prominently on the list.
>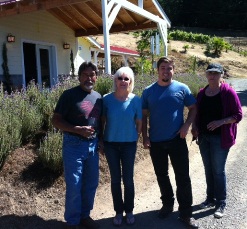 The next morning we drove the 33 mile length of the Avenue of the Giants. Scenic, sunlight filtering through the towering trees, almost mystical atmosphere. We hadn't actually planned to drive the full 33 miles. Mesmerized by the trees, we missed our exit to Elk Prairie Vineyards. Upon finally arriving, we were met by owners Alan and Sandra Estrada. Also there to greet us was Carol Hoopes, winemaker at Monument Mountain Vineyards in Rio Dell who, along with Elk Prairie and Briceland, produces wines made with Elk Prairie Vineyard fruit. The 10 acre vineyard sits at about 1200 feet and slopes steeply down a sunlit mountain ridge. The views are amazing. The spring rains allow them to dry farm most of the acreage. There are many challenges to grape growing up here. Fencing helps keep out the deer and other predators, but not the gophers and ground squirrels which eat the roots of the vines. Alan and Sandra originally planned to raise horses here, and then palm trees, as evidenced by the row of palms along the driveway, but nothing really worked until they discovered a persistent vine that they could not eradicate. They deduced that this might be a horticultural omen that grapes could be well suited to the property. They started planting in 1992, and now Pinot Noir flourishes and Cabernet Franc shows brilliantly in warm years from this remote vineyard. Wines made by several wineries featuring Elk Prairie fruit figured prominently in the Best of Appellation Tasting Panel.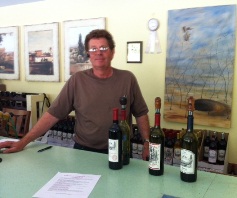 After the much too short visit we headed downhill to the town of Myers Flat and the Riverbend Cellars tasting room located in a bright red barn on the edge of the town. Thomas Meagher, the owner and winemaker, like everyone else we met, had a very interesting story to tell. He started planting the vineyards in 1994 and his first vintage was in 1997. But his story goes back to 1969 when he was the 16 year old wine buyer for his father's restaurant in Myers Flat. He developed a love for the old style Napa wines such as Inglenook and BV which produced elegant wines quite unlike the ones his father had made in his basement and served the family. Today he crafts European style wines from Cabernet Sauvignon, Merlot, Syrah, Viognier, and Chardonnay from grapes grown on alluvial soils filled with river cobbles, sand, and shale from his vineyards along the oxbow of the Eel River. His wines often spend up to thirty months in oak.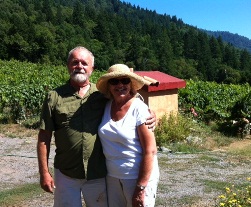 Next we headed up Hwy 101 to Eureka, a Victorian seaport and the largest city in the county. It is home to one of the best preserved downtowns in California dating from 1850 and many beautiful Victorian mansions. But we had little time to dally as we headed east on Hwy 299 for the winding 45 minute drive to Willow Creek, gateway to the million acre outdoor paradise Six Rivers National Forest, and also on the way to Big Foot country, but more importantly for me, the home of Winnett Vineyards, owned by David and Sharon Winnett. These two retired educators first fell in love with the region bordering the Trinity Alps during a vacation from their home in Illinois in 1977. A few vacations later they bought this lovely property which sits at about 1000 feet elevation and commands mouth dropping views of the surrounding mountains. High fences are needed to keep out the native wildlife, such as deer and bears. They were lured into winemaking after reading the book, "The Vines of San Lorenzo" by Edward Steinberg and started planting grapes in this remote region, one of the three northernmost AVAs in California, in 1998. They now have eight acres at their property and two others close by. In total there are only about 30 acres planted in the Willow Creek AVA. This region has very hot summer days with cooling breezes from the ocean dropping it by as much as 50 degrees at night. This shift helps ripen the grapes and also maintain acidity. This region is too warm for Pinot Noir but Cabernet Sauvignon, Merlot, Zinfandel, Sauvignon Blanc and Chardonnay all do well. As we sat in their winery/tasting room open on both sides to the scenery, we enjoyed their Sauvignon Blanc which is balanced in its ripe tropical fruit and crisp acidity. We also tried "Nostrano", their Sangiovese blend, and brought a bottle back to enjoy at home. The Winnetts also grow lavender and have planted olive trees and sell their olives locally.
Not wishing to see the day end, we made a stop in the village of Ferndale on our return to the Benbow Inn. The entire town, well known for its beautifully maintained Victorian buildings, has been declared historical landmark. Well worth a visit!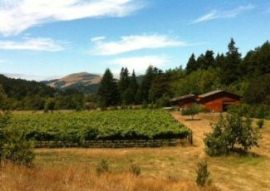 Day three finds us seeking out Lost Coast Vineyards. We traveled through dense redwood groves on winding country roads past the fork in the road that is Honeydew into the open and windswept hills of dairy country. Lost Coast Vineyards is located only about two miles from the coast and the cool air and fog make this a challenging grape growing area. Pinot Noir and white varieties do best here but struggle to reach ripeness. On this beautiful 150 acre property, only nine acres are planted to vine. The owners, Dick Cogswell and Ester Saunora, art lovers relocated from Chicago, began planting in 2002. They are always experimenting with grapes and clones that will adapt best to the region. Like most of the other vineyards, organic practices are adhered to here. They also own a vineyard in Hoopa, in the warmer north east part of the county between Willow Creek and Orleans.
We decided to return home along the coastal route from Petrolia north to Ferndale, a good choice on this sunny day. The drive is beautiful. Black sand beaches, dramatic coastline, and with few cars on the road, we could stop along the way to enjoy the views.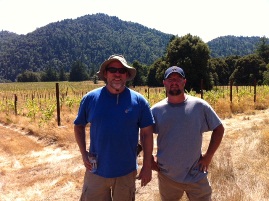 Our final stop on the trip was at Ryan Vineyards south east of the Benbow Inn. This was an interesting stop as the sixteen acres of Pinot Noir will almost double the production of pinot in Humboldt County when they start to mature. This will hopefully allow more of the good stuff to escape the local area. Two other acres are planted to Pinot Gris. The vineyard is noteworthy as it sits on the east branch of the southern fork of the Eel River. Since it is up river, it gets a moderate amount of the cooling effect of the river. It might well be a perfect compromise between the warmer and the cooler Pinot sites in southern Humboldt. Some grapes will be harvested this year with fuller harvests expected in the next few years. We look forward to following these wines as they come into the market.
On the 4 hour drive back to Napa, we remarked on both the sophistication and the rusticity of the area. People come from all over to camp, fish, hike or bike the trails, or simply to spend time in the redwoods. All of these activities are close to one or more of the 28 wineries hidden throughout the county and no one should spend any time here without enjoying these artisan wines and experiencing wine country that makes you feel so at home. All the wineries we visited welcome visitors. But be sure to call ahead for an appointment so as to have someone there to greet you when you arrive. You might also plan your trip around some of the many festivals taking place throughout the year. I will say with certainty that three days was not enough time to take advantage of the numerous possibilities and hope to return soon.