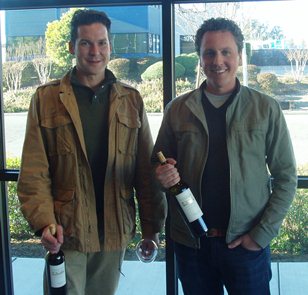 Vellum - Seriously Different in Napa
Breaking with recent Napa Valley styles of very ripe and robust wines, Vellum Wine Craft is focused to displaying classic wines of restrain. Picked deliberately at low sugar and pH the results bear noteworthy wines differing from long standing trends.
by Roger King
January 14, 2013
---
<!>
Vellum Wine Craft winemaker Karl Lehmann and partner Jeff Mathy have set out on a different path than most Napa Valley producers of Cabernet Sauvignon and Petit Verdot, one inspired by the wines of St.-Julien and seeking moderately low alcohol. The 2009 Vellum Black is their first release of Petit Verdot and the beginning of a long term program to adjoin their Cabernet Sauvignon offerings.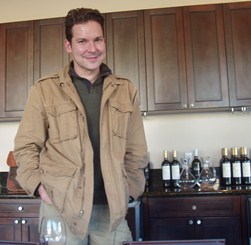 During an extended age of highly ripe fruit leading to robust and alcohol escalated wines sometimes iconoclastic forces come into the mix. The winemaking focal point for Karl Lehmann is this exact opposite, yet seeking a classic greatness in result. Vellum wines are harvested early and at historically - read 1970's - related brix levels, but with close attention to pH and acids. While California, nor the Napa Valley, mimic St.-Julien AOC of Bordeaux, the stylistic grail for Vellum has been established there.
Vellum produces a limited range of wines fully focused to Bordeaux varietals. Vellum White, a Sauvignon Blanc – Semillon blend; Vellum Black a Petit Verdot driven wine with 15% Cabernet Sauvignon; Vellum Cabernet Sauvignon. What is highly noticeable is the finesse and understated charms each wine universally possesses. A style of refinement in fruit, acid and tannin and a refreshing restrain in alcohol.
With confirmed access to Cabernet Sauvignon from a vineyard in the Coombsville district of Napa Valley, use of the 337 clone has been the existing standard. Some, like Clark Smith, have speculated this clone is extremely well suited to this cooler southern region of Napa Valley. Limited use of Cabernet Sauvignon clone 7 from Chiles Valley is also in the blend. There are three vintages now present – 2007, 2008, 2009 - and they have remarkable consistency in elegance and grace.
Looking back over these vintages the inaugural 2007, blended with 10% Merlot and 6% Petit Verdot and barreled in 100% new French oak, presented power but also a wine that will definitely last 25 year properly cellared. Lehmann maintains a keen focus to low pH levels in his wines to help insure age worthy status. The 2008 is more vibrant, showing effects of reduced new barrel - 60% -and a slightly lower pH. Both the 07 and 08 are more restrained and lighter, showing the feminine nature one might expect. He comments about their tannic component as "tannin is fabric to me, it should billow down over your palate like a fine thread count linen sheet onto a bed"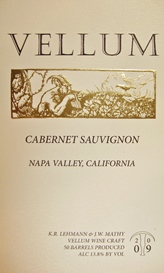 Differences do show up with the 2009 vintage, described somewhat as showing respect to Pauillac styling, receiving 22 months in a mixture of new and limited use barrel. "This is the end point of where we want to go and do not want to go past this point" stated both Lehmann and Managing Director Jeff Mathy. They express thinking about dialing back from the 09 in both oak and alcohol.
Using great enological perspective gained at UC Davis and tested in multiple stints of winemaking for others, the belief phenol development can be managed in the cellar to help come closer to the Bordeaux model is present. Seldom but careful racking, mindful lees management and belief that the wine must be kept whole from fermentation through pressing – not separating free run from press fractions-all contribute to this approach.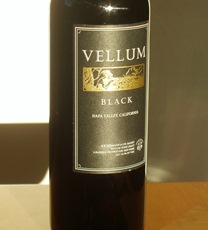 Vellum Black is comprised of 85% Petit Verdot and 15% Cabernet Sauvignon, used to add structure and bring the wine back to mid palate. Lehmann is looking for a certain austerity in Petit Verdot that will lead to beauty over time. Notes of blueberry, wild blackberry bramble and tobacco are there to be found with the same tannin finesse.
Vellum White is again highly representative of the Bordeaux style. Sauvignon Blanc sourced from lower Chiles Valley was picked to yield a 12% alcohol wine. The Semillon comes from Calistoga and brings viscosity. The wine avoids excessive grassiness and focuses more to the underlying gooseberry characteristics present. Bottled unfiltered and unfined Vellum White presents clarity in the glass due to barrel fermentation and extensive racking.
Do these wines present return to sense of place? It is hard to argue that the vineyard terrior is being overcome by high alcohol or excessive oak impacts. As time passes more will be revealed.
Wine marketing and sales falls more to Jeff Mathy. A very successful model of pursuing under-served markets rather than charging to New York has landed South Dakota as their largest market, other than wine club direct sales mostly in California. Distribution exists in South Dakota, North Dakota Georgia, Washington DC, Arizona and is expanding rapidly.
What has been interesting and somewhat disappointing is the reaction from main stream forces that decry Vellum is not representative of the current Napa Valley style of production. That it is hard to acknowledge high acclaim when these wines are atypical. Yet the European publications seem to embrace and acknowledge their direction providing some attest to achieving the stylistic goals Vellum pursues. Mathy simply expresses a position they are working to show Napa Valley potential as classic Bordeaux.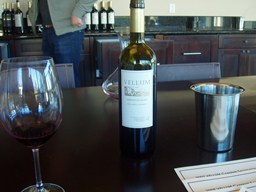 For the future, case production is desired to peak at 5,000 annual and remain there. Hopes of moving from custom crush to their own facilities will fulfill their final goals, for now.