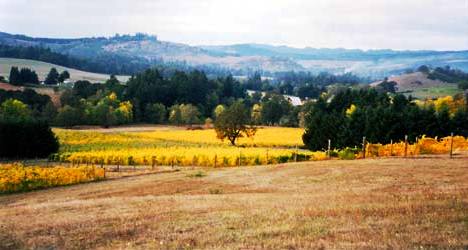 Elkton Oregon - Coastal Cool in Southern Oregon
At the northern tip of Umpqua Valley AVA in Southern Oregon, Elkton has always been different. Marine air moving up the Umpqua River drainage drives a cool climate impact the rest of the region just does not experience. Pinot Noir has taken great liking to this region, along with several other cool climate whites. It now has it's own moniker to define the wine diversity.
by Roger King
February 27, 2013
---
<!>
It has not been that long since Oregon dove into serious winemaking, going back to the 1960's when pioneers such as Richard Sommers, Chuck Coury, David Lett, Dick Erath and others started. About 10 years later the most adventuresome found Elkton Oregon and in 1972 Ken Thomason and Bob Bingham put the first vines in this remote and very cool location functionally between Eugene and Reedsport on the Oregon coast. Black Oak Vineyard, one of the original blocks, is now part of Rivers Edge Winery. The suspicion was that Pinot Noir had a good opportunity. The weather data, as it existed, suggested the region as just reaching low Region one heat accumulation , but there was no existing foundation of growing experience here to rely on. There was not another vineyard within 32 miles and in very different climes.

Thomason and Bingham planted two vineyards, self rooted no less, to Pommard and Wadenswill clones of Pinot Noir and found grape vines indeed could flourish in the soils and ultra cool climate. Prune trees had had their run earlier (like so many coastal valleys mid Pacific) and some Filbert nut production, but Pinot Noir vines took a great liking to the environs. West facing benches along the Umpqua River were used and planted in the 300 to 400 foot elevations, catching sunshine and warmth. The results began the slow evolution of the area around Elkton to ultimately seek and gain approval of, and as, a formal AVA. Some of the Pinot Noir wines were already receiving top honors within the broader Oregon context but labeled as Umpqua Valley, and rightly so. So how could this be?



Interactive AVA map by David Savory - WineAtlas.com


Fully embedded in the existing Umpqua Valley AVA and much larger Southern Oregon AVA, Elkton Oregon is different than the known traits of these Oregon appellations where warm climate reds and whites can flourish and easily ripen. More similar to Anderson Valley and the southern region of Humboldt County, where coastal river drainages carry waters to the Pacific yet also act as marine air drainages into the interior. This is what demarks the difference of Elkton Oregon. Dr. Greg Jones of Southern Oregon University, Department of Environmental Studies commented : "the depth of marine layer west of Elkton is the thickest in Southern Oregon and most prolonged inland". Those influences also provide for a growing season that is 80 days longer than Southern Oregon. Dr. Jones contributed in great part to the Elkton Oregon AVA petition.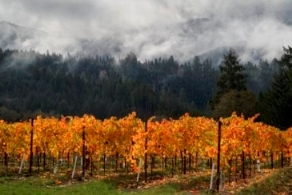 Marine air from the Pacific Ocean, 32 miles away, flows up the lower Umpqua River drainage and directly impacts the days and nights around tiny Elkton. Often summer mornings can start out with dry south west breezes but by noon that breeze turns and comes from the west, up the river valley, bringing cool air. It is rare for summer highs to reach 90 degrees and fog is definitely present during the later ripening season. This is an appellation that is defined not by soils but by unique climate. Making note of soils, Jones further commented that the broader Umpqua Valley has 300 plus soil types known (and likely many more not yet identified) but are there 300 different wine inflections? No!
Modern day Elkton has changed in vineyard ownership and wineries are now present to make wine, not many but just enough. In 1996 Mike and Vonnie Landt purchased the vineyards developed by Thomason and commenced to build Rivers Edge Winery in 2000, it was the first in Elkton. Mike became a driving force to developing the Elkton Oregon AVA.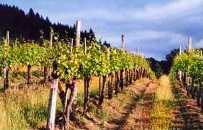 Terry Brandborg, who had a background in cool climate Anderson Valley and sensing an ultimate need to be farther north, ventured to Elkton a bit later and found the area of the same nature and soon built his winery Brandborg just a couple blocks away.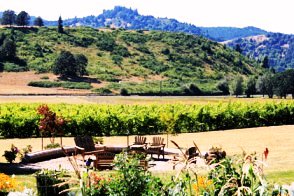 John Bradley, who planted just south of the town of Elkton in 1983, ultimately expanded to become vintner in 2000; as Bradley Vineyards. John had been there when Ken Thomason arrived and planted, traveled with him to winery and barrel tasted. Captivated that that wine tasted just like the berry in the vineyard, he was committed. John planted a lot more than just Pinot Noir over the years; Gewurztraminer, Riesling and Baco Noir. He was consistently urged by an Umpqua Valley winemaker to consider Baco Noir but believed it to be a warm climate grape. While he planted he also found it was actually cool climate oriented and thrives in the Elkton climate. That wine being a sell out consistently.

In 2005 Anindor Vineyards joined in after purchasing one of the existing vineyards to the south of town. They also embraced Baco Noir along with Pinot Noir, Pinot Gris, Riesling and Gewurztraminer. A fifth bond has been established by Hundredth Valley but no wines are currently in release, while a sixth prospective vineyard has custom crushed likely to proceed.
Without doubt interest is mounting and the prospect of more planting and producers of Elkton Oregon AVA wines is on the horizon. Oregon is well known for Pinot Noir but Elkton will present it's own interpretation. At the same time the AVA has depth of suitable acreages in the 79,000 acre boundary, mostly limited to benches along the river.
The boundaries extends from roughly 8 miles west of Elkton to roughly 3 miles East and uses the 1000 foot elevation line as a major boundary. It actually gets too cool above that line for vines to properly ripen fruit. Some Elkton wineries will rely on the broader Umpqua Valley to fill in wine programs such as Gewurztraminer . Pinot Gris, Riesling and Baco Noir have been successfully planted in the AVA. Reported attempts at Merlot have not been rewarding, but clearly the varietal clarity of this region is now set apart and branded along Pinot Noir.
Pinot Noir of Elkton Oregon appears to express a greater earthiness than what might be expected in Willamette Valley. A form of consensus was found across many involved, but depth of fruit was also noted. Within the whites depth of fruit is again offered while well balanced natural acidity noted. Natural acidity is a pointed virtue of wines from Elkton Oregon, balanced against all other traits.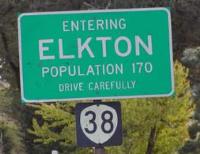 These wines of Elkton have been noted previously as Umpqua Valley and to great degree set the tone of Umpqua Valley Pinot Noir. They have a heritage of years but a future of decades and centuries. Many hope to quickly label under the new AVA status which will bring these wines forward to their place.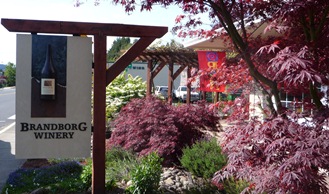 Visiting is one of the best ways to taste with 4 tasting rooms in season and wine country deserving food at Tomaselli's Pastry Mill and Café. Rivers Edge and Brandborg tasting rooms can easily be walked to from throughout tiny Elkton, while Bradley and Anindor tasting rooms are just to the southeast of town in their vineyards. Overnight accommodations are limited yet River Inn Elkton provides warm relaxing hospitality.
Photo Credits from top: Rivers Edge Winery, Brandborg Vineyard and Winery, Bradley Vineyards.