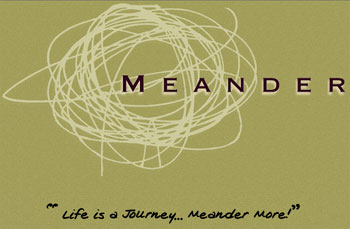 St. Helena ~ Napa Valley (AVA)
Now a seasoned veteran of the Napa Cabernet game, Amy Aiken, finally launches her own brand
Years in the making, Meander Cellars' inaugural vintage has just been released.
by Alan Goldfarb
November 10, 2005
---
After getting her masters in plant pathology at UC Santa Cruz, Amy Aiken followed her boyfriend Joel up to the Napa Valley where Craig Williams at
Joseph Phelps
interviewed her for a job working the crush of 1989. She recalls, "He was asking me all these questions and I said to myself,
Why is he asking me these questions? I have more ability than anyone in the room.
"
Exasperated, she tried a new tact. "I couldn't take it anymore and I said,
I've come up here to be with my boyfriend.
He said,
Who's your boyfriend?
I told him. He said,
Why didn't you say so. You're hired!
"
While boyfriend-turned-husband Joel Aiken has remained as winemaker at
Beaulieu
all these years, Amy Aiken has moved on through the ranks at various wineries to the point now, where she's just released her first wine.
She calls it
"Meander,"
a contraction of her two boys' names -- Mitchell, 10, and Andrew, 7.
She explains further though, how she struggled with the name.
"I love Latin. It's feminine, it rolls off your tongue but everything I came up with sounded like a flower shop and it wasn't going to work for a wine project."
The wine is a 100 percent
Cabernet Sauvignon
sourced from two vineyards -- Morisoli in
Rutherford
and Lewelling in St. Helena.
Why did she choose those two vineyards, with which she has what she calls "handshake deals?"
"Their pedigree is impeccable and they're great vineyard managers," she says. "It took me three years to get fruit out of them because they're so in demand," she explains. "But now they treat me like their little sister. They're like my brothers. I can talk to them."
For the first wine, which she just released on November 1st, there are only 200 cases. The wine is made at
Ballentine
and it sells for $65.
It was while she was a veritable rookie, working the custom crush at
Oakville Ranch
(now
Miner
) in '97, when she was pregnant with Andrew and various hotshot winemakers would come over to her and ask her questions. That's when she knew she had what it took to make her own wine.
They'd inquire of her, "What would you do?"
That's when she knew, "I could do that."
Eight years later, after stints at
Viader
,
Domaine Carneros
and finally as winemaker as recently as last year at
Anomaly
, Amy Aiken at last -- after 17 years -- has her own brand.
Through savings and investments, she raised $50,000 to launch Meander. She has no destemmer, no press, no tractor of her own, but it's apparent she knows how to put together a hell of a wine. Her first effort is perfectly balanced, it's decidedly not a pretty little flower, and it's built for the long haul.
Soon, she hopes to make 600 to 800 cases because she says, "I'd like to make a living at this. At this level, it's enough for one person to handle, otherwise I'd go bonkers. … There's so much work to do, (but) I can't imagine doing anything else."
As for bricks and mortars to call her own?
Well, "that's up the road," and "a huge pipe dream, but I wouldn't mind having a warehouse and drainage and power and a place where I could put my own name on it," she acknowledges.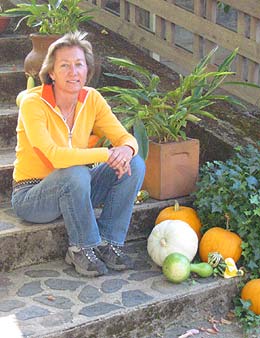 She admits, however, that she'd have her own brand.
"I never would have guessed," she says. "It's absolutely satisfying. If you would've told me 10 years ago I'd be doing this, I'd say I would have guessed so, but it's good to be doing everything my way."
As for boyfriend-cum-hubby Joel, what part does he play in all this?
Well, it was his suggestion, over dinner at the CIA one night, that she name the wine "Meander."
She also says that Joel "wouldn't mind making wine on this scale," but would that mean that he'd have to work for her?
"I'm not sure that's a good idea," she says, "if we want to stay married. I think he likes his identification there (at BV). It suits him well."
As does obviously, making Meander for herself and creating her own ID.
- Alan Goldfarb, Napa Editor