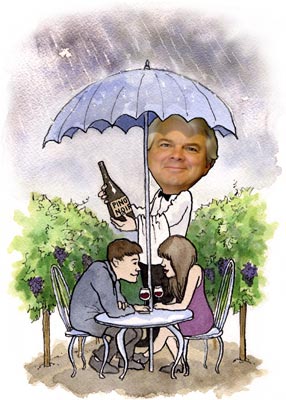 Steve Girard copes with Willamette Valley's inclement conditions to bring memorable wines to Pinot lovers
"I feel that to achieve the sexy, spicy character in Pinot you have to push the envelope climate wise. A warmer climate may reduce the number of gray hairs on my head but will also make more standard wines."
by Mark DeWolf
January 30, 2004
---
AA:
For many winemakers producing great Pinot Noir is the ultimate test of not only their skill in the winery, but also locating the perfect plot of land to grow the vines. There are numerous examples in North America of visionary winemakers, such as Chalone's Dick Graff or Calera's Josh Jensen, spending years looking for the ideal vineyard site for this temperamental grape – often without regard for easy accessibility to major urban markets. Can you briefly relate your quest to find the ideal location to grow and produce Pinot Noir?

SG: In the early 80s I ran Girard Winery in Napa Valley and produced almost everything but Pinot Noir. Yet my wife and I were drawn to the varietal because of its affinity with the lighter dishes we enjoyed. I really wanted to make Oregon Pinot, but the last thing I needed was another winery. So…I came up with a really bad idea. I decided to buy grapes from Oregon and make the wine at my winery in Napa. It was hopeless. The wine was terrible. So I spent the next two years of my life thinking about where I wanted to grow the World's Greatest Pinot. I looked at all kinds of maps on rain, wind direction and strength, degree days, soil, etc, and I came up with a thirty mile area between Eugene and Corvallis which, for me, looked perfect. I drove around kicking dirt clods for months and one day pulled over my rental car in front of what is now Benton Lane. I couldn't believe it. It was like the Lord had placed this dirt on the planet for just one thing, making killer Pinot. It took me five years to buy it, but the wait was nothing.
AA:
Do you support the current trend in Oregon (and across America, for that matter) of AVA delineation?
SG: I support AVAs when they are meaningful. The Napa Valley isn't just the Napa Valley, but Pope Valley and Chiles Valley and it goes all the way to Lake Berryessa, which is a much hotter climate than the valley itself. It doesn't make sense. The Stags Leap appellation, a great area for muscular red wines, was stretched all the way to Yountville Crossroad to include Anderson Winery, who only made sparkling wine. It doesn't make sense. Unfortunately, the folks at the TTB (Tax & Trade Bureau) are so afraid of getting sued that they let anyone into an appellation that can make even a lousy case for inclusion. This results in viticultural areas that are confusing and irrelevant.
AA:
Do your feelings about the Napa Valley AVA being so broad and climatically diverse also apply to the similarly large Willamette Valley AVA? For example, the location of your vineyard, Sunnymount Ranch, is at the southern end of Oregon's Willamette Valley. Are your conditions notably different from those in more northerly areas closer to Portland? If so, can you describe the differences and would it be reasonable to pursue the TTB for a separate appellation?
SG: The Willamette Valley appellation is meaningful, in that it is geographically one big valley, unlike the Napa Valley AVA which is really a bunch of valleys. However, because there are 120 miles separating the Northern Willamette from the Southern, there is a big difference in climate. Where we are in the Southern Willamette, the climate is warmer so we ripen our fruit about ten days prior to the guys in Yamhill. In great vintages, like we have had the last five years, it's no big deal, but in marginal vintages, like 1997, it can save our butt. We have learned to distinguish our areas by using the terms Northern, Central and Southern Willamette. Not very sexy, but it works.
AA:
Appellation of Origin systems in Europe have specific requirements in terms of grape varietals grown, yield, vineyard management techniques, etc. Can the American Viticultural Areas be significant if similar restrictions are not imposed?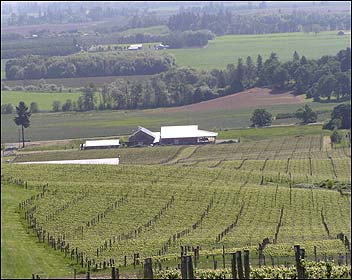 SG: Sure. The competitiveness of the wine business keeps us all searching for better ways to grow grapes and make wines. At Benton Lane I strongly support research. We are always doing several vineyard trials and working in the winery to make our wines healthier and better. The LIVE (Low Input Viticulture & Enology) organization, of which we are a certified member, suggests rules for bio diversity, crop levels, cover crops and chemical minimization that tend to produce better wines. These are helpful, but do not need to be mandated.
AA:
Can you elaborate on some these specific vineyard management techniques you employ to maximize the quality of grapes you grow?
SG: We have learned to achieve balance in our vineyard. We have learned not to throw a bunch of fertilizer on the vines but to try to reach perfect nutritional balance so when we apply boron the vine can assimilate it. We spend a lot of time (and $) balancing our canopy so the fruit gets the right amount of air and sun. We are certified sustainable under LIVE and certified "Salmon Safe". We were the first vineyard to use a weed burner instead of using chemicals.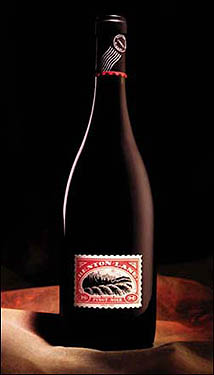 AA:
You have been known to make strong statements about winemaking. For example, you have suggested that in order to produce great Pinot Noir, one must devote all their energy, passion and resources exclusively to that varietal. Can you expand on this?
SG: I learned from my buddy (the late) Justin Meyer (of Silver Oak Cellars fame) that you can produce a better wine if you concentrate on only one varietal. It has to do with the equipment. Because of the difference in skin density, a wine press that makes great Chardonnay may over process and therefore ruin Cabernet. At Girard Winery (Napa Valley), we produced five varietals. I couldn't afford five presses, since they are about $80,000 each, so I had to cut corners. I bought the best press for all five varietals. At Benton Lane, our press is the finest for Pinot Noir, as are our hoses, pumps, fermenters, destemmer, etc. So, in theory, we can produce a better Pinot than a winery that produces several varietals.
AA:
You are a strong proponent of a winemaking (maceration) technique which you have dubbed "Pneumatage". How does this process differ from "pigeage" (punching down) or "remontage" (pumping over)? What are the advantages of using your technique when producing Pinot Noir?
SG: Previously, we had two choices in wetting the cap, punching down or pumping over. Neither is very good since they both tear up the grape skin, releasing the seeds. The seeds carry the bitter tannins that used to force me to press off my wine before the flavors had perfected. At Benton Lane, we use large air bubbles, injected in the bottom of the fermenter to slosh the cap. Because the bubble is gentle it wets the cap without tearing the grape skin, so the seeds that used to line the bottom of the tank are now still inside the skin. Now I can leave the wine on