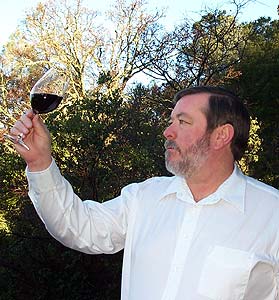 St. Helena ~ Napa Valley (AVA)
Bob Broman: more Reserved than the wines he makes
A reticent Bob Broman moves forward with his own Broman Cellars but finds time to assist in the resurrection of Guenoc
by Alan Goldfarb
November 24, 2005
---
Bob Broman has been a winemaker of note in the Napa Valley for many years, especially when he began making wines for high-profile
Stag's Leap Wine Cellars
five years after Warren Winiarski won acclaim for the 1976 Paris Tasting.<!> But Broman is the last guy you'd think of to step into even the fringes of a spotlight.
At his home on Deer Park Road one morning earlier this month, Broman -- a soft-spoken, self-effacing sort -- fairly recoils when asked, given his good reputation as a winemaker, if he's planning on making his
Broman Cellars
more high-profile.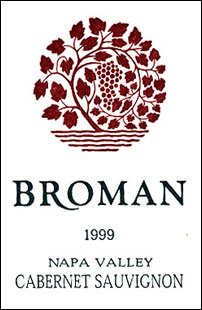 "My goal is straight-forward. I want simple elegance," he says. "I'm not trying to make a monument, a statement. If you can't see the winery from the road, that's good."
"I'm reasonably quiet, reserved … I like comfortable. I'm a little more laid-back."
Apparently, that's precisely what he's planning for his new winery and caves, which he explains are in the final stages of "getting approval to go the board of supervisors."
The project will cost $1 million, and plans call for a capacity of 7,000 cases, although he's currently producing only about 1,300 cases, that include a mix of a
Cabernet
,
Syrah
, and
Sauvignon Blanc
. He hopes to have the winery running in about two years, after breaking ground next spring or summer.
"If we get to 5,000 cases, we'll be doing really well," he says.
As more evidence of his reticence to place himself out front, when asked what he felt like when he picked Cabernet from his own estate 11/2-acre vineyard two weeks ago -- which is his very first after toiling for others all these years -- the response is subdued.
"I felt just like a home winemaker," he says in reference to the fact that he was surprised by the amount of tonnage he gleaned from his small parcel. "I had to run down to Steves (a hardware store in St. Helena) to buy two 42-gallon food-grade garbage cans."
In addition to his own vineyard which was planted in 2003, Broman buys his fruit mainly from Andy Beckstoffer. He obtains his Cabernet from the grower's Dr. Crane Vineyard near
St. Helena
High, and from the famed George III Vineyard south of
ZD
on the Trail.
The Syrah is sourced from the Page Nord Vineyard in
Yountville
and from Kathryn Hall on Big Ranch Road. As for the Sauvignon Blanc, that comes from the Melrose Vineyard off Zinfandel Lane that is also owned by Beckstoffer.
He hasn't determined if he'll use the 60 to 70 cases of Cabernet from his own vineyard, which is next door to the
Bremer Winery
, to make a reserve, or if he'll blend it into the Crane and George III fruit. And he doesn't have plans to purchase any more vineyards to call his own.
The wine, which first appeared under the Broman label with the 1994 vintage, is now made at
Catacula Lake
in
Chiles Valley
, for whom Broman also does a bit of consulting.
Broman, who also made wine for
St. Supéry
from 1987 to '96, most recently had a short stint at
Rutherford Ranch
, when that Silverado Trail property began to reform itself. He left last August after only one year, to become the vice president of winemaking and production at the newly revamped
Guenoc Winery
in Lake County.
He says he went there to work again with Roy Cecchetti with whom he teamed up 20 years ago at
Cecchetti-Sebastiani
in Sonoma. Cecchetti took over as president at Guenoc last June to try and resurrect that property. Guenoc has undergone a couple of ownership changes over the last several years, and as Broman explains, Cecchetti wanted him to head his team.
"I had the best five years with Roy I'd ever had," Broman says, referring to his experience at Cecchetti-Sebastiani that he helped take from 60,000 cases to half-million. "He called and he told me to come up (to Lake County) and have some fun."
"It's a good working relationship that I've never found anyplace else. He has his strong points, and I have mine."
That might be true, but the reserved Broman needs to be prodded and seems loath to discuss his own virtues.
~ Alan Goldfarb, Napa Editor