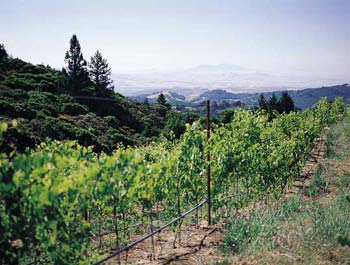 Mount Veeder ~ Napa Valley (AVA)
Goldfarb's Pressing Matters:
Three generations looking for the Grail on Mount Veeder
Mount Veeder veterans and newcomers discuss the characteristics of their mountain appellation
by Alan Goldfarb
November 28, 2005
---
Mount Veeder
is the kind of appellation one can get behind. It's not just because most of its red wines are decidedly intense, deep-flavored mountain fruit. You could say the same for
Diamond Mountain
,
Howell Mountain
, or
Spring Mountain
.<!> I also remember how much I loved Leslie West and Mountain, who to my 1969-addled ears, stole Woodstock (and yes, I was there).
But I digress. No, Mount Veeder is the kind of place one can cuddle and clutch to one's bosom. I mean, how endearing was it to listen in on an impromptu discussion recently between two veteran wine people trying to come up with descriptors to describe what a Mount Veeder wine tastes like?
Bob Travers -- who made his rep back in the Pleistocene era with his high-tannin Cabernets at
Mayacamas
, which are just now coming around -- when asked what are the characteristics of a Mount Veeder wine, was not being too ironic when he responded, "Ask me in 100 years and I'll tell you."
The other vet holding court was Carole Meredith, who made her bones after a 22-year stint as the doyenne of the viticulture department at UC Davis -- the Harvard of California wine.
Meredith -- who culminated her academic career by positively ID-ing
Zinfandel
as having originated as Plavac Mali in Croatia, thereby spoiling the party of the Californians who had thought it to be "The American Grape" -- was telling those gathered now on Mount Veeder, what she thought were the flavor profiles of their wines.
Meredith, along with her husband Steve Lagier, started making wine on Mount Veeder less than 10 years ago. While most were producing
Chardonnay
and
Cabernet
from the mountain, Lagier and Meredith tried their hands at
Syrah
.
Another very interested party listening in that day was Tom Selfridge, who instantly became Mr. Mt. Veeder Executive only a month ago, when he took over the reigns at Mount Veeder's highest profile winery,
The Hess Collection
. Selfridge, who was booted out of Carneros as the head of the Chalone Group when that company sold, was mostly listening, albeit intently.
Since he was a newcomer to the Napa Valley's southernmost mountain region, and thereby the coolest (temperature-wise, and otherwise), Selfridge seemed to be soaking it all in like some sort of SpongeTom, taking Meredith's and Travers' crash course on Mount Veeder 101.

First off, there are only about 17 wineries up there in elevations that start at 450 feet and go as high as 2,500 over a 25-square-mile area. There are just 24 growers cultivating a little over 1,000 acres (a fraction of the AVA's 15,000 total acres), mostly to the referenced Cab and Chard, which comprise nearly 75 percent of the production.
But I think Syrah is going to come on, thanks to the team of
Lagier-Meredith
. They and Jim Paras (recall the
Jade Mountain
wines?) were the first to plant the Rhône varietal on Mount Veeder and now Meredith says, "People are starting to come to us for budwood. It's like giving away a little bit of your children."
There are only about 25 acres of the stuff planted in the entirety of the AVA, but if the Lagier-Meredith Syrahs, with their dark, opaqueness, their white pepper overtones, and luscious raspberry flavors are any indication, bring me a Mount Veeder Syrah any day of the week, baby.
Which led Travers to clasp his hands in mock prayer while nodding toward Meredith and saying, "It's wonderful to see people making Syrah up here. Bless you."
To which Meredith proclaimed boldly as she usually does, "I think Syrah represents the future of Mount Veeder. (Our Syrah) won't be the same as Spring Mountain or Howell Mountain, and it certainly won't be the same as the valley floor."
"Syrah doesn't need as much heat and Mount Veeder is the coolest of the mountain districts in the Napa Valley."
Indeed, the appellation experiences the marine influence coming off San Pablo and San Francisco Bays as no other AVA in the valley, save perhaps for Los Carneros.
But truth be told, somehow Mount Veeder seems to get lost in the shuffle. Why is that?
"Mount Veeder has been kind of quiet because we tend to keep to ourselves and we don't get out as much," said Meredith.
Travers is a perfect example of that. I've been covering the Napa Valley most intently for 3½ years now and I've been writing about its wines off and on since 1981. However, before last week I had never met Travers. That's because, as Meredith alluded, he hardly comes down off his mountain.
But on this day at least, Travers was simply loquacious.
"There's a cohesion up here," he began. "I've bought grapes from up and down the mountain for our 39 vintages (but) there's a particular characteristic that I always think is mineral and stone in Chardonnay, and briary raspberry in Cabernet."
But he warned, "I don't make my Chardonnay like others. We don't use toasty oak, etc." One taste of Travers' 1999 Mayacamas Chard showed the reason why. It was still alive with fresh fruit not deadened by wood and malolactic fermentation.
Listening to all this, as mentioned, was Tom Selfridge. After Diageo took over Chalone, Selfridge sat on the sidelines for nine months until Hess came calling.
Hess is Mount Veeder's anchor, sitting at the lowest elevations as it does, and being the largest and most known property. But these days, the bolts holding that anchor to bedrock have been loosened. Hess needs a tightening up of its ops and kudos to them that they had the prescience to tab a guy like Selfridge, who may be able to resuscitate the old gal.
So, on this day, Selfridge mostly listened to what Travers and Meredith had to say. Oh, he did say, "I'm new to the area, but I love it."
He also had the good sense to ask the Mount Veeder veterans in his midst, "What are the characteristics?"
~ Alan Goldfarb, Napa Editor