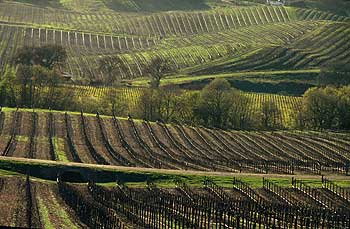 Goldfarb's Pressing Matters:
Terroir in America
...like a microcosm of America itself -- in an ever- increasing world driven by commerce -- many winemakers have eliminated all vestiges of terroir; or at the very least, what terroir could be in their wines.
by Alan Goldfarb
December 7, 2005
---
Art Linkletter once said,
"Kids say the darndest things,"
while G.B. Shaw wrote,
"Ah the pity, youth is wasted on the young."
Both men -- one a minor TV celeb and the other a major writer -- were most keen in their observances. I use their examples here because it applies to the subject at hand --
terroir
and all its elusive meanings<!> -- as observed by two young Frenchmen who came through the
Napa Valley
recently; and to a grizzled but still-coherent -- I think -- wine scribe.
The twenty-something visitors from France, with aspirations to break into the wine business, were touring the world's wine regions. Over a cup of coffee in the very heart of the Napa Valley one of the visitors observed, "It's hard to think about terroir in the Napa Valley because everyone is going in different directions."
I almost choked on my chocolate chip cookie as the other visitor interjected, "I think there
is
a terroir here, such as
Los Carneros
and the
Stags Leap District
, but you also have a lot of new technology and that input alters the terroir to please the customer."
"The French are complaining too much about rules, but the AOC regulations protect the terroir. Here, you have more diversity. Indeed, you could have violet aromas in your terroir, but then the winemaker can make the difference. The winemakers here have more impact."
I washed the lodged cookie down with a big draw on my coffee cup and then I told my upstart visitors, who possessed the audacity to speak the truth, that
"je comprend"
and
"je accord certainment."
But I asked them to allow me to put the concept of terroir in the Napa Valley, in particular, and in America into perspective. Whilst wiping my brow in a display of mock embarrassment, I said, "we Americans find it too easy to back away from of the question of terroir because we're oh so young." But that's a cop out, because now's the time -- in the post-phylloxera era -- to get our act together and to get to know our appellation(s).
You, my dear Frenchmen, even as young as the two of you may be, have terroir in your marrow. But we Americans, as of now only 40 odd years out for all intents and purposes, have come to know terroir merely in our pocketbooks. We'd like to think that we have terroir -- real terroir -- because we know you [the French] have it and we only wish it so. But in order to compete in the marketplace -- which in recent years has tipped toward us, the Aussies and the Chileans, leaving the French in the dust (albeit their mineral-y, tarry, earthy, complex dust) -- we have begun to pay attention to terroir. Although, truth be told, we've only paid lip service to the idea of regional and appellation differences.
The French boys got it right when they cited Carneros and Stags Leap as definitive American Viticultural Areas (AVAs) that seem to be on the right path to distinctiveness. (But never mind that Carneros has taken it in the shorts, unfairly, and has been surpassed, at least in perception, by the likes of a half-dozen other Pinot producing areas.)
The overriding descriptor of Carneros Pinot has been defined as cherry. But, perhaps due to the constant windiness coming off nearby San Pablo Bay, some believe that the wines lack the depth of Pinots from other regions. Unfortunately for the Carnerans, much of the rest of the country is passing their type of Pinot by. The perception being, that others regions, from
Santa Lucia Highlands
to
Santa Rita Hills
, are deeper in sweet juicy flavors and thereby have become more appealing to the American palate.
Stags Leap on the other hand, has produced wines -- particularly Cabernets -- that speak to the river sediment and volcanic soils of the area, therefore producing wines of complexity.
But therein lays the very essence of terroir -- or the differences between terroir and winemaker intervention, which the French boys so aptly cited.
While it's my observance that the folks in the Carneros, as a whole, have allowed their wines to speak for themselves with minimalist manipulation, to their detriment their wines (which were some of the first Pinots in California) have been supplanted by others cited above. These interlopers have rapidly figured out what they have to do to compete.
Therefore, like a microcosm of America itself -- in an ever-increasing world driven by commerce -- many winemakers have eliminated all vestiges of terroir; or at the very least, what terroir could be. They're making manufactured wines that appeal to the immaturity and the uncertainty of the as-yet developing American palate by sweetening the pot, so to speak.
This is at the heart of the challenge that we terroirists here at AppellationAmerica have in front of us. If we are to move the debate out of the capitalist boardrooms and into the glasses of people around the globe, who we hope will come to understand and appreciate distinct regional diversity that terroir can bring to American wine, we first must appeal to the people who make the wine.
It's a tough task. But I think its high time terroir became a reality in America instead of a marketing tool; and most especially in my Napa Valley stomping grounds. I believe through vigor and education -- of the public and the winemakers themselves -- that someday, but perhaps not in my lifetime, we will get to terroir. Just as the French got there so many centuries ago.
That's why I wish I had been born in 1980 like those two French kids, instead of in the middle of the last century. I'm confident that in 20 years, or so, terroir will be a reality here.
In my time intensely covering the Napa Valley wine scene from its myriad political donnybrooks, to its agricultural battles, to its wine development, I've seen a paradigm shift.
While many are still going for the high-alcohol, fruity wines with a goodly dose of new oak, there are those right behind them, toning down the alcohol by picking a little sooner, and ratcheting down the use of new oak. What is resulting in such wines, say from
Truchard
,
Broman
,
Ballentine
, and
Benessere
, just to name a few, are wines of balance and distinctiveness.
In other words, wines that reflect
our
terroir.
~ Alan Goldfarb, Napa Editor
To comment on Alan Goldfarb's writings and thoughts, contact him at
a.goldfarb@appellationamerica.com