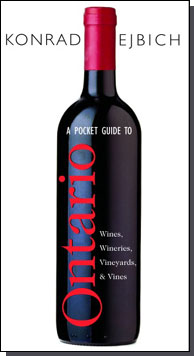 Ontario (Provincial Appellation)
Book Review: A Pocket Guide to Ontario Wines, Wineries, Vineyards & Vines
Konrad Ejbich's new book finally covers Ontario wine at a level that accurately reflects the state of the wine industry in Canadian's leading wine producing province.
by John Schreiner
December 20, 2005
---
This book fills a gaping hole in Canadian wine literature. Toronto wine writer Konrad Ejbich has given us a thorough book that champions
Ontario
wines, something that has been long overdue.
Let me acknowledge that there are other books that deal with the subject.<!>
Crush on Niagara
by Andrew Brooks (published this year by Whitecap) is useful but limits itself only to the heartland of Ontario wine. Linda Bramble's
Touring Niagara Wine Country
is similarly limited and also a few years out of date. Tony Aspler's
Vintage Canada
has now been through three editions but is even longer in the tooth (he is reported to be working on a new Canadian wine book).
My own
The Wines of Canada
, which Mitchell Beazley published this summer, is, I hope, comprehensive about Ontario, including some useful history. But I had neither the space nor the resources to dig out details on, for example, individual vineyards. Such information is part of the enriching texture of this volume.
As someone who has written half a dozen books on
British Columbia
's wines over the last 12 years, I have long wondered why Ontario wine writers had been neglecting their industry. Perhaps Ontario's wineries wonder the same thing. Good for Ejbich that he has finally moved into this wide-open opportunity.
Ejbich has written an accessible pocket-sized book with snappy winery profiles, useful address and contact information, arranged alphabetically. He offers an amazing array of tasting notes. Many of the notes pertain to wines no longer in the market. That is still useful, if only for historical interest. As well, if you have any of these wines in your cellar, Ejbich offers suggestions about when to drink them. Finally, the ratings are a snapshot of a producer's consistency.
The wine quality ratings are detailed and courageous. Not all producers will be happy with Ejbich but his readers certainly will. They may draw certain conclusions when they come across producers that declined to give Ejbich tasting samples. Icewine specialist
Royal DeMaria Wines
was one such refusenik. Ejbich was not easily deterred: he provided some notes scribbled at public tastings. Considering how generous the scores are, Royal DeMaria missed an opportunity by not showing all its wines to Ejbich.
An example of Ejbich's candor: There are notes on seven vintages of
Jackson-Triggs
Proprietors' Reserve Meritage. Ejbich gives the 1995 four stars, which translates as "terrific" and is one rung below the five-star rating of "great." But the 2001 vintage receives a little box with an X in it, which cautions readers to avoid the wine. Ejbich explains: "Spoiled by Asian lady beetle."
The entry on the Asian beetle, almost two pages long, provides good detail on how this recent arrival to Ontario vineyards contaminated thousands of bottles of
Niagara
's otherwise superb 2001 vintage. Even though a million or so litres of wine was held back, enough slipped through that savvy consumers generally stopped buying the 2001s. Many excellent wines also were made in that vintage but sorting out the good from the tainted is just a headache.
Ejbich is generous with four stars but stingy with five stars. Most of the wines that get the top rating happen to be icewines (including Royal DeMaria's 2002 Merlot icewine). From my own experience in judging and tasting wines, I am suspicious that the seductive impact of sweet wines tends to win them higher scores than merited, to the disadvantage of more subtle table wines.
I would think that Ontario has more than just a handful of table wines in the same league as the five-star
Konzelmann
1998
Pinot Noir
Reserve. "Spectacular, concentrated, ripe, balanced, and beguiling nose, like only a Pinot can provide. Tremendous depth with layer upon layer of flavour slowly being revealed over a number of hours. Sandalwood, incense, spice, berries, plums, boiled beets, black cherries, smoked sausage, tar, and licorice. And there is more to come."
But not many more five-star table wines!
I was surprised that none of the wines from
Daniel Lenko Estate Winery
, except for an icewine, made five stars. Lenko's highest rated table wine was the 2002 Signature
Chardonnay
, which scored four and a half stars. I would also argue that
Malivoire
's 2002 Chardonnay Moira Vineyard is worth five stars, not four. I wonder whether Ejbich tried too hard not to be regarded as a hometown booster.
Having said that, I found his ratings to be fair and comprehensive. He and I share many favourite Ontario wineries, even if I would rate some wines higher.
In general, the winery profiles offer the detail that enriches wine touring and also a consumer's understanding of what he or she is buying.
Every so often, however, one finds a profile that is too truncated. The short profile of
Pilliterri Estates Winery
neglects the importance of this winery as an icewine producer. Pilliterri alone makes as much icewine as all of Austria. That is why, as Ejbich says without explanation, "Half of all Pilliterri wines are exported."
The "value-added" information here is compelling. For example, the two-page entry on oak includes detail on how Hamilton cardiac surgeon Jim Hedges and geologist Michael Risk set up Canadian Oak Cooperage Inc. in 1999. They were thinning a Hamilton-area woodlot owned by Hedges's sister and recognized that some of the trees were the species of oak used in wine barrels.
After producing some handcut staves, they had several small barrels made for them by an Arkansas cooperage (there were none in Canada at the time) and conducted wine trials that were promising.
"By 2001, not yet ready to commercialize their idea, they convinced Derek Barnett, winemaker at high-end
Lailey Vineyards
, to produce side-by-side bottlings of his estate-grown Chardonnay aged in 30-gal. barrels of Canadian and American oak. Barnett concluded that Canadian oak had real potential."
Ejbich identifies six other wineries now using these barrels (an incomplete list). Canadian Cooperage only has the wood to make a few hundred barrels a year, alas. But, as Hughes told Ejbich: "I'd hate to sell this stuff as flooring." Surely, it is only a matter of time before other sources of suitable Canadian oak are identified.
~ by John Schreiner, British Columbia Editor
To comment on John Schreiner's writings and thoughts, contact him at
Print this article  |  Email this article  |  More about Ontario  |  More from John Schreiner