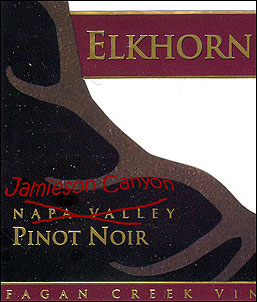 Elkhorn Peak's Ken Nerlove strives to move 'Jamieson Canyon' into the Pinot spotlight
"For my money, this is one of the best areas for Pinot."
by Alan Goldfarb
January 1, 2006
---
Sitting on Ken Nerlove's old desk are about a half-dozen sheaths of paper, each held together with a paper clip. In that stack, which overlap and align the left side of the space, are two files. One of which is a proposal to get 'Jamieson Canyon' named a sub-appellation of the
Napa Valley
; and the other is an application for a winery.<!>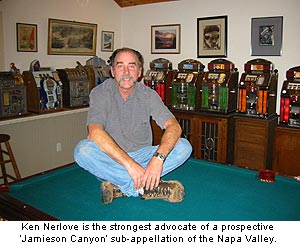 Thus far, Nerlove -- a grape grower, who has been producing wine under the
Elkhorn Peak
label since 1991 -- has not submitted those plans. Although he's done his due diligence as to the value of both, Nerlove hasn't gotten around to implementing them. It's something about "being too busy" and "having to do everything myself."
On this rainy and foggy day in the 300-feet elevation of his Fagan Creek Vineyard -- which rises above the Napa Valley Airport, the industrial sprawl of American Canyon, and above his nearest Jamieson Canyon neighbor
Kirkland Ranch
-- Nerlove pulls a huge tractor up to a truck carrying 42 cases of his wine. The delivery is a day early, but nonetheless, Nerlove has to haul the cache through a downpour and into an old barn.
The fog, the craggy leafless trees, the brown-sided wobbly barn, and a rusted out tractor from another era, stand hard as monuments to bucolic but dwindling farming land alongside the detritus of Napa Valley's industrial park.
It is here, in the Valley's southernmost region that Nerlove and a handful of other growers try to coax quality wine grapes out of the environs and its inherent cool climate.
In spite of becoming an area whose chief utility is the wine industry's warehouse, Nerlove believes that Jamieson Canyon deserves to be recognized for the surprising quality of its grapes. In particular, he believes it is
Pinot Noir
to which the region should stake its claim. But heretofore, only about 20 percent of cultivated land from Kirkland,
Grgich Hills
,
Raymond
, and
Laird Family
, is planted to Pinot. It's a state of affairs that puzzles Nerlove.
"For my money, this is one of the best areas for Pinot," he declares from behind that big old desk. "… From what I know of Pinot, the best ones come from cooler environments."
And Jamieson Canyon, a slip of an area that runs less than six miles from Highway 29 at the airport to Highway 80, and only one mile wide, is one of the Napa Valley's coolest areas.
Just a mile inland from San Pablo Bay to the southwest, the fog lingers here most days until about noon, then blows out and returns overnight. Conditions that, Nerlove believes, are conducive to cool climate grapes such as Pinot,
Merlot
and
Chardonnay
.
Kent Rasmussen, who has been making the Elkhorn Peak wines for 14 years at his
Ramsay Winery
on the Silverado Trail near
St. Helena
, is a believer in Jamieson Canyon Pinot Noir.
"It's an unsung area, weather-wise," he says. "I've become quite a fan -- it's cold and it's windy. You get a lot of airflow up there, especially at Ken's place."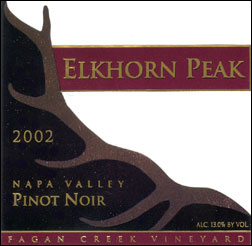 Indeed. The three vintages of the Elkhorn Peak Pinots I tasted from the 2000 to the '02 – each, incidentally, with a decided progression in quality -- displayed less sweet, but nonetheless hardy fruit, less alcohol than many Napa Pinots, and a goodly proportion of palate-cleansing acidity.
The Pinot Noirs to which Elkhorn Peak bears a natural affinity are those of
Los Carneros
, which is only about six miles as the crow flies. Rasmussen makes his own Pinot from Carneros, as well as from Nerlove's vineyard, and he compares, without being politic, the Jamieson Canyon fruit favorably.
"Compared to Carneros, it's a restrictive environment with small fruit, light clusters, and you get a lot more flavor density. It has nicer colors, and the sugars tend to stay down fairly well."
But compared to Nerlove's more well-known Carneros neighbors, his wines suffer the indignity of cachet that is nearly non-existent.
"Our bottles say 'Napa Valley,' but we're much closer to Carneros than to the Napa Valley," he laments. "It (lack of AVA recognition) is one of the battles I fight."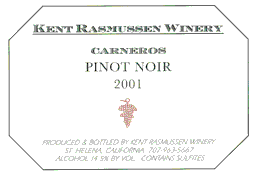 Rasmussen believes that Jamieson should have been included in the Carneros AVA when it was formed because "it's very much like Carneros. There were no grapes up there when the area was defined, but I think they should have included it."
Nerlove was the first to plant in Jamieson Canyon when he bought the land in 1983, "because nobody paid attention to this area. All the attention was on Carneros."
Perhaps this was because the vineyards in this part of the Napa Valley had no access to water until an aqueduct was built not too long ago, bringing water in from the Sacramento delta. Furthermore, vineyard managers here have to deal with swarming birds that hit the area before they migrate north -- a nuisance which requires the netting of the area's entire 600 or so acres of vineyard land.
Nevertheless, Nerlove has seen much vineyard activity in the last five years, especially way down in the southern reaches of American Canyon.
He thinks that Carneros will "never annex us because of all the money they've spent on their appellation. I think Jamieson Canyon at some point will stand on its own. But to align ourselves with the Carneros (now) would not be a mistake."
While grape prices in the Carneros average better than $3,000 an acre, Nerlove acknowledges that he commands $2,800 for his Pinot that he sells to
Hagafen Cellars
, which makes a vineyard-designated wine from his vineyard.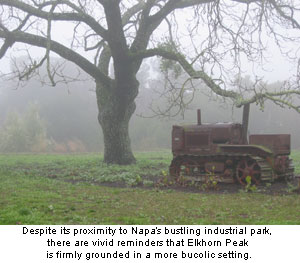 While Nerlove paid $250,000 22 years ago for 28 acres in Jamieson Canyon, he says it's now worth $5 million. As further testament to the growing efficacy of Jamieson, just up the road there is an undeveloped 90-acre parcel that's on the market for almost $6 million.
If one climbs above the clatter and traffic of the southern Highway 29 industrial corridor, Jamieson Canyon looms just as countrified and peaceful as some other wine regions that have far outpaced it in terms of perception and notoriety.