---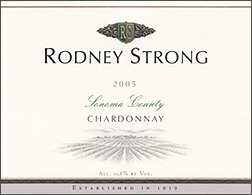 Rodney Strong Vineyards
2005 Chardonnay
(Sonoma County)

When faced with the somewhat daunting task of wading through a tasting of 25 Chardonnays of the modern era (read: oak, malolactic, low acid), the body cringes.

Then greatest fear: that ennui sets in.

So it was a delightful surprise the other day to find this light, crisp, refreshing wine from an old hand at the game with a more delicate hand than some of his more pricey wines.

Rodney Strong winemaker Rick Sayre has been at this game for a long time, and has long had numerous sources of fruit for his various Chardonnays over the decades.

With some of his designations, the Chardonnays tend to be a bit on the richer, less-crisp side of the ledger, but this wine is an alternative to the overblown style.

Still distinctively Chardonnay in nature, the wine is not one that will have you singing "Oh, WOW!" when you first sniff. But what it offers is a delight: citrus and a faint tropical fruit note, then an entry that shows it was aged in barrels, but you have to search for that delicate note.

It's a good choice to go with seafood. So when you are faced with a sea of look-alike labels and you don't want to spend a great deal more than $10 for a Chardonnay, this widely available offering is a sane and safe choice almost no matter where you live.
Reviewed December 5, 2006 by Dan Berger.
Other reviewed wines from Rodney Strong Vineyards
---
Winery: Rodney Strong Vineyards
Vintage: 2005
Wine: Chardonnay
Appellation: Sonoma County
Grape: Chardonnay
Price: 750ml $15.00



Dan Berger

Dan Berger has been reviewing wine for 30 years, always seeking character related to varietal type and regional identity. He has never used numbers to rank wine and doesn't plan to start any time soon. He believes that weight and concentration aren't the only worthy aspects of wine and is especially smitten by cool-climate and food-friendly wines that offer distinctiveness.