---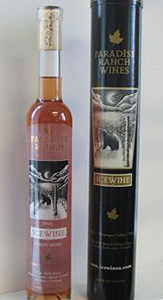 Paradise Ranch Wines
2005 Pinot Noir Icewine
(Okanagan Valley)
Paradise Ranch Winery is among only a handful of Canadian wineries that make only icewines and late harvest wines. The winery was launched a decade ago as an icewine-only producer until a mild winter forced it to make late harvest wine as well. It was a fortunate business decision because, as several wineries have discovered, late harvest wines, at half the price, sell more readily than icewine.

As always with Paradise Ranch, the packaging is exceptional. The picture etched onto the slim Italian bottle is a famous sketch of a bear among the vines. The original Paradise Ranch vineyard is next to a provincial park, a habitat for black bears that liked to bulk up on grapes before hibernation. The vineyard has since been sold to a winery that does not make icewine there. Paradise Ranch is buying grapes from vineyards with fewer bear issues – but the good picture remains.

Pinot Noir is a relatively rare icewine grape. That adds to the novelty of this wine, which has a lovely bronze hue. The aroma is of honey, caramel and apricots. The flavour also shows stewed apricots, with a note of strawberry and a tangy acidity to balance the sweetness. Fermented to 12% alcohol, this is not an overly sweet icewine. 85 points.
Reviewed January 8, 2007 by John Schreiner.
Other reviewed wines from Paradise Ranch Wines
---
Winery: Paradise Ranch Wines
Vintage: 2005
Wine: Pinot Noir Icewine
Appellation: Okanagan Valley
Grape: Pinot Noir
Price: 375ml $49.95



John Schreiner

John Schreiner has been covering the wines of British Columbia for the past 30 years and has written 10 books on the wines of Canada and BC. He has judged at major competitions and is currently a panel member for the Lieutenant Governor's Awards of Excellence in Wine. Both as a judge and as a wine critic, he approaches each wine not to find fault, but to find excellence. That he now finds the latter more often than the former testifies to the dramatic improvement shown by BC winemaking in the past decade.