---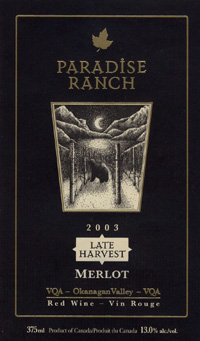 Paradise Ranch Wines
2003 Merlot Late Harvest
(Okanagan Valley)
Founded a decade ago, Paradise Ranch was named for an exceptionally photogenic vineyard overlooking Okanagan Lake, north of Naramata. The vineyard was sold several years ago. However, Paradise Ranch continues as one of two British Columbia wineries making just sweet wines. Paradise Ranch now purchases fruit throughout the Okanagan. Like many Canadian icewine producers, Paradise Ranch is better known in sweet-toothed Asian markets than at home.

A warm winter and a late freeze in 2003/04 in the Okanagan made life difficult for icewine producers such as Paradise Ranch. The sensible solution was to pick what grapes had not been consumed by birds or fallen to the ground, and produce late harvest wines.

This wine has an attractive light ruby colour that brings the table to life. The aroma recalls spiced stewed plums. The wine has good weight without heaviness. It has flavours of blueberry and blackberry jams. The finish is sweet, but only moderately so. The finish also has a red wine earthiness, likely from the hint of tannin in the background. 85 points.
Reviewed January 8, 2007 by John Schreiner.
Other reviewed wines from Paradise Ranch Wines
---
Winery: Paradise Ranch Wines
Vintage: 2003
Wine: Merlot Late Harvest
Appellation: Okanagan Valley
Grape: Merlot
Price: 375ml $19.99



John Schreiner

John Schreiner has been covering the wines of British Columbia for the past 30 years and has written 10 books on the wines of Canada and BC. He has judged at major competitions and is currently a panel member for the Lieutenant Governor's Awards of Excellence in Wine. Both as a judge and as a wine critic, he approaches each wine not to find fault, but to find excellence. That he now finds the latter more often than the former testifies to the dramatic improvement shown by BC winemaking in the past decade.